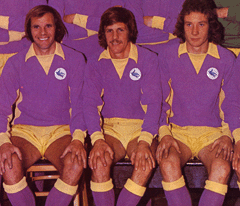 When a victory margin is as clear cut as 3-0, it is very rare for it not to be deserved and, because of their more assured and clinical finishing as well as their greater physical strength, Crystal Palace merited victory in last night's Youth Cup tie at the Cardiff City Stadium. However, quite often the final scoreline does not offer a true reflection of how a game panned out and this was the case last night – the three goal victory margin was not a reflection of the gap in ability between the teams as City probably ended the night with more efforts on goal than the visitors and, in many respects, gave as good as they got against useful opposition.
For example, the first twenty minutes saw City dominate possession and territory with the Palace keeper Mann forced into action far more than his Cardiff counterpart David Richards, but, completely against the run of play, the visitors then showed the attacking ruthlessness that Cardiff were just not able to match as their right winger beat Adedeji Oshilaja for Kyle De Silva to score easily from around the penalty spot. City reacted well to this setback and skipper Alex Evans had a header from a corner cleared off the line but, the difference between the teams was perhaps best summed up by the performance of striker Jesse Darko who did a lot of good things in general build up play, but seemed to lack the belief and desire to put away a couple of good chances in either half.
Although the majority of play continued to be be towards the Palace goal, the warning bells were ringing whenever they broke forward (often through their tricky Welsh winger Jonathan Williams) and a couple of quick goals either side of half time settled the tie. For the first, Williams sent centre forward Sekajja through for the second time in as many minutes and, whereas the striker had screwed his first effort wide, he put this one away with the minimum of fuss. City replaced Ralls and Diallo (it was a poor day at the office for both of these players who have been impressive when I have seen them in recent Academy games) with 15 year old Declan John and Kane Owen, who was one year John's senior, at the break, but then gave away a soft goal as their habit of trying to play out from the back from dangerously deep positions cost them – the ball was lost about twenty yards from goal and Palace captain Wynter did well to beat Richards with an angled drive.
City deserved credit for the way their heads didn't drop after that and really did deserve a goal or two, but they also lived dangerously as Richards showed his quality with some good saves and the game ended with another disappointing result at a time when we are having to get used to them – the difference between last night's match and too many of the first team's recent games being that the scoreline wasn't an accurate indicator of what happened over the ninety minutes.