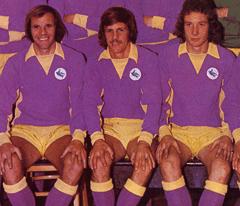 If anything, it's getting quieter on the transfer front for Cardiff City as the time when contracts end gets closer. Nearly every summer we get people saying that the transfer market will liven up once we go into July and players contracts run out, but, although there is still the odd story about concerning players leaving us (e.g. Forest are going to bid for Peter Whittingham and Burnley are considering coming back in with another bid for him), there is nothing regarding new players or those whose City contracts will run out next summer.
There was a story in the Echo during the week in which Steve Borley denied that we were trying to sign veteran striker Steve Howard from Leicester, but that's about it I'm afraid and it is becoming harder to avoid the suspicion that we are in the familiar position of having to sell before we can buy. On that score, it is perhaps surprising that the Joe Ledley situation has not been resolved one way or another yet. I still expect him to be playing for another club next season, but with his City contract due to run out on Wednesday, I suppose a situation could arise whereby he comes back to pre season training with us on July 1 without having signed a new deal with any club. In such circumstances, my understanding is that Ledley would be on a month by month contract with City and  he could leave at any time (the club could also of course take the barking mad step of releasing him!) but my guess is that it would having him here on that basis would leave us hamstrung when it came to recruiting new players.
I may be wrong, but I can't see us signing anyone apart, perhaps, from the sort of free transfer we have seen like Tom Heaton until the position with Ledley is resolved and, if he goes to Celtic or one of the clubs on the European mainland who are, reportedly, tracking him then it may be that freebies and loan signings are all we will get this summer – if he goes to a Premiership club, then with Dave Jones having, apparently, been promised all of any money received from player sales this summer, we could expect to see some meaningful transfer action before any tribunal fee is decided (although this would, in all likelihood, mean that we couldn't go after all of the targets we might have until the exact figure we would get for Ledley became known).
Much of what I have said above is pure guesswork, but it would, surely, be best for the City if Joe Ledley decided his future one way or another sooner rather than later – I'd still love him to stay with with us, but, if his heart is set on leaving, then, for the City's sake, let's hope he decides on his new club before 1 July.