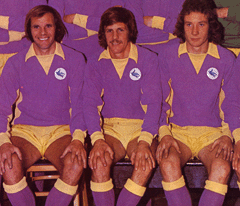 Yesterday lunchtime's tremendous 4-1 win over a Brighton side who could have joined top of the table Hull on the 60 points mark with a victory themselves should, surely, lead to a reassessment of Cardiff City's prospects for the last ten weeks of the regular season on the part of many of their supporters.
I say that knowing that we are talking about a team here that has found it impossible to record back to back Championship wins for almost six months and a team whose level of performance has varied tremendously at times over the ninety minutes of one match, let alone from game to game.
However, yesterday City hinted at a future which I for one thought was beyond this squad and manager. Now they face two games, at third place Middlesbrough on Tuesday and, next weekend, at home to a Preston side that have to be rated as genuine top six contenders after their win over Sheffield Wednesday yesterday, which will prove whether a door which has creaked very slightly ajar will open up further or be slammed in our faces.
There are all sorts of qualities needed by a team that manages a top six finish in this most competitive and physically taxing of leagues and it would be wrong to say that City hadn't displayed some of them over the course of their first thirty one Championship matches this season. For example, early on in the campaign, they were very solid defensively and showed an ability to win games without playing that well, while lately there had been some evidence of them finding goals easier to come by both at home and in away games.
Also. although I've not been wholly convinced on the belief front, I believe the spirit and work ethic within the squad is the best it has been since we were promoted – no great compliment I suppose when you consider what we've had to put up with over the past two seasons, but, even so, I believe there is the sort of honesty within this group of players which a top six team needs.
Therefore, I think those fans who have maintained the football played under Russell Slade for the duration of his seventeen months in the job has been "dull", "dire", "turgid" or whatever other adjective they want to damn it by are wrong to maintain such a belief.
Yes, for much of the time it has been hard work watching us play, but, for about a year now, it cannot be denied that we've been an effective Championship side.
If you were to count back our last forty six Championship fixtures (i.e. a regular season's worth of games), our record for the period would read;-
W   19   D   16   L   11   Pts   73
Now, over the past twenty years, seventy three points has been enough to enable a top six finish on occasions – five of them in fact. So, it seems that the sort of record we've had in our past forty six matches is good enough to ensure a place in the top six for a quarter of the time, but, generally, it tends to be up to five points short of the sixth place finisher.
To be honest, those stats show that we've been closer to being a top six side in the past year than I would have said we were, but the overall impression they give is that we have been falling short in some of the areas required for a Play Off team.
So, what are these areas we needed to improve in? Well, my view on that is that our main failing has been that we have been unable to come up with anywhere near enough what I would call "complete" performances – be that in a single game or over a sequence of them.
That's not to say that we've not had matches where we have turned in good performances. For example, winning 2-1 with nine men at Brentford last March against a team that were going very well at the time, a couple of victories by the same score at Nottingham Forest, the 2-2 draw at QPR, the recent win at Wolves and the home games with Charlton, Reading, Burnley and Sheffield Wednesday this season are all ones in which I thought we played well.
It also needs to be said, that such is the nature of the league, even the best sides in it do not have too many games in a season where everything clicks into place and someone cops a thrashing. Brighton's record this season offers proof of that – they've won fifteen times, but, only against Brentford on the fifth of this month has their margin of victory been by more than a single goal.
Therefore. it's expecting too much of any Championship team to demand these "complete" performances from them once every four or five matches – the Championship just doesn't work that way.
However, I believe it's reasonable to have expected more such performances from City. Instead, what we have tended to get are groups of games where we do well in one aspect of play, but at the expense of something else.
At the back end of last season, we were getting top six results away and bottom six results at home. That sequence was, largely, reversed earlier this season when we were winning at home, but not away – our strong defensive record during this period was also at the expense of our attacking play, as we were averaging just a goal a game for a period in October and November.
When we came out of that spell and started to play in a far more enterprising and entertaining manner from early November, the goals began to flow, but we started to leak far more at the other end and lost the knack of holding on to leads late on. So home wins began to turn into draws, thereby cancelling out to a large degree a rediscovery of how to win away from home.
As mentioned previously, performance levels could vary greatly over the course of a single game – there was never that feeling that the team were capable of getting things right at both ends of the pitch at the same time…….until yesterday that is!
I must admit I went along to the game in a pretty downbeat mood. As has become traditional for home matches lately in this pathetic winter we've had, it was absolutely pissing down and there was a strong to gale force wind blowing - also, I couldn't get the thought out of my head that I'd probably end up watching  a low scoring draw.
After all, Brighton had drawn ten out of fifteen away games (it needs to be remembered that only one of these had been lost as well) and five out of our last seven matches at Cardiff City Stadium had finished all square – with us having failed to score in  our last two, my pre match prediction was that we'd see another 0-0.
The first inkling that the day may not turn out as I expected came when I was informed of the City 18 in the Trust Office before the game. Lex Immers in for the suspended Sammy Ameobi was no surprise, but the selection of Deji Oshilaja as a sub certainly was – Russell Slade had finally turned to another young player at the club when he took over besides Joe Ralls!
When I got up off the floor and regathered my senses, a few things began to come a bit clearer to me – Deji was never going to be brought on (he wasn't) and at 22, he shouldn't really be categorised as a youngster any more, but that matters not one jot. At that age, he is in nappies in Russell Slade terms and yet, still, our manager was forced, probably as a result of a gun being held to his head, to select him as a sub!
As for the game itself, I daresay those supporters who have become reluctant to say anything good about the team or manager in the past year and more will probably claim we were lucky. Certainly, it must be said that this commodity was on City's side just over a minute into the match when Stuart O'Keefe (as an ex Eagle facing the Seagulls, possibly more fired up than was required?) slid into Iñigo Calderón with a reckless challenge that could easily have led to a straight red card on another day.
Instead, referee Darren Bond (a new name to me who got a few things wrong, but generally impressed as he did his best to keep the game flowing) chose to only caution the City man – I'm 99% certain the game wouldn't have turned out as it did if the referee had shown less leniency towards O'Keefe.
I suppose there will be those who say the three goals we scored in the first half an hour all owed a lot to a combination of poor defending from our opponents and good fortune on our part. They'll contend that the penalty which restored the three goal lead after Brighton had suggested they could still get something from the game after a strong start to the second period, which saw Dale Stephens score his second goal against us this season, fell into the "I've seen them turned down" category.
I'll willingly accept that I've fallen into that type of fan who has been unwilling to give much praise to players and manager (particularly the manager) in the past, but not this time.
This was the ninety minute, "complete" performance that I doubted the team was capable of. If I were awarding marks out of ten to individual players, none of them would have got less than a seven and there would be three who had nine – we were strong at the back individually and collectively, with David Marshall more convincing than in some recent displays. After his lucky escape, O'Keefe did a great job along with Ralls in keeping things ticking over in midfield and, if there are still those who wonder what the former brings to the team, they need look no further than to note who it was who was making the lung bursting run to try and support substitute striker Kenneth Zohore when he shot across the face of goal in the closing minutes – O'Keefe's energy levels are amazing.
However, for the first time in absolutely ages, it was the attacking players who took most of the plaudits for a very good Cardiff performance. Before yesterday, Brighton were conceding less than a goal a game, so, while their defending at times made it hard to believe that stat, I'm going to say that they struggled because it's not often they come across a front four playing with such understanding, cleverness, skill and ruthlessness as Cardiff's did yesterday.
Individually, Anthony Pilkington, Peter Whittingham, Tom Lawrence and Immers ( a clumsy figure of fun to some Feyenoord fans apparently, but an intelligent player with a decent technique on this evidence) were all very good (the three nine out of tens I mentioned earlier came from these four), but, collectively, they were a level higher than that. Perhaps we played with a creativity and incisiveness to come close to yesterday at times in our Championship winning season (an away win at Blackburn and home matches with Wolves, Blackpool and Burnley spring to mind), but, for me, you have to go back four or five years to the Burke/Chopra/McCormack/Bothroyd/Whittingham sides with McPhail and Ledley in support to get as complete an attacking performance as that – our four were that good yesterday.
As for our much maligned manager (yes, I know I was doing a bit of light hearted maligning myself earlier!), I'm sure he would now be in the process of being ripped to shreds on the messageboards and in the pubs last night if the 4-1 scoreline had gone against us, so isn't only right and proper that he gets his share of praise when his team plays so well?
The Brighton Argus headline for their match report is "Sorry Albion blown away by stylish Cardiff" – well, there's something that I never thought I'd read while Russell Slade was  at Cardiff! We'd not "blown away" a team in yonks – it was well before Mr Slade's arrival. We last won by a three goal margin in April 2013 and, as for a Cardiff team being described by our opponents as "stylish", well I've just Googled "Stylish Cardiff City" and, apart from the Argus piece, there was nothing football related found!
The thing is though, we were stylish and, even if it only turns out to be a one off, well at least I was there to see it when we did turn on the style. A performance like yesterday doesn't suddenly mean that all of his critics have been completely proved wrong, but Russell Slade has now got a game to point at where he and his team reached heights few thought they were capable of - all of a sudden, him still being in charge next season doesn't seem such a depressing thought.
A real bonus yesterday was that it wasn't just those hardly souls who turned up to watch (the attendance might have been given as 14,000, but it seemed to me as if there were about five thousand less home fans present) who got to see it. With the match shown live on Sky, you would hope that many of those who have stopped going to games this season got to see what happened.
Will a performance like yesterday's result in a jump in our attendances? I don't know if it will, but, if there's any justice, it should. As opposed to those who do not go any more because of the rebrand, those who have stopped going this season were prepared to buy a season ticket for last year when we were still playing in red – it would be interesting to know how they are feeling about Cardiff City this morning.
Granted, a lot of them renewed those season tickets in the hope that we would still be in the Premier League, but it seems to me that just as many, if not more, were put off by a combination of boredom and the general malaise which could be put down to all sorts of factors including the rebrand, relegation and a loss of the connection between club and fans.
Well, yesterday was the best proof yet that Cardiff City home matches aren't boring any more and, truth be told, haven't been for a few months. We may not win all of the time (when did we ever?), but now I come out of most games having at least been entertained. Similarly, last week's announcement by Vincent Tan that the club's debt level will fall by around £75 million through a combination of a conversion to equity and of the writing off of a portion of debt is evidence that things have changed off the pitch as well, while I get the definite impression that there is a desire to rebuild the relationship with supporters from the likes of Ken Choo, Mehmet Dalman and maybe even Mr Tan himself. Unless you're in the hard core who walked away after the rebrand, your reason for not going to games no longer applies and it's you who have changed in your relationship with Cardiff City, rather than the other way around.
*picture courtesy of http://www.walesonline.co.uk/
+ picture courtesy of http://www.theargus.co.uk/