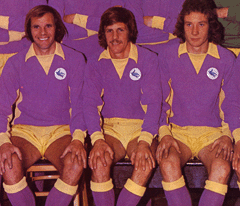 Having had to endure so many games involving City sides who could not hold a candle to the current one, it's not too often that I get downright angry watching us play these days. However, after Peter Whittingham self indulgently sent a free kick from a dangerous position high and wide in the dying minutes (apart from one early shot which forced a routine save from Speroni in the Palace goal, Whittingham's dead ball delivery was way below par all night), I decided I had seen enough and, with my blood pressure no doubt at a dangerously high level, made for the exits.
On the rare occasions when I do get really annoyed at a City game now I usually find that a night's sleep tends to restore a sense of perspective, but it hasn't this time around. Maybe I am over reacting, but I still feel a sense of anger towards the team and our manager following a display which made the poor fare seen on Saturday against Millwall look almost Barcelona like by comparison.
Actually, it would be wrong to say that my annoyance stems just from last night's match, it's more to do with the series of games we have played in the last fortnight. In his post match interview, Kevin McNaughton said with the sort of honesty he always shows on the pitch that we have not performed for the past five matches as he included our win over Hull in the series of sub par performances we have seen from the team lately, but I think he is being a bit harsh there because, although we weren't great against Hull, we always seemed to be in control.
No, for me, it's been the past four matches where we have significantly under performed and I think what is getting me increasingly wound up is the way that various players have come out before each of these matches and said something like, yes we do have injuries to important players, but we have enough ability amongst those who are still fit to maintain the standards we expect. Despite all of the talk, the past four games have seen us perform collectively to a standard more suited to the lower reaches of the Championship while, on an individual basis, it's hard to think of anyone who has maintained a decent standard throughout the last few games.
There was talk before we played Palace of there being "no more excuses" for poor performances, but there was still an air of complacency amongst the team as they knocked the ball around sideways and backwards almost believing that  Palace's woeful away record meant that goalscoring chances would be handed to them on a plate (the one time that happened, Chris Burke wasn't up to the task of putting away a pretty easy opportunity). Now, with City set up to play more of a 4-5-1 system last night, I can understand the need for patience in our passing, but, eventually, someone has got to produce something which attempts to hurt the opposition – that didn't happen last night (or over the previous three matches).
Trying to find good performances from the outfield players is a hard task – I suppose the better displays came from the back four, but, truth be told, all they did was perform to an adequate standard. As for the six in front of them, I am afraid the word dross springs to mind -I'll qualify that a bit to say that some leeway should be given to Seyi Olofinjana who, apparently, has done very little training since he went off against Hull and, although he is some way short of his best form, Chris Burke at least gave the impression during the second half that he was trying his hardest to make something happen, but as for the other four? Whittingham and Koumas (more on him later) looked laboured, one paced and not suited to playing alongside each other, Keogh (as he so often is sadly) was on the edge of things and Bothroyd gave one of those performances that so frustrates while also picking up a ridiculous booking for behaving like a prima donna.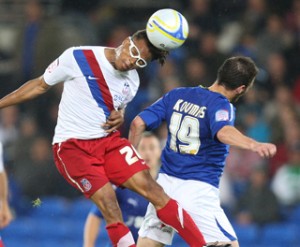 The obvious man of the match for City was Tom Heaton as he produced a decent save from a Garvan header, a good stop from a Clyne shot and a brilliant tip away from a point blank header from Dorman when his team mates fell asleep in allowing Palace to work a short corner routine. The latter two of those saves came early in the second half as City showed with their lack of purpose and urgency that Dave Jones' half time team talk had singularly failed to have the desired effect.
In the purely black and white terms that form so much of football opinion, I am Dave Jones supporter. I think he has done a good job overall over the past five and a half years and I, increasingly, find myself thinking that he may well be the best manager I have seen at the club, but, for me, he had a poor night of it against Palace. My gripe with the manager stemmed not so much from the system he used which gradually became more of a 4-4-2 as the match progressed, but more with his non use of substitutes and then, when he finally got around to making his only change to a team that had barely threatened the opposition goal in eighty minutes, it was one which was defensive in nature!
It needs to be said of course that Dave Jones has had far stronger benches at his disposal than the one we had last night (where was McPhail?), but, even so, there were still options available to him. I still can't figure out why it was Paul Quinn who replaced Lee Naylor and not Adam Matthews. If we were really trying to win the game last night, then Matthews' supremacy over Quinn in the attacking department surely had to overcome any reservations about his defensive qualities or is the youngster still suffering for what happened at Ipswich  - it does not reflect well on our manager if that is the case.
It's also worth remembering what happened with our second goal against Hull when Aaron Wildig's clever little pass from just inside the penalty area found Gavin Rae who scored from about eight yards out – Koumas and Whittingham never came up with a pass that caused as much damage as Wildig's did and neither of them got into the sort of position which Rae did that day when scoring. Wildig and/or Rae would have at least made runs from deep positions into the penalty area and would have made Bothroyd less isolated than he was for much of the second half – they might also have added a bit of drive to our midfield play (on the subject of drive, I see some on the messageboards have been saying that the player we really missed last night was Michael Chopra but I would say that it was crying out for Danny Drinkwater who provided so much energy and momentum in the middle of the park earlier in the season).
Finally, I usually find a couple of action shots to include in these reviews of matches, but it says so much about last night's game that I could only find the one. It also seems somehow appropriate that the picture shows the five foot seven inch Edgar Davids comfortably outjumping Jason Koumas who is three inches taller than him – unfortunately, that picture almost provides a commentary on Koumas' second spell at Cardiff. After the game Dave Jones said that it was good that Koumas had got another ninety minutes under his belt and it might be that, despite the fact that he has been with us for nearly two months now, he still isn't right physically, but watching him last night tended to confirm a suspicion I have had for a while now – are his problems more mental than physical? I say that because I kept on thinking "he doesn't want to be out there" to myself as he played his oh so safe passes to one of the back four or arrived just too late for a challenge on an opposing player.
If last night's game had taken place in 2005/06, the closing stages would have seen Jason Koumas demanding the ball as he tried, almost single handedly, to turn one point into three. He would have been drifting in from the wide position he had started the match in and would have been the focal point of our attacking play. Instead of that though we had the sight of him stuck out on the left wing barely featuring in the game as attack after attack floundered – even if he was under orders to stay out on the left, the Koumas of old would have been unable to resist getting more involved but, it seems, that desire is no longer there. I hope I am wrong in what I am saying, not just because it will be great for City if Koumas does start performing as we know he can do, but also because he was such an exciting player to watch during that season when we were privileged to watch a real craftsman at work – come on Jason, there were 20,000 plus there last night who all really want you to succeed with us.