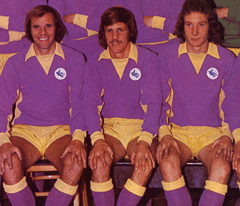 I've only the Radio Wales commentary to go on at the moment, but by the sound of it, Cardiff City played better in winning 3-2 at Port Vale in the Second Round of the League Cup than they did a fortnight ago in winning 2-1 at Coventry in the First Round.
Three seasons ago we saw what victories in the "meaningless" early rounds of this competition can lead to and so another journey to Wembley in the New Year shouldn't be ruled out completely I suppose, but, realistically, the main function of these games is to give Ole an idea of which players in his so called shadow squad are pushing for a place in the first team starting line up for Championship games.
Match summariser Kevin Ratcliffe (who I know isn't rated that highly by many City fans) was asked that very question after last night's game with regard to Saturday's trip to Fulham and he came up with three names – Juan Cala, Declan John and Joe Ralls. So, without having seen anything of last night's encounter apart from the goals, I'm going to take Ratcliffe on his word for now and presume that these were the three who impressed most – therefore, are we likely to see any of them in the starting eleven at Craven Cottage?
Starting with Cala, I certainly think he is good enough for the Championship, but my worry about him has always been that, at Premier League level, he could look superb one week and then make basic mistakes which cost us dearly the next. Whether this trend would continue at the lower level I don't know – on the one hand, Cala at his best would find the lower level quite easy, but would this lead to a complacency which could result in errors which cost us games or would the lower level of ability in the strikers he would come up against mean that such errors would mostly go unpunished if they occurred?
For me, the only way that question can be answered is by picking the player for league games, but with our defence doing better so far than I, for one, expected, Cala is paying a high price for his sending off at Sunderland last April as the ban he received for it has put him some way down the centreback pecking list at the moment. Therefore, I don't see much chance of an immediate return to league action for the Spaniard at the moment unless Ole is contemplating using three centrebacks at Fulham – in the unlikely event of that happening, I could certainly see him being included.
This time last week, the chances of Declan John  being picked at left back in front of Fabio in the foreseeable future looked negligible. Fabio had been superb in the win over Wigan and turned in the complete full back performance, but, those of us who still harboured doubts about his defending were given plenty of food for thought in the first half in particular at Wolves where the Brazilian was given something of a chasing by home winger van La Parra. I'd say the main problem Declan has is convincing Ole that he offers more defensively than Fabio – he laid a goal on a plate for Frederico Macheda last night and it sounded like he caused Port Vale plenty of problems with his attacking bursts, but I'm pretty sure it was him who got turned too easily by Michael Brown for the home side's second goal.
It may be that Fabio's better defending in our first three league games earned him enough in credit to get away with a dodgy display in the fourth one, but I tend to think the contest for left back between him and John is a closer one than many supporters believe and I'd say the ex Manchester United player needs a good performance on Saturday.
Coming to Joe Ralls, someone posted on one of the City messageboards yesterday that our average possession figure of 41% for our league games up until now was the second worst in the division. Now, there was no link to the source of this info posted, so I can't say for certain that all of it was true, but, based on the BBC's figures, 41% is an accurate figure and, whether we are 23rd in the possession table or not, such a figure would leave us a lot nearer the bottom of it than the top.
Anyway, it only needs the evidence of your own eyes to tell you we have not been very good at winning the ball off our opponents when they have it or retaining it when we have it in our Championship games so far – for me this is the biggest problem we have encountered up until now and I don't see how we can expect the season to have the outcome we hope it will if we keep on proving to be as poor at retaining and getting the ball back as we have been. Although the defence and our strikers have to accept their share of responsibility for what is happening, the main culprits in this regard are, surely, our midfield players.
Therefore, when a midfield player scores the sort of goal Ralls did last night (some people might call it Whittinghamesque, but I'm not sure the Whitts of this season would have been able to beat two opponents before shooting like Ralls did), is nominated as City's Man of the Match (just like he was at Coventry) by many who were at the Port Vale game and, by the sound of it, did a fair bit of ball winning, you have to think he's put himself in the frame for inclusion in the team for Saturday.
The trouble is, I get the suspicion that, going back to that Whittingham comparison, Ralls is seen as someone who is a kind of poor man's Whitts – by that I mean you won't see many City teams with both of them starting. It seems to me that, for now at least, Whittingham is virtually undroppable as far as Ole is concerned and so it might be that Ralls will have to bide his time for a bit longer, but I hope he is not loaned out in the coming weeks because the form he's shown so far suggests to me that we are going to need him in the league team soon unless our first choice midfielders start getting their act together.
As for the others involved last night, Macheda's two goals prompted Ole to say he will be involved at Fulham as a starter or a substitute. His first goal just involved him being in the right place at the right time, but he did that and it's a great habit for a striker to have, while he put his second goal away with the confidence and sure touch of a natural finisher. Alongside him, Javi Guerra did well in the build up to the third goal and continues to impress many supporters with his all round game – he needs a goal, but, that said, I wouldn't be surprised to see him and Macheda on the bench at Fulham.
The other possible starter from last night for me is Kagisho Dikagcoi  - you would think the addition of a fully match fit Dikagcoi would lead to us being better at winning possession  back and, as a player who tends to keep his passing simple, it might well be that our possession percentages would rise somewhat with him involved, but maybe Ole might want to get more match fitness for the player from a game or two with the Development side before he features in the league starting line up?
Just a word to close about Port Vale's first goal, O'Connor must have been not far short of forty yards out when he hit his shot and, normally, when someone scores from such a distance, you tend to question the keeper, but that ball was arrowed right up into the corner of the net and I don't think Simon Moore had a chance of saving it – it reminded me of John Buchanan's goal against Swansea all of those years ago except I think O'Connor's was a bit further out.
*Pictures courtesy of http://www.walesonline.co.uk/