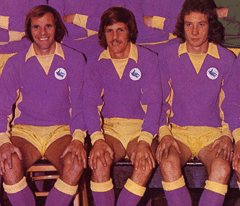 Does anyone else agree with my theory about City and lunchtime kick offs? I reckon that for normal 3 o'clock kick offs, the players have a lie in until 11.30 before beginning a gradual build up to the game in a few hours time, but, so far, no one has realised that this needs to change for lunchtime starts. How else can you possibly explain the sleepy way in which we started against Millwall and Bristol City which saw us concede three goals in the opening ten minutes of those games – don't forget as well that we conceded early on against Sheffield United in a Sunday 1 o'clock start. Furthermore, we've yet to concede a goal in a home match when we kick off at the proper times of 3 o'clock or 7.45 – case proven I reckon.
Half asleep or not, fair play to Mark Hudson for some shrewd thinking on winning the toss mind. When I saw the players changing ends, I assumed that the wurzels had won the toss and decided that they did not want us to be attacking the Canton Stand in the second half, but the fact that they kicked off meant that Louis Carey had called wrong and it was Hudson's choice to switch ends-  almost certainly because David James and his defenders would have the strong sun in their eyes in the first half.
Strange therefore, that it was the City's players who started as if they had some blinding light in their eyes. Although they were defending in the shade cast by the Grange End stand, Tom Heaton reacted to McAllister's free kick after six minutes like a cricketer who loses a catch in the sun as he at first moves towards the ball then hesitates as he loses sight of it until he ends up in no man's land as the ball drops a few yards away from him. Heaton was in that no man's land yesterday as Caulker headed in having made the first mistake of his four game run in goal, but his defensive colleagues didn't help him out much and it shouldn't be forgotten that nothing would have happened if Mark Hudson had not given away a sloppy free kick in the first place.
Talking of theories, the Jon Stead theory states that 1-0 deficit against Stead's team is actually 2-0 if he had not scored the first goal because you've got the goal he always scores against us to add to it. Stead wasted no time in making sure that this theory held again when he diverted in Elliott's header as sleepy City made a hash of defending another dead ball situation – again though, there wouldn't have been a corner to defend if Lee Naylor had not needlessly conceded it.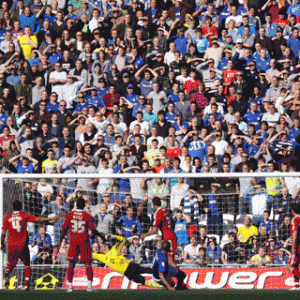 Up to now, my lunchtime kick off theory reads like it is a thoroughly negative thing, but, get that first ten minutes out of the way after the players have got their bearings and realize where they are and things begin to change. Dave Jones' Cardiff City sides have proved to be pretty crap at turning around deficits over the past five and a half years, but kick off at lunch time, and it becomes the norm. Okay, it was only one point and not three against Sheffield United, but we really should have won that one and  Millwall were seen off courtesy of Andy Keogh's very late header.
This time around though, the challenge was that much tougher – there was not just a single goal deficit to overcome, there was the fact that the wurzels didn't play ball by having a player sent off around the half hour mark either. In saying that though, there was a brittle look to the wurzel's defence from first minute to last – in between their goals, Chris Burke got to the bye line much too easily to deliver a cross which saw David James make the first of a number of good saves as he dived full length to hold on to a header from Jay Bothroyd who, perhaps, should have done better with what looked a great chance. Bothroyd was not to be denied though and after good build up play by Peter Whittingham and the returning Michael Chopra, he turned and fired left footed past the helpless James for his eighth goal of the season.
This goal, arguably scored from an offside position, was so important in ensuring, firstly, that the supporters stayed with the team after their difficult start and, secondly, for proving that there was no need for panic after conceding so early. Bothroyd was to the forefront as City created and missed chances at regular intervals (even Steve McPhail came close with a right footed shot!) and his display had Dave Jones asking in his post match press conference why Bothroyd wasn't at least considered for England who have been struggling with target men recently – for me, the notion isn't as far fetched as might, at first, appear.
James foiled Bothroyd again with a fine save just before the break, but was left flat footed within a minute of the restart when Peter Whittingham's driven cross from out on the right hand touchline flew into the net without anyone getting a touch on it. A lucky way to end Whittingham's goalscoring drought this season perhaps, but the delivery of the free kick was so good that James could not commit himself until it was clear that nobody was going to get their head to the ball and by then it was too late for him to do anything about it. Within minutes, the ex England keeper had made his best save when he foiled what seemed to be a certain goal by denying Chris Burke from point blank range – this chance had come from a fine Chopra cross which James thought his captain Carey should have prevented and told him so in a manner which, for some reason, much entertained the home support.
Burke saw his deflected effort bounce off the top of crossbar as City chances continued to come in what was now a very entertaining game. However, our defence (which never looked top six standard, let alone top two standard yesterday) were having their share of problems in dealing with the wurzel's attacks. Although I would say that City were definitely the dominant team, another Bristol goal was always a possibility with Kevin McNaughton giving away free kicks in dangerous areas and Gabor Gyepes missing an interception which threatened to put Haynes in on goal, this meant the keeper and each member of the back four had all made costly individual errors which either resulted in goals conceded or very nearly conceded-better sides than the wurzels would have made us pay more for that than we did.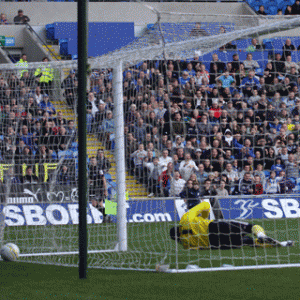 It was fitting that the game should be won with a quality goal as Whittingham's free kick from twenty yards flew around the wall and into the net amid Bristol claims that Jay Bothroyd was in an offside position and interfering with play when the ball was played. However, whether they had a case or not (the TV pictures I have seen suggest they might have), these sort of decisions always go against you when you are in the wurzel's current position and I have to say that they had the look of a team that will be down there for the majority of the season yesterday – getting Nicky Maynard back will help, but, in truth, their problems are at the other end of the pitch based on yesterday's evidence.
Anyway, back to my lunchtime kick off theory to finish. I think I have made a pretty conclusive case which proves that all Cardiff City matches should kick off at 12 o'clock from now on – I don't foresee any problems implementing this measure do you?