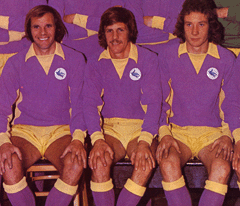 On 19 October last year, Jordon Mutch put us ahead after ten minutes at Chelsea. Just over two months later, he netted our consolation goal fifty seven minutes into a 3-1 defeat at Liverpool on 21 December. In between those two goals, City played a total of 497 minutes without finding the net in an away match. Given that the two sides Mutch scored against were to finish third and second respectively in the Premier League last season, the identity of the sides who shut us out is quite surprising – trips to Norwich, Villa, Stoke and Palace were all considered winnable at the time, but although we ended up taking points at Carrow Road and the Britannia Stadium, the fact we couldn't score against any of them played a large part in the change of perception of Malky Mackay's team from one that could survive in the top flight to bona fide relegation candidates.
There are definite parallels between that run and the one the current team are having in front of goal on their travels after yesterday's goalless stalemate with Birmingham at St. Andrews took it to 430 minutes without an away goal since Kenwyne Jones equalised for us at Brighton on 30 September and with our next five away matches being against teams currently in the top ten of the Championship. the potential is there for the current run to stretch well past last year's.
This is especially true when you consider who we have played in our last four away matches – Blackpool, Bolton and Birmingham were all in the bottom three when we took them on and Milwall had not won in eight games. When we were drawing our away games without playing well in August and September, these were the matches that were supposed to lead to us climbing into the top six as the squad start to look as good as everyone kept telling us it was. Instead, we have had to rely on a 100% cent record in our last four matches to keep us in touch with the Play Off places, but the momentum such a run at the Cardiff City Stadium should have bought us has not arrived because of our woeful away results and, importantly, performances.
The current scoreless run is already comfortably the worst we've had at this level since our promotion in 02/03 and the conclusion I draw from that is that it's all very understandable because our away performances have been the worst I've seen over a significant number of away games during that time – we really have been that bad away from home this season.
When a side isn't scoring, attention will always fall on the strikers – on many occasions, this can be unfair because there are others missing the chances, but you have to say that, in recent away games at least, the few worthwhile opportunities we've had have fallen to our front men. Yesterday, Federico Macheda, who still doesn't convince me with his all round play, but is at least scoring in home games, missed the two best chances we had, while Adam LeFondre, who always puts in a shift, but cannot buy a goal at the moment (the one he thought he got against Ipswich has, apparently, been taken off him by the dubious goals panel), had a couple of opportunities he might well have put away in more confident times.
Kenwyne Jones is still off on compassionate grounds following the murder of two of his cousins in Trinidad last month and so wasn't available for selection at Bolton and Birmingham, but it was a brave decision a month ago by Russell Slade to drop the man whose goals had been responsible for our 1-1 draws at Blackburn, Fulham and Brighton in favour of the players who have formed our front two since he took over at the club and, so far, it's, at best, arguable if Macheda and LeFondre have repaid our manager's faith in them.
When a team is creating so few chances on their travels I suppose it's inevitable that there is a degree of anxiety involved for the person it falls to when one does come around, but Macheda and LeFondre are being paid more than most players they'll face this season (as well as quite a few in the Premier League I daresay) to convert them – LeFondre in particular is struggling badly in that department of the game at the moment and, surely, there has to come a time when Russell Slade must seriously think of switching the attacking personnel and system (which we keep being told is an attacking one) for our away matches.
4-4-2 away from home under Slade has not delivered against three sides of the type this squad, laughably described as the best in the history of the Championship a few months ago, should be trampling all over if what we are told about it in the papers is to be believed. My own view has always been that we were not as good as the hype told us we were, but, on the other hand, we really should be doing a lot better than five points, and five goals, from nine away matches – particularly when you consider that six of the teams we've faced are currently in the bottom eight of the division.
All things considered, there were less changes from the Bolton game than I was expecting (especially when you consider Bruno Manga's absence was an enforced one due to injury). Our manager's continuing faith in LeFondre especially is, understandably, getting him criticism on the messageboards and, while the return of the fit again Anthony Pilkington for Joe Ralls was a predictable change, there was more flak coming Slade's way when the news came through that Fabio, generally regarded as one of our best performers this year, had been left out. I can see why this decision would annoy people, but, having heard the guarded praise the manager gave when asked about the player (he was complimentary about Fabio's play going forward, but less so about his defending) and seen two of the goals at Bolton come down his side, it didn't come as a complete surprise to me – it had also been predicted by some in the local media.
In the event, I think it has to be said that Russell Slade could claim his defensive changes in particular worked as City managed just their fourth clean sheet in their last thirty nine league matches. Was it a coincidence that two "old faithfuls" from the promotion team of two seasons ago were in our back four yesterday? Ben Turner (solid and effective in his first Championship game of the campaign) and Matt Connolly (unlucky to have lost his place due to injury after being just about our most consistent player in the first six weeks of the season), along with Aron Gunnarsson, are players who were deemed to be not good enough for the Premier League by many of the critics – that may well be true, but they are proven performers at this level and, with the Icelandic international being possibly our most reliable performer since Russell Slade took over, I'm far from convinced that, with the possible exception of Bruno Manga, the expensive players brought in to replace them are an improvement on them.
Given that Connolly's worst performance by some distance this season came when he played at left back against Norwich, Slade got it right in my book when he moved John Brayford over to the left to become Fabio's replacement and slotted Connolly in at right back. Connolly will never be the attacking threat that Fabio can be and Turner will never be as composed on the ball as Bruno looks, but what we had yesterday was a back four that knows all about defending at this level and I don't believe it was a coincidence that it resulted in our opponents firing a blank.
That's one reason why yesterday can be seen as an improvement of sorts and another is that I believe that, for the first time this season in an away match, the claim "this was a game we could and should have won" had some justification to it. If we are going to improve to a level where we begin to look like the away team we have been at this level over the past decade and more, then the process is more likely to start with the sort of scrappy and grim encounter we saw yesterday than it is with us playing superbly and blowing someone away three or four nil.
So, I think yesterday has to be seen as a small step in the right direction, but the fact that we are talking about a draw, which offered continuing proof that we are getting things badly wrong at one end of the pitch, against a team who have an unbelievably bad home record as being some sort of progress, only goes to show how far we've fallen since Malky Mackay's "boring" 2012/13 team ruled this league – all this with a squad which cost a lot less in transfer fees than this one did and I'm pretty certain it was paid significantly less than this one is.
Pictures courtesy of http://www.walesonline.co.uk/