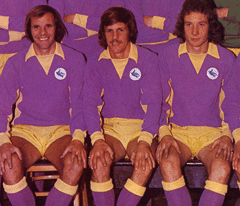 Cardiff City's match with Coventry at Ninian Park on 2 March 2004 was only about thirty seconds old when visiting centre half Peter Clarke launched himself into a shocking challenge on City's John Robinson on the Grandstand side of the ground. When an incident like that happens so early in a match, I suppose that there is always the chance that the referee will give the offending player the benefit of the doubt and go a bit easy on him, but Paul Armstrong reached for the red card and Coventry faced up to the prospect of playing 99% of the game a man short.
There was little doubt in my mind that Mr Armstrong had got his decision right. People old enough to have watched football in the sixties and seventies will know that tackles which earn straight red cards nowadays would have merited no more than a free kick and, perhaps, a warning from the ref back then, but Clarke's tackle would have been a shocker in any era – John Robinson was able to play on after lengthy treatment, but he had survived a potentially career ending assault more through luck than anything else.
I've done a little research and found that Peter Clarke is not some psycho of a defender like Gary "Wacko" Wackett in Mike Bassett England Manager – he's been sent off three times in a ten year career which isn't too bad when you consider how easy it is for someone in his position to see red in the modern game and his dismissal against us was his only one in the first eight years of his senior career. Clarke had not faced Robinson before in his career and so there cannot have been any "previous" between them and, while I could see that Robbo's never say die attitude (something the current side could have more of)  might wind up opponents, it's hard to see how Clarke would have reached breaking point after thirty seconds!
Whatever the reason for Clarke's madcap behaviour, it left City with a great chance to keep their faltering Play Off challenge alive – all they had to do was repeat what they had done to Sunderland in their last home match when the visitors had Joachim Bjorklund sent off around the twenty minute mark and found themselves buried under four unanswered goals. Although Coventry were to have a good second half to that season under caretaker boss Eric Black to finish half way up the table, Sunderland ended up in the Play Off positions and so were, obviously, a better side than the Midlanders – it should have been three simple points for us, but, instead, the team turned in a performance which left manager Lennie Lawrence saying "It was embarrassing and inept and I feel sorry for the fans and sorry for the club. This is the worst night since I came to the club and I hope the players are as ashamed as I am with the performance."
As to what happened to get our former manager in  such a state, I would answer "not a lot" – that was the problem though, City did virtually nothing to make their extra man count over the next hour and more. After what happened against Sunderland, maybe the players thought it would all be so easy for them because instead of spreading the play with accurate passing to, eventually, tire their depleted opponents out, the team had great difficulty in passing to a blue shirt over a distance of a few feet let alone across the pitch.
Even when Danny Gabbidon broke forward and was fouled in the penalty area by Callum Davenport, City weren't good enough to take advantage. Throughout the course of the season, City had been awarded numerous penalties and the plan was that they were to be shared between Graham Kavanagh and Robert Earnshaw with the one taking over from the other when they missed one. City were to change their penalty taker fairly often during that campaign – Kav and Earnie might have been fine players for us, but neither of them were that good from the spot.
This time around it was Kav's turn. but his placed effort was at just the height which gives keepers a great chance if they go the right way and Coventry's Scott Shearer went to his right to touch the ball on to the post from where it rolled agonisingly across the face of goal before going out for a corner – bad luck perhaps, but no City player had reacted quick enough to a situation which had left them with a simple tap in.
Half time came and went and, if anything, City were even worse after the break as Coventry started to realise that hanging on for a draw shouldn't be the height of their ambitions. Julian Joachim was getting towards the veteran stage of his career at this time, but still retained the pace which had led many to prophesy great things for him when he burst on to the scene in the early nineties as a teenager at Leicester and he began to cause problems as a frustrated and inept City team pushed more men forward in a bid to break the deadlock. On seventy minutes, Joachim burst clear of the defence and went down under a challenge from keeper Martyn Margetson – it looked a clear penalty and red card and, at the time, it was hard to argue with Mr Armstrong's decision, but City offered video evidence showing the Coventry striker had dived when they appealed to the FAW against their keeper's suspension and Margetson's ban was rescinded.
None of this made the slightest difference on the night of course and replacement Neil Alexander (whose City career was probably at it's lowest point at this time) came on to do what he always did with penalties (i.e. dive the wrong way) as Gary McSheffrey fired high into the net for what turned out to be the winning goal. Having struggled so poorly when it was eleven v ten, City had no chance in an even contest and Coventry left with a deserved three points in a game which perfectly captured the unpredictable nature of that City side.
I've already mentioned the contrast between the performance against Sunderland and this one, but to further emphasise the erratic nature of the 03/04 team, it's worth recording that the Coventry match was the first in a run of three consecutive home games. In the second of these, eventual Champions Norwich were beaten for the first time in four months on their travels as City recorded a deserved 2-1 win only for them then to lose 3-2 to a last minute goal from Play Off rivals Reading three days later.
I don't think I am exaggerating when I say that, when they were on song, the 03/04 side turned in team performances which were better than anything I have seen from the current side so far  (e.g. some of the early season games and later ones against Stoke, Sunderland and Norwich), but they also really plumbed the depths at times with the Coventry display making even the ones against Swansea and Forest this season look good by comparison!
2 March 2004
Cardiff City 0 Coventry City 1
City
Margetson; Croft (Langley), Gabbidon, Vidmar, Barker; Robinson (Campbell), Whalley, Kavanagh (Alexander), Parry; Earnshaw, Lee ; Subs (not used) Prior, Bowen
Coventry
Shearer; Grainger, Davenport, Clarke, Staunton; Deloumeaux,  Doyle, Gudjonsson (Pead), Warnock; Joachim (Adebola), McSheffrey; Subs (not used) Ward, Konjic, Shaw
HT 0-0
Att. 14,376