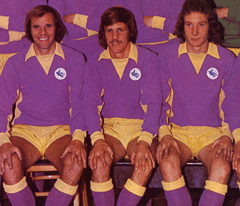 Cardiff City completed one of their best weeks of the season with a 2-0 home win over Birmingham City yesterday. After the very unlikely 2-1 win over promotion chasing Brentford last weekend, Tuesday's 1-1 draw with Bournemouth was made to look more impressive by the south coast team's 3-0 victory over Middlesbrough yesterday which returned them to the top of the table – Bournemouth have scored twelve times in winning three out of their last four matches.
If it was up there with the best weeks of the campaign in terms of results, could the same be said about the team's level of performance? That's a tougher question to answer – the two matches against sides in the top eight saw the team show a great attitude as they battled ferociously throughout, but, truth be told, they were never able to display the sort of flowing football that Brentford produced in the first half at Griffin Park and Bournemouth provided throughout large portions of Tuesday's match.
On the face of it, a visit from mid table Birmingham offered the opportunity for City to add a little craft to all of their graft, but a closer examination of the form guide showed why this was probably something of a forlorn hope.
Birmingham may be mid table, but that represents a considerable improvement from the opening months of the season when they couldn't buy a home win and, memorably, were crushed by the Bournemouth goal machine to the tune of 8-0 at St. Andrews. The appointment of Gary Rowett as manager in October has brought about a change in fortunes though, with his team only being beaten five times in twenty two league matches before the visit to Cardiff City Stadium and their four match unbeaten run before yesterday featured a draw at Derby where they were 2-0 down going into added time.
So, in fact, City were facing a side that had been playing well for virtually half a season and with their recent home record reading no wins, three draws and three defeats (four if you include the FA Cup loss to Reading), then I think most supporters would have just settled for any old scruffy win, let alone one with a bit of style.
As things turned out though, Birmingham completely failed to show why they had been getting results which would have seen them in Play Off contention if the season had begun when Rowett was appointed.
For most of the time, Birmingham were like the proverbial team with nothing to play for who were, mentally, already off on their holidays, but there was the odd moment when they reacted as if they were playing that game at Bolton again nearly a year ago in which they only avoided the drop thanks to a last minute goal. Although, from my hardly ideal position I thought Gary Rowett had a point when he claimed a decision had gone against his team, it was only a throw in close to the halfway line and it was a surprise to see him vehemently bounce the ball as he did to earn a sending off to the stands from referee Graham Salisbury. Shortly afterwards, visiting right back Paul Caddis, the man who got that relegation saving goal at Bolton, followed his manager's example by hurling the ball on to the ground, earning himself a yellow card in the process and maybe it was these isolated moments of fury from those they were supporting that drove a few Birmingham fans to start misbehaving to the extent that the police were called into action for what seems to be the first time in ages at a home game to help sort things out – from where I was at the other end of the ground, it was hard to tell exactly what had happened, but, it certainly looked as though a small minority of visiting fans had tired to get at those in the Family Stand.
City's last home win had come in a game against Fulham where David Marshall made his return to first team action after a spell out with injury – it was a nice gentle return for our captain that day with Fulham barely troubling him as they subsided meekly to a 1-0 defeat and there were definite similarities for the returning Scottish international yesterday after his return from a three game injury absence.
The BBC stats say that Birmingham mustered just four goal attempts. with just one of them on target (they also say that we won the possession battle 51/49, so maybe they should be treated with a pinch of salt!), but I'm blowed if I can remember it. A City defence with the excellent Fabio switched to right back to replace Matt Connolly, bizarrely loaned to Watford on Thursday for "business" reasons, and Scott Malone returning at left back had, perhaps, their easiest ninety minutes of the season against opponents who were serious contenders for the title of worst visiting side seen at the ground this season.
Even so, I reckon Birmingham would have gone in at half time fancying their chances of getting three points if they could just up their attacking game a little. The opening forty five minutes was a soporific affair played in weather that put you more in mind of cricket than football – if a side was going score, it was City who at least suggested they might have a goal in them once or twice, but, in truth, it was a very poor half of football to be put alongside far too many other of them this season.
Thankfully, for City's sake anyway, a couple of things happened just before and during half time that made the difference for them – the first was that Alex Revell was injured and replaced by Eoin Doyle and then Aron Gunnarsson, who I suspect could be suffering from a recurring injury because he is failing to complete matches quite often lately, did not come out for the second period with Matt Kennedy being brought on in his place.
That's harsh on the two players concerned, but City looked so much better balanced for these changes as Ralls came infield and Kennedy immediately started running at Caddis. Revell was always going to start, but his attacking partner was meant to be Federico Macheda, – however the Italian picked up an injury in the pre match warm up and so Kenwyne Jones retained his place in the team.
I've mentioned before on here that, for me, Revell and Jones up front just does not work – besides their lack of pace, I get the feeling that Revell's unselfish running and willingness to move out wide when required encourages Jones to enter that comfort zone he visits too often.
With a quicker and smaller strike partner, Kenwyne becomes more of a focal point for the team and I thought he was more influential with Doyle on – unfortunately, he's gone a while without a goal now and he could have done better with a couple of opportunities he wasted, while he was unlucky to see another effort go narrowly wide with keeper Randolph beaten.
The fact that Jones could have had a hat trick only goes to show how much more effective City were going forward with Doyle and Kennedy on. The latter had been a little unfortunate to lose his starting place, but Joe Ralls deserved his chance after some impressive displays whenever he was given an opportunity. However, with Whittingham, Gunnarsson and Noone seemingly undroppable, he was only likely to get into our midfield by taking the place of the person playing on the left.
So, while Ralls' inclusion could be understood to the extent that he was more likely to play a bit more centrally than Kennedy, thereby giving more support to the central two, there was little evidence of this working while Gunnarsson was on – Ralls didn't do badly during this time, but he was more of a factor in the game playing inside Kennedy.
I've heard a few people say they like Kennedy because he has "something about him" – nobody ever says what that something is, but I think I know what they mean! Kennedy can make things happen and we don't have many players who can do that at the moment.
Ralls and Kennedy combined well for the first goal, with a perceptive pass freeing the winger who cut inside and crossed low for Doyle to finish well from ten yards out. It had taken a while, but with his first goal for his new side in the bag, the striker, who had been so prolific at Chesterfield, showed up well as he hit the post and then was brought down by Jonathan Spector for the penalty that Whittingham comfortably put away to ease the nagging doubts caused by City's habit of not putting away opponents they have been dominating in recent home games.
With Kennedy stinging Randolph's hands with a fierce late shot and scuffing another effort after beating a couple of opponents in thrilling style, there could have been more goals. There haven't been many games this season that could qualify as being comfortable, but this was one of them – like many others, I've been very critical of the team at times over the past few months, but they played well for forty five minutes yesterday and so deserve the plaudits that will come their way.
* pictures courtesy of https://www.flickr.com/photos/joncandy/sets/