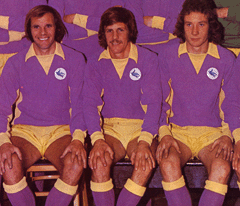 One of the entirely predictable aspects of the national media coverage of Vincent Tan's meeting with supporters and sponsors on Thursday was that the important financial announcements would be, largely, ignored as attention centred on our owner imploring our players to shoot more.
After all, this was the opportunity for more of the Vincent Tan bashing, which reached it's peak two years when we were in the Premier League and so became a club that merited coverage from the great opinion formers of domestic football, to make a reappearance – after a long absence, this was the wacky, Bond villain up to his old tricks again wasn't it!
Back in 2014, Mr Tan's apparent frustration at the coverage he was receiving in the national press in particular surfaced when he said that some of the media coverage of him in Britain had been "a little bit racist" – I agree with him, except I have always wondered if the qualifying term "a little bit" was justified or necessary.
Now, before anyone accuses this one time huge critic of our owner of being a hypocrite in the light of my new found respect for the man after his delivery on the loan to equity commitment from 2012, I can honestly say hand on heart that my previous issues with the man were based wholly on his decision making as a football club owner and had nothing to do with the part of the world he happened to come from.
The nearest I have come to anything that could vaguely be called racist when talking about Vincent Tan was on the occasions where I have accused him of not getting what Cardiff City Football Club means to tens of thousands of people who still live in South Wales and many others who have now left the area to live in virtually every corner of the world.
As someone who had lived thousand of miles away from Cardiff for more than half a century and had only just got into football, it's hardly surprising that Mr Tan struggled with the concept of what a football club represents to large numbers who live (or lived) in it's locality and I would have been saying the same sort of things about him no matter where he was from.
Much of the media coverage of the last few days on what our owner had to say about our players needing to shoot more was lazy stuff that preyed on preconceived ideas of the sort of man our owner is. Now, I can understand this to a degree, because I'll admit my first reaction on reading the stories about ugly men and beautiful women was to shake my head in a resigned fashion, but, this time, when you actually put aside the prejudice and look at what Vincent Tan was saying, you have to concede that he has a point.
Speaking as someone who wants to see the team I support be in possession of the ball for the majority of the time, I've no problem at all with us becoming more of a passing team in the year since Paul Trollope joined the club. Nevertheless, there are times when I just wish some of our players would trust their ability more when they have the ball twenty odd yards from goal and let fly with a shot, rather than play another sideways pass.
That might not be quite the same as what Vincent Tan thinks, but the thought behind it is similar to his on the matter and it shouldn't be forgotten that after around a third of the season, our average shots on goal per game figure was the lowest in the Championship.
I've been doing some research on this site and found that, while our more attacking outlook of the last three months or so has seen us become more willing to shoot, our figures still aren't too impressive.
In terms of average shots at goal, we now have 12.3 of them per game with 4.1 of them being on target. That is enough to put us in fifteenth position in the Championship's shots per game table, but we drop a drop a place when it comes to shots on target and, as far as goal attempts from outside the penalty area go, we are down in eighteenth place with 5.1 of them per match.
So, the stats say that Vincent Tan has a point and it seems to me that with thirty eight goals scored from thirty one games in which we are averaging 12.3 goal attempts per match, his theory that we score once in every ten goal attempts looks about right to me.
Yesterday, Mr Tan was at the Valley to watch us draw with the Championship's bottom club, Charlton Athletic. According to the BBC, we had eighteen goal attempts, so, perhaps, Mr Tan's words on Thursday might have made some sort of impact on what I suspect was a cynical audience they were delivered to!
Unfortunately, only three of those goal attempts were on target and so it shouldn't come as too much of a surprise to learn that we drew a blank for our second successive match to record another 0-0 stalemate with a team deep in relegation trouble. So, although the gap between us and the last Play Off place remains at five points, our chances of finishing in the top six have to have diminished somewhat because we have one less game left to close that gap in.
It seems we had a right go at winning the game in the second half and, just like last week, could claim to be "moral winners" of the match after twice hitting the woodwork and having a goal disallowed, but the suspicion that we just don't have enough goalpower to, first, climb those three places and, second, stay there has to be stronger today than it was this time last week.
A fortnight ago after a win at Huddersfield, which meant we had scored seven times in taking the same number of points from three games, Russell Slade introduced a note of caution by pointing out how many goals the squad had lost from it with the departure of Kenwyne Jones and Joe Mason and the injury to Craig Noone.
Now, the perception was that by bringing in Tom Lawrence, Kenneth Zohore and Lex Immers on loan, we had done a good job in covering the loss of players responsible for sixteen of those thirty eight goals scored so far in our Championship campaign, but is that really the case?
Certainly, the non use of Immers and Zohore from the bench yesterday is a worrying sign in a game where we really needed a goal. Immers wasn't used either against MK Dons and Zohore only came on in the eighty seventh minute, so that hardly makes them sound like adequate replacements for, say, Jones and Noone does it?
In the case of Lawrence, Mr Slade sees him as a number ten currently, so he is the nearest thing we have to a Mason replacement I suppose. Now, I happen to believe that Lawrence will end up being a good signing for us and he definitely is better at some aspects of the game than Mason is, but ask me who of the two is likely to end up with the most goals this season and my answer will be that it won't be the one who played for us yesterday.
Lawrence's career record of eight goals in sixty two games tells it's own story and it's sobering to think that the team he spent the first half of the season with, Blackburn Rovers, are the Championships joint lowest scorers – not all Lawrence's fault of course, but he's hardly come here from a confident and successful environment when it comes to goalscoring has he.
Given that the stated goal at the club this season is a top six finish, it would be informative to ask what are the characteristics which mark a team out as being good enough to reach that target?
For me, there are some obvious answers like a degree of consistency, a good team spirit, a true belief that they are good enough for the top six on merit and a sense of resilience – the ability to record the occasional big win would help as well.
How, do City measure up in these departments then? Well, three successive draws backed up by three consecutive wins to start the season certainly suggested consistency, but that's been a quality which has been sadly lacking since then as the failure to record consecutive wins since early September proves.
As for team spirit, we are told it's better than it was and, although this is something which might be hard for someone who only gets to see the players for a lot less than 10 per cent of their working week to gauge, my impression is that this is the case. I'm less convinced when it comes to belief and resilience – for me, that trio of home matches where we couldn't hold on to 2-0 leads said an awful lot, as did those late, late defeats at Rotherham and MK Dons and when it comes to big wins, well forget that – we've not won by a three goal margin or more since April 2013!
Actually, on further reflection, maybe that last one is not that important after all, could it be that it is the victories of a completely different kind which do more to shape a team's destiny?
I'm reminded of one of the best football books I've ever read called "Only a Game?" by former Millwall player Eamon Dunphy – I first read it over forty years ago, but I think it's as relevant and informative today as it was back in the 70s.
To give a bit of a background, Dunphy's book is a diary of the 1972/73 season at Millwall. The London club were only denied promotion to the old First Division for the first time in their history on the last day of the previous season and Dunphy spends much of the time puzzling over what has gone wrong as, far from mounting another promotion challenge, his team finds themselves down at the wrong end of the table.
Hindsight shows that Millwall were in a similar sort of decline to the one which had begun at Cardiff a couple of years earlier after the failure of our 70/71 promotion challenge – important players were just starting to go over the hill (indeed, Dunphy finds himself dropped and then having to sign for Third Division Charlton about half way through the season) and both sides ended up being relegated at the end of the 74/75 campaign.
Anyway, the relevance of the book to this piece is that, just for a short while, Millwall hint at a recovery which would see them restored to their former glory. During this time, they play successive home games on a Saturday and Monday – the first of which (think it may have been against Preston) they win 5-1 and then they also beat Sheffield Wednesday a couple of days later 1-0 thanks to a very late goal.
Dunphy's reaction to these two games is fascinating. He doesn't have a great deal to say about the first one apart from something like we played well and it was good to enjoy ourselves against a team who, on this evidence, have real problems, but he is absolutely ecstatic about the Sheffield Wednesday win.
Apparently, Millwall were second best for long periods to a visiting team that played very well on the night, but Dunphy takes great confidence from the fact that his team stayed together, with everyone giving their all to the cause, to secure a win they didn't really deserve – it's obvious that he rates the influence a game like that can have on a dressing room above the impact an easy 5-1 win can have.
It needs to be reiterated that Millwall did not kick on from that Sheffield Wednesday win and so Dunphy's confidence was misplaced in this case, but, since reading his views, I've always believed his fundamental point was correct, hence my liking for hard fought 1-0 wins down the years – these are the games which really shape a side's destiny!
Sadly, if you apply that line of thinking to Cardiff City's 2015/16 side, the omens are not good. The 1-0 beating of high riding Middlesbrough courtesy of a scrappy' late, own goal is exactly the sort of outcome which marks a side down as potential top six material, but we've only managed one other single goal victory all season – a scrappy affair against Blackburn courtesy of a "tap in" by someone who was the nearest thing we had to be a specialist at such goals, but, sadly, is no longer a City player.
Indeed, City have only managed five 1-0 wins in the sixty six league games played under Russell Slade. Contrast that with the seven Malky Mackay's "boring" title winning side managed in 12/13 and you have a telling difference between a squad with, arguably more natural ability and another one who knew exactly how to succeed at this level and had an abundance of the qualities I listed earlier needed for a top six finish – the 12/13 side (and quite a few of our other teams which preceded it) would have found a way to win at least one of our last two games 1-0.
*pictures courtesy of http://www.walesonline.co.uk/