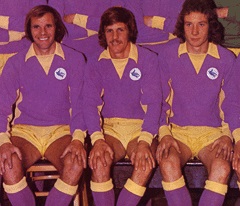 I'll start with a question, how do you think this side would do in the Championship?
Lee Camp
Jazz Richards
Sean Morrison
Rolf Feltscher
Rhys Abbruzzese
Kadeem Harris
Aron Gunnarsson
Craig Bryson
Danny Ward
Fred Gounongbe
Kenneth Zohore
Subs
Anthony Pilkington
Rhys Healey
Now, I've made a couple of assumptions in that selection. First, I'm presuming Feltscher is injured because, after a few games when he was on the bench in front of Matt Connolly, the Venezuelan has been missing for the last two matches and, second, Abbruzzese has not recovered from the injury that has made him miss Development team matches since October. Also, although Pilkington was a substitute last night at Reading, Neil Warnock said in his post match interview that he suffered a back spasm on the way to the game, which meant that he was never going to be used.
So, that squad of thirteen are all players that were unavailable to our manager because of injury as he contemplated how to engineer a comeback from City's 2-0 half time deficit last night. Back in the summer, there has to be a very strong chance that Mr Warnock would have seen Camp, Morrison, Gunnarsson and Zohore as very important members of the spine of his side for the upcoming campaign – the fact that we are now approaching the halfway stage of the season with Camp having not played at all, Gunnarsson has barely featured since late September and Zohore has been missing for just short of two months, with his comeback date continually being moved backwards by the club, is remarkable.
However, with some claims that Omar Bogle's second half withdrawal (like Morrison's in the first half with what was reported as being a groin issue) was down to injury, it could be that he'll be added to the squad above when we face Hull on Saturday. However, hopefully, to counter that, our manager has indicated that tonight's Development team match with Crystal Palace at Cardiff City Stadium will see Camp attempt his latest comeback having not played any first team football since November 2016 and Healey play his first game since his knee ligament injury sustained against Burton in January.
City's growing injury list is now on the kind of scale that would have me questioning the training methods being used if it were another club involved, but it seems to me that it's more likely that we are just experiencing one of those periods where it can all be put down to bad luck. After all, there was never as big an injury list as this when the same training staff were in place for the majority of last season and while it's clear that the squad was worked hard when it came to fitness training during pre season, you would assume that it wouldn't have taken as long as it has done to reach the current situation if they had all been worked too hard.
What is becoming increasingly clear is that the levels of fitness instilled in the squad in those weeks leading up to the start of the season are being maintained because, having already used the word "remarkable" once, I have to say that when you consider how the first eighty odd minutes at Reading had gone, it was, indeed, remarkable that City ended up with a point as a first goal for the season by Joe Bennett and a first for the club by Lee Tomlin saw the match finish up at 2-2.
So, the chance to reduce the deficit on leaders Wolves following their surprising failure to beat, or even score, against lowly Sunderland at Molineux on Saturday was not taken and the gap remains at four points. However, the feelgood factor built up by the run of four consecutive wins going into last night's game should, if anything, be enhanced because this was the best comeback so far by the side that are Championship leaders when it comes to rescuing lost causes.
Also, Bristol City were able to close the gap between us and third place to four points, but  their extremely lucky (the home side hit the woodwork four times!) 2-1 win on Friday at Sheffield United at least came at a fellow promotion challenger. Derby also won at freefalling Barnsley, but the news was better elsewhere with Villa being held to a goalless draw at home by Millwall.
There had been a feeling that once we got the Severnside derby over and done with in early November, we would then enter an easier run of fixtures that would take us up to Christmas. I suppose the fact that we took twelve points from twelve in the matches which followed tends to indicate that this supposition had been proved correct, but Brentford were on a nine game unbeaten run when they came here in the game after our loss at Ashton Gate, Barnsley had only lost one in six when we faced them and Forest were on a run of four straight home wins at the time – even an out of form Norwich side posed us a problem as they deservedly led at half time.
All of which indicates that the line that is often trotted out about there being no easy games in the Championship is true and I must admit to a sense of foreboding prior to last night's match.
My pessimism partly stemmed from the fact that this was, perhaps, the worst time of the season so far to be playing a Reading side that have struggled to come to terms with their devastating penalty shoot out defeat in their promotion Play Off Final with Huddersfield in May.
Reading had dropped as low as twentieth and were only two points off the bottom three after a home defeat against Middlesbrough in October, but one defeat in the seven matches following that meant that, yet again, we were going into what had been classed as an "easy" game at one time against a side in good form.
Whenever you play Reading under their current manager, you can expect to spend a lot of time without the ball, so, given our possession figures, it was even easier than normal to pigeon hole one of our games into certain categories beforehand.
Firstly, Japp Stam's Reading would look to build from the back as they adopted their mantra of "pass, pass, pass" and we would generally be happy to let them do so as their commitment to a certain way of playing could see them take too many risks in their defensive areas. Secondly, as the side with the best goals against record in the league, we would be strong at defending set pieces, while trying to impose this perceived superiority at the other end of the pitch as well. We would also be direct going forward, while remaining organised and disciplined in terms of individual responsibility during the long periods when we were not in possession.
In the event, all of the preconceptions were consigned to the dustbin during a first half that was, possibly, as difficult a forty five minutes as we've had to endure this season.
The strange thing was that, between the boxes at least, we were passing the ball better than we usually do, whereas Reading were looking to play more long balls than normal and who could blame them when they were proving to be effective against a shaky looking visiting defence?
The oddest thing of all though was the success the home team were enjoying from set pieces. Indeed, with City having made a misleadingly bright start which saw Nathaniel Mendez-Laing force home keeper Vito Mannone into urgent action, it was a corner kick which offered Reading a way into the game on sixteen minutes.
I must admit I struggle to recognise everything that goes right or wrong when a goal is scored from a corner, but I am capable of working out when it is down to generally shambolic defending! Therefore I knew some things had gone wrong with our defending when the ball ended up in our net, but it needed the analysis of the TV commentary team for me to be shown how much we had contributed to our own downfall.
The fact that Callum Paterson had succeeded in glancing a near post header into his own net was the easy bit to spot and I could see that Neil Etheridge had got himself into something of a goalkeeping no man's land by taking a few steps towards a ball he was never going to get. However, I had missed Bogle's strange dereliction of the usual strikers near post responsibilities, as, with no opposition player in front of him, he advanced towards Liam Kelly whose set piece delivery was dangerous to the extent that it had a bit of pace and curl on it, but it would have been the striker's ball to clear if he had stayed where he should have done – instead, Paterson ended up heading a ball which he almost certainly thought was never going to reach him.
With Reading now looking lively and inventive, the last thing City needed was to lose their captain as Morrison, who had not missed a minute of a league campaign prior to this match, left the pitch with just thirty five minutes played.
As it was, Morrison's replacement, Lee Peltier helped provide some much needed defensive solidity through the remainder of the game, but, even so, it was his header from another Kelly corner which dropped into the path of former Swansea winger Mo Barrow who. promptly fired past Etheridge from twenty yards – although it's doubtful that the shot would have beaten the keeper without the touch off Joe Bennett which left Etheridge helpless.
Within seconds,  Barrow looked like he could make it three, only for some good defending by Sol Bamba to snuff out the danger, but it was so telling that the man who had taken over the captain's armband gestured to his team mates in an exasperated fashion as he, like quite a few City fans, wondered what on earth was going on.
Ten days earlier, City had found themselves in a hole at half time, but that was against a Norwich team on a long winless run and they were only a goal behind. What they faced last night offered a much stiffer challenge, because Reading had shown none of the frailty that Norwich had even when they were on top and the options available to Neil Warnock on the bench had a look of last season about them – especially as it turned out that the closest thing he had to a striker in Pilkington was never a candidate to come on.
Against Norwich, City were able to turn things around by making a couple of half time changes. Although it seemed to be another situation that called for an early introduction for Lee Tomlin, the manager spoke after the game about the players need to get fitter and maybe this was a factor in why he decided to keep things as they were – he was also hamstrung to some extent of course by the fact that he'd already had to make a substitution.
City survived an early second half scare as Sone Aluko shot narrowly over, but they made an encouraging start in their bid to recover from their two goal deficit. There had been chances in the first period, but it was even more true now as the home side were forced back – there were a couple of reasonable opportunities for Bogle who, having done well in his last three appearances for the team, looked more like a case of work in progress here.
The best chance fell to an unmarked Junior Hoilett though as his header from a good Mendez-Laing cross rebounded from the pitch over the bar and on to the roof of the net – it was an effort that rather told the story that, despite his good goalscoring record this season, Hoilett is not a natural finisher, especially from headed opportunities.
To me, it looked like a little of the feeling that they could still get something from the game drained out of the City at this point (it certainly did in the case of at least one Cardiff supporting TV viewer!) and, having endured a bit of a defensive examination in the first third of the second half, Reading were quite comfortable for the middle third of it.
City were still enjoying a territorial advantage, but, as the ball bounced around in the Reading six yard box without an attacker getting a touch or a goalmouth rebound fell in favour of the home side, it looked increasingly as if it was going to be one of those nights that have to be put down to experience for City.
Tomlin was finally introduced, in place of Paterson, in the seventy ninth minute and there was little in his early play to suggest he would have the impact he eventually did as he blocked the latest in a series of well struck efforts from outside the penalty area by the impressive Joe Ralls and then his attempt from a decent shooting opportunity from twenty yards which brought an easy save from Mannone bore all the signs of someone who had not scored since March.
Rather than Tomlin, it was the arrival of Liam Feeney for Bogle with nine minutes left which coincided with the change in atmosphere as home confidence began to waver. Within two minutes, Hoilett and Mendez-Laing combined and when the former's cross was half cleared. Joe Bennett volleyed in crisply with his left foot from fifteen yards.
The arrival of Feeney made it even more likely that Reading would have more crosses to defend and, all of a sudden, a combination of an edgy home side and an a rampaging away team made it clear that the game was far from over.
There were further close shaves for home fans to endure and to frustrate away supporters, but, just as the announcement that there would be five minutes of additional time to be added on might have had Reading thinking they were almost there, Tomlin received a throw in from Bennett and managed to reach the byeline from where he put over a lovely, inviting, left footed cross.
What happened next was sheer theatre as Bamba sent a far post header on to the crossbar from where it rebounded on to the right foot of Tomlin, who, from the corner of the six yard box, hit a well struck shot that crashed off the underside of the same bar before bouncing up off the floor to hit it again and then the ball was desperately hooked clear by Chris Gunter.
However, on first viewing, it seemed clear to me that Tomlin's shot had bounced down over the line and, with goal line technology available at this level these days, I was confident that it would soon be confirmed that we had equalised. Although the delay of what must have been no more than two or three seconds seemed to go on for ages, the confirmation that it was a goal eventually came with television replays showing that the ball was about six to nine inches over the line when it bounced after it had hit the crossbar for the first time.
The greedy part of me wanted City to push on in a search for the winning goal, but, understandably, the emphasis switched to preserving what would be a brilliant point. However, the policy almost failed as another dead ball situation was defended poorly – this time it was a free kick from the halfway line which eventually found it's way out to Dave Edwards whose far post cross was headed against the woodwork by Paul McShane.
The rebound was hoofed clear by Bennett and the final whistle blew to end a game that had finished in breathless fashion. Reading probably felt hard done by to have missed out on a winner right at the death, but with City having fifteen goal attempts to the home team's ten, with eight on target to Reading's two, I think the draw was a fair result.
Tremendous credit should go to the whole City team, but I think the contributions of three players who have become absolutely essential to us as others have fallen victim to injury were especially important. Sol Bamba, Joe Ralls and Junior Hoilett were not faultless, but they were all very influential in their different ways – this feels like a very big point in our season, but we really do need some of the injured players back sooner rather than later.
It should not be forgotten either that the comeback was achieved without Neil Warnock on the touchline after he was sent from the dug out by referee Steve Martin about midway through the second half. Having been given an earlier warning, it was hardly surprising that our manager was dismissed, but it's galling that the reason why he was sent off was because he disputed a free kick award that the commentators were adamant should have gone to City rather than Reading.
I'm pretty certain that our manager was remembering how bad Steve Martin was in our recent game with Millwall – that afternoon he was equally inept for both sides, but last night it seemed to me that the same official consistently favoured Reading in his decision making. Luckily, this didn't have a huge impact on the outcome of the match, but, having been a referee who I'd not really noticed much either way in the previous City games he'd done, Mr Martin has been poor twice in six weeks now and it would be nice if the authorities now decided we'd seen enough of him for a while.
Finally, a reminder about the subscription list that's been set up on here whereby subscribers receive an e-mail notification of new stories as they are published – if you'd like to be added to the list, either mention it in the Feedback section on here or notify me at paul.evans8153@hotmail.com  .
* picture courtesy of https://www.cardiffcityfc.co.uk/