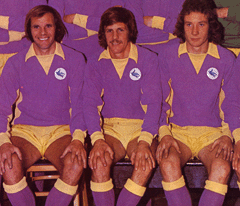 Last night was one of those periodical away games that I don't even get to listen to on the radio (I was out and so was only able to get away to catch up with things on my car radio for a few minutes at half time and then again after the match). Therefore, as most of you who get to read this will have seen and heard more of the game than me, I'll keep this piece a lot shorter than normal and just offer a few general thoughts on our 3-1 defeat at Middlesbrough.
Firstly, while it's frustrating that we were unable to follow up on that fine performance against Brighton on Saturday and recording successive wins seems as far away as ever, defeat to a team who had only lost twice at home in fifteen games during which they had conceded just four goals shouldn't have come as a shock. Unfortunately, based on the snippets I've heard and read and the brief highlights I've watched, the same cannot be said about the manner of the loss.
Middlesbrough are one of a few sides (Derby and Sheffield Wednesday are others which spring to mind) who are challenging for promotion on the back of having spent very significantly on new players despite not being in receipt of relegation parachute payments – to me, it seems pretty certain that these sides have to go up if they are to escape sanctions under the FFP rules next season.
Besides the likes of Stuart Downing, Jordan Rhodes, Christian Stuani and David Nugent (who, according to some of the more conservative reports I've read, cost Boro something like £19 million between them), last night's squad had a couple of players in it in Gaston Ramirez and Richie DeLaet who, surely, must be costing them a tidy sum in loan fees and wages.
Therefore, when you consider how we have been run this season in comparison to them, they should be beating us on their own patch really, but, should they be doing so by scoring three times while also affording to miss a penalty and what's been described as a "host" of chances which fell to the expensive Rhodes (who, apart from a couple of goals for Huddersfield in a League Cup tie, has a pretty moderate scoring record against us)?
Truth is, that Boro owe their lofty position almost entirely to their vice like defence – the stats confirm my opinion that they have, by some way, the best defence in the Championship. However, despite all of their spending, they are hardly prolific in attack – we are one of ten teams in the division who have scored more goals than them this season. In fact, after a few big home wins at the start of the campaign, their recent goalscoring record at the Riverside Stadium was very poor, with only eight goals scored in their last ten matches in all competitions on their own ground – over the past four months, the tendency has been that away teams do not lose at Boro if they manage to score.
So, when Fabio put us ahead with what was a superb first goal for the club, the opportunity was definitely there to feed on any anxiety in the home team and their supporters that had grown over a winless five game run. Sadly, City were prone to expensive individual mistakes all night which made it so much easier for their opponents to, first, get level quickly and then pull clear to record what was a big win by their standards.
Among the most culpable apparently were our usually reliable centrebacks. Matt Connolly may have been a little unfortunate when the ball rebounded off his knee on to his arm and then in to record his third own goal of the season to get Boro back on level terms, but there were unusual errors from him besides that, while Bruno Manga had one of those matches he is occasionally prone to where a player who normally makes plying his trade at this level look very easy, is suddenly sloppy in possession and unsure in his defending.
As for our left back, well, the word "enigma" could have been invented with him in mind. Scott Malone has been with us for over a year now, but I still never know what we are going to get from him from one game to the next.
When you see him at his best, those reports which claimed that Borussia Dortmund were interested in him last season seem almost believable – despite Fabio's goal last night and his occasional quality in the final third, Malone, for me, is our best attacking full back.
Indeed, even though he was deemed worthy of only a four out of ten marking in Wales Online's ratings for last night (not sure how reliable these were mind when you consider Fabio was given man of the match with a seven, yet David Marshall received an eight!), Malone still put over two lovely crosses which presented decent headed opportunities for Lex Immers and sub Kenneth Zohore. However, when you look at how feebly he lost possession, and then stayed down,  in the build up to the equaliser, you begin to think that the marking was a fair one.
Certainly, although I heard criticisms of other City players in the snippets of Radio Wales' coverage that I caught, Malone was copping the brunt of it. Now I know I shouldn't really be too critical of any player after a game that I have so little knowledge of currently, but the truth as I see it is that, based on the evidence of the last thirteen months, Scott Malone is a player who can easily go from the seven or eight out of ten performance he turned in on Saturday to the four out of ten we got last night – it's far from the first time it's happened and I believe that he is too inconsistent to be the sort of full back a side that wants to put in a meaningful promotion challenge can afford.
So, City move on to a home game on Saturday with a Preston side that, Burnley apart, have to be seen as the Championship's form team with seven wins and just one loss to show from their last ten matches. The Lancashire side must now be considered credible Play Off contenders, but we showed on Saturday that we are well capable of beating such a team – the problem we are no closer to solving is that does victory on Saturday preclude the same outcome happening when we travel to Bristol City in our following game seven days later?
* picture courtesy of http://www.gazettelive.co.uk/