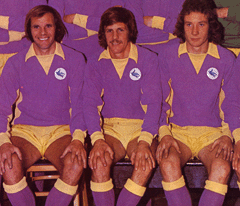 What a tremendous day it was for the sports fan yesterday.If you love golfing team tournaments like the Ryder Cup, like I do, there was the Solheim Cup starting before 7.00 am and then, right up until the end of the France v Italy Rugby World Cup game at about 10.00pm, there was exciting, top quality, sporting fare on offer.
Best of the lot had to be Japan's truly astonishing win over South Africa in the rugby  - a triumph of positivity (I was swearing at my telly in frustration at Japan's stupidity in choosing to go for a scrum after being awarded a penalty when 32-29 down in added time!) and courage which, surely, has to be the biggest upset in the history of the game – in fact, I'd put it down as one of the biggest in any sport.
However, there was so much more to enjoy on this terrific day – unfancied Georgia had beaten the relative giants of Tonga a few hours earlier in the rugby, there was a cricket Cup Final that looked like ending in a routine win for Surrey until Gloucestershire got up off the canvas to KO them in a memorable last few overs, West Ham inflicted a second successive home defeat on a Manchester City team which the pundits were handing the Premier League trophy to already this time last week and Great Britain, through the Murray brothers, took themselves to the brink of their first Davis Cup Final appearance in thirty eight years with a heart stopping doubles win in their Semi Final tie with Australia.
So, against that little lot, Rotherham 2 Cardiff 1 looks pretty mundane, but, judging by the opprobrium being directed at City goalkeeper and captain David Marshall after his red card which, seemingly, decided the match, there are an awful lot of people around who are absolutely and totally outraged following our second defeat in four days.
What happened to get supporters so hot under the collar? Well, the first thing to say is that, initially at least, I was totally ill equipped to answer that question. I was watching the tennis with the sound turned down to listen to Radio Wales' commentary of the match at the time, but about twenty seconds before Marshall's loss of sanity/moment of madness/crime against humanity, the phone rang.
Now, the joys of continual cold calling mean that I no longer bother to answer my land line when it rings (I just check 1471 and ring the person back if it's a number I know), but someone had told me they would ring me at around that time, so,  I turned the radio down and answered the call. Of course, it turned out that it wasn't my friend, but someone trying to get me to take part in what they assured me was a very short survey.
In the time I had declined this kind offer (in a very polite and refined manner of course) and went back to my radio listening it seemed Bedlam had descended on whatever Rotherham's new ground is called these days. I tuned in again just in time to hear the home side take the lead from the penalty spot and the commentators talking about Simon Moore having no chance of saving Odjidja-Ofoe's spot kick!
It didn't take too long to learn what had happened because the commentators were soon talking about Marshall's act of folly – except they were putting it in stronger terms than that. Apparently the keeper had lashed at Rotherham's Matt Derbyshire after collecting an innocuous through ball.
There was little or no sympathy for the Scottish international being shown either and, on the face of it, there was little reason for me to feel differently – after all, this was the second time in six matches that Marshall had been dismissed for retaliating to a challenge from a striker.
As the first messages condemning this act of lunacy started to appear on the messageboards and the local press entered full disgusted of Tunbridge Wells mode, I resolved to express my anger, pain and outrage during the half time interval on my Twitter account only to remember that I don't have one.
City took about two minutes to get level with the team who propped up the table with just two points from their first seven games as Peter Whittingham scored his first goal of the season from another penalty and, for a long time it seemed that the determined defending from the ten men would see them return south with a point, but a cruel, last minute own goal by Matt Connolly saw them denied even that.
If there had been some honour in defeat at the hands of a good Hull side on Tuesday, the same could not be said about going down to a team that is being tipped by so many to be relegated this season and, apparently, there could be no doubt that one man and one man alone was responsible for the defeat.
That was certainly what nearly all of the post match reaction was claiming – David Marshall was being vilified as the man who had cost us three points as calls for him to be relieved of the captaincy mounted, along with the claims that we should have sold him to West Brom in the summer.
While all of this was going on, there was one thread on the City messageboard I read the most asking why was it a penalty if Marshall was reacting to a pull at him by the Rotherham player. Even if the red card was deserved, shouldn't the game have restarted with a free kick to Cardiff – a good question I thought and something to check on when I saw the video of Marshall's act of brutality in all of it's horrific glory.
Until then though, I'd have to settle for listening to the exclusively critical phone in reactions to the incident. Now, when everything you are hearing and seeing portrays something in the same critical light, it becomes so easy to fall into the trap of believing what is being said has to be the truth – I certainly did as the criticism of Marshall continued.
Therefore, when I finally got to see pictures of the game, I found myself having to rewind the Marshall incident, because I thought I must have somehow missed the hot headed reaction which earned him the red card. I looked a second time and again found myself thinking "so, where is it?" and a third time before accepting that what had taken place was a classic over reaction on so many sides.
First of all, Marshall over reacted to what was an illegal, but hardly malicious, challenge by Derbyshire – the goalkeeper shouldn't have reacted like he did, but it was all fairly harmless stuff which the Rotherham player milked in his efforts to persuade the referee to produce a red card.
That official went by the name of Keith Hill and, just like the dreadful Mr Sarginson in our previous game, was a ref I'd never heard of before. What must be said here is that Mr Hill acted like many referees have done in the past before sending off a goalkeeper guilty of reacting to a challenge by an opponent and, as there definitely was a flick of the foot by Marshall towards Derbyshire, I believe his decision would be upheld in the event of a City appeal against the decision. In my opinion though, Mr Hill was guilty of over reacting in sending Marshall off and awarding a penalty.
Taking the sending off first, the only way I can see it being justifiable is by comparing it with other dismissals of goalkeepers in the past – other goalkeepers have walked for doing the same sort of thing that Marshall did. However, those decisions were made against a backdrop which says that goalkeepers get treated in a completely different way to the other ten players in a team by match officials.
In saying that, there is a logic which says that if an outfield player should, rightly, be sent off for using his hands to stop a goalbound effort on the line, then a goalkeeper should go for using his hands outside the penalty area to deny a goal being scored. However, how many times have we seen a red card for handling outside the penalty area when a goal was not on – certainly it happens proportionately more to goalkeepers than it does to outfield players who handle the ball in the same area of the pitch.
Similarly, are we seriously to believe that a red card would have been issued if an outfield player had reacted in the same way as Marshall did after a challenge with an opponent on the halfway line?
No, goalkeepers are treated differently to every one else and so now our goalkeeper, who had never been sent off in a thirteen year career before May, has two of them for incidents which would have seen him, at most, cautioned if he had been an outfield player – I accept that this is an arguable opinion in the case of the Forest dismissal.
On a weekend when the thuggish Diego Costa yet again brings the game into disrepute, how can it be right that he can, seemingly, get away with anything (if Soccerbase is to believed he has, incredibly, only been sent off once in his career!) while goalkeepers all over Europe are sent off every weekend for totally innocuous "offences"?
With regard to the decision to give a penalty, it's interesting to compare what happened yesterday with what happened at Forest when Marshall picked up his first red card which, in my opinion, was more justified than yesterday's. In that case, you clearly hear the whistle blow for a foul by a Forest player before Marshall reacts to being knocked to the floor and there is no protest made by the home team as to why the game does not restart with a penalty following Marshall's dismissal.
Now, I don't have a copy of the laws of the game to hand, but my definite impression is that, unlike in rugby union, original decisions do not get overturned as a result of things like retaliation, dissent etc. Therefore, with Derbyshire's grab at Marshall definitely constituting a foul challenge, the game should have started with a free kick to Cardiff.
It would seem that the reason that it didn't was that both referee and relevant linesman missed what was a pretty obvious foul by the Rotherham player. Interestingly, the pictures of the incident which led to our penalty would have had me questioning the decision if I were a Rotherham fan – although I noticed that there were no protests at the decision from the home players, it didn't half look like Fabio dived to me and it struck me that the referee was looking to even things up so to speak.
Although it would be wrong to label Mr Hill as bad an official as Mr Sarginson was last Tuesday solely on the basis of a couple of decisions I think he got wrong yesterday, I wonder if he might have reacted in a more lenient fashion to what Marshall did if he had seen Derbyshire's foul on him? I have my doubts about that, but if the game had restarted with a City free kick, would we have ended up with a draw rather than a defeat?
My truthful answer to that is I'm not sure because, for me, the truth that has tended to be overlooked after the Marshall incident is that there was nothing happening in the forty odd minutes when it was eleven v eleven to suggest that we were on our way to picking up the three points. In fact, with it sounding like Rotherham were putting most of the pressure on, I spent much of the first half recalling our visit at around this time last year to another side at the bottom of the table and looking for their first win, Blackpool.
Speaking as someone who talked in the week about what I called the Kenwyne Jones dilemma, whereby the striker's mere presence in the team leads to us playing in a particular way which often does us few favours, Russell Slade's decision to leave him out and give Sammy Ameobi an overdue first start should I suppose have had my approval. However, whatever I may have thought of our manager's choice of front men, it patently didn't work as the Rotherham goal was barely threatened during the time Ameobi and Joe Mason (who was taken off to allow Simon Moore to come on after the red card) were in partnership together.
Similarly, I couldn't help thinking that the time to bring Craig Noone back into the side was about a month ago when he was scoring goals and full of confidence – I know it's tough for substitutes when they are come on against the sort of massed defence Hull had, but he looked like the Craig Noone of last season I'm afraid when he got his first chance to impress in a few games on Tuesday.
No, my main concern about yesterday was not what David Marshall did, it was that there were definite echoes of last season (which were not present on Tuesday) in yesterday's defeat. With some very testing looking games to come in early and mid October, Charlton's visit next Saturday has suddenly become a very important game, we don't want to be facing Brighton, Ipswich and Middlesbrough on the back of a run of three successive defeats.
I'm going to finish by getting on a soapbox of mine and talking about the Marshall sending off again – in particular, what the reaction to it says about the sort of society we are. Now, I must emphasise that, as mentioned  before, at six o clock yesterday I was believing all of the things I was hearing about David Marshall, so it would be hypocritical of me to condemn individuals for expressing their criticisms of him at that time.
However, I've believed for a while now that, in this world of instant reaction where you are encouraged to have your say on anything and everything (as long as you use less than 140 characters in doing so) we have become a society which gets a kind of masochistic pleasure out of being outraged.
The rush to be first to react, while expressing views which look at everything from a purely black and white view, means that stacks of people end up looking pretty idiotic when the true facts become known (again, I'm not trying to be clever here because it's something I've been guilty of myself). Yet, despite this, it seems that it's considered to be more important to be out there straight away expressing your outrage than it is to take a little time to ensure that what you say can be backed up by the facts .
All I have to say about David Marshall for now is that he was far from being the only one to over react yesterday – there were thousands of us. Thanks for six great years of service to Cardiff City David and this is how I'll remember you as a City player when you leave.
*pictures courtesy of http://www.walesonline.co.uk/