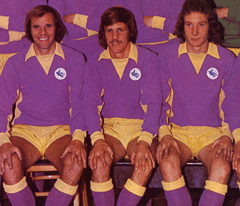 Just a few quick words about our former player Billy Ronson who passed away yesterday at the age of just 58. Ronson began his career at Blackpool and, after an early loan spell in America with Fort Lauderdale Strikers, became an established part of the their midfield before we paid what was a club record fee of £130,000 at the time to bring him to Cardiff in the summer of 1979.
By City standards of that time, Ronson was part of a successful team during his first season with us – after years of continual struggle in the old Division Two, we finally had a side that made it into mid table! In fact, the 1979/80 season was a little like this current campaign in that we were never serious promotion contenders and we always seemed to put a little run of results together whenever we started dropping too close to the lower reaches of the table. Like the current side, the 79/80 team were pretty solid defensively, but were lacking when it came to flair and entertainment. However, although Ronson did not lack natural ability, he was not in the side to provide frills and skills and it could be said that he did his job more than adequately, while those charged with being our play makers weren't good enough at theirs.
Never known for his goalscoring, Ronson did get what was probably the most satisfying goal of that season when his second half effort proved enough to beat Swansea in the first league derby at Ninian Park for fifteen years, but he became frustrated as the 1980/81 season developed into another slog against relegation. He had long since make clear his determination to leave the club and he didn't stay for long during his third season at Cardiff as Wrexham paid £90,000 for him in October 1981 with City recouping most of the money they had spent on Dave Bennett a week or so earlier.
Ronson left a poor City side destined for relegation, but his new team fared no better as they joined us in making the drop to the Third Division and, while City fought back with a promotion in 82/83, Wrexham's decline continued as they suffered another relegation. By that time, Ronson had moved to Barnsley and it was here that he probably had the best spell of his career as he enjoyed three seasons of regular football in a team that was an established second division outfit at the time. After a brief loan spell at Birmingham, Ronson returned to Blackpool, but only played three times for them before moving to America in 1986 where he played nearly 300 indoor games for Baltimore Blast (he was inducted into their Hall of Fame in 2009) and kept on playing at various levels until 1999 when he was in his early forties – he also did some coaching and managing in the American indoor soccer scene as he made his home in that country.
According to his ex City colleague, Ron Healey, Billy had not enjoyed the best of health in recent years and so, it may be that his death did not come as a shock to those who knew him well, but it certainly did to this City fan who is saddened by the passing of another ex City player who is younger than him.
RIP Billy Ronson, a player who was good enough to have played for better Cardiff sides than the ones he turned out for.