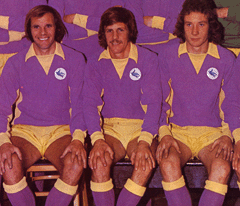 In the years following our third place and near promotion miss in 1971, City fans had got used to late season matches at Ninian Park in which the "success" of earning another season at Second Division level after a season battling relegation could be celebrated. In 1972, it had been a 1-1 draw with Luton, that kept us up, a year later Sunderland came to Ninian Park two days after their never to be forgotten FA Cup Final win over very dirty Leeds and played out another 1-1 draw,  then, in 1974, City had sent Crystal Palace down in yet another 1-1 draw courtesy of a tremendous goal from the talented Tony Villars (for whom the word "enigmatic" could have been invented!) when a win for the London team would have meant relegation for us.
Therefore, City fans could perhaps have been forgiven for thinking that we would again avoid the oncoming train at the last moment and preserve our Second Division status by beating Bristol Rovers at Ninian Park on April 12 1975.
The trouble was though that there were significant differences this time around compared to previous years. For a start, we had three matches left after this latest "relegation decider", the recent advent of three up and three down had not made things any easier for struggling sides and, finally, we were a poor side, bereft of confidence and in the middle of an injury crisis!
The 74/75 season was always going to be a struggle. With average gates having fallen from 21,522 in 70/71 to 10,714 in 73/74 (they were to drop further to 9,143 in 74/75), money, or, to be more accurate, the lack of it, was always going to be a big factor in how we did. This was emphasised on the opening day of the campaign when we faced Oxford United, who had bought our top scorer Andy McCulloch for a club record fee of £75,000 in the summer, at Ninian Park.
We escaped with a point that day thanks to freakish equaliser from about fifty yards out by left back Clive Charles, but, apart from a win at Sheffield Wednesday and a draw at Portsmouth, they were the only times we avoided defeat in our first eleven matches as we found ourselves at the foot of the table. A revival prompted by the swap deal with Northampton which saw John Buchanan join us as the disappointing record buy John Farrington went the other way saw us win four successive home  matches and, briefly, got us to the dizzy heights of 19th in what was then a twenty two team league, before normality was restored with a seven match winless run.
Strangely, City were capable of beating the better teams – two of the promoted sides (Villa and Norwich) left Ninian Park with nothing as did fourth placed Sunderland. However, by the time the Rovers arrived for our penultimate home match, things were looking pretty bleak.
A shattering 4-0 defeat at fellow strugglers Oldham the previous week, followed by a 2-0 loss at Villa four days later had left City in a position whereby Bristol Rovers were, realistically, the only team we could overhaul to get out of the relegation places, but a look at the team's respective main strikers said a lot about their strengths and weaknesses – whereas we were relying on the youngster Jimmy McInch, who never scored a senior goal for us, Rovers could fall back on former City favourite Alan Warboys.
The tension of the occasion was evident in a poor first half with neither goal being threatened too much – this suited Rovers though because they knew a point would do them fine. The size of City's task only got larger early in the game when centre back John Impey went off injured to be replaced by a tall, spindly teenager from Northern Ireland called John McClelland who came on for his debut and slotted into a target man role where he looked, by a distance, the worst player on the pitch – some achievement really given the quality of the game!
Half time came and went and Rovers continued to look very comfortable and content with the 0-0 scoreline. With City looking so toothless, the last thing they needed was to concede a goal but that is exactly what happened when winger Colin Dobson fired them in front.
Given what had happened in the previous fifty odd minutes, it should have been plain sailing for Rovers from then on in, but, incredibly, they found themselves trailing within about ten minutes! The equaliser came courtesy of Phil Dwyer, but the real surprise came three minutes later when the ball broke to the previously useless McClelland from ex City keeper Jim Eadie and he put away a chance which he could barely miss.
For a short while it looked like the name of John McClelland would be added to what became a pretty long list of players whose goals had saved us from relegation as a shell shocked Rovers side (who, to be honest, had been the better of two poor sides throughout) suddenly faced the prospect of relegation, but, in a cruel irony, it was Cardiff born Frankie Prince who scored what was probably their most important goal of their season to ensure the game finished 2-2 after a breathless and nerve shredding second forty five minutes.
There was no escape for City after that – their last three games were all lost and they were relegated along with Sheffield Wednesday and Millwall. They finished in 21st position some three points behind Rovers (it was only two points for a win back then)  and were left to contemplate lower league football for the first time since 1947.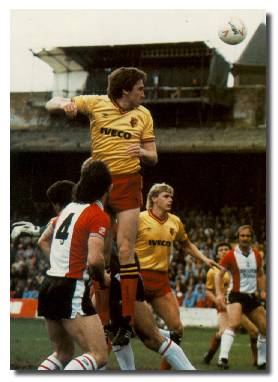 As for John McClelland, in my disappointment, I wasted no time in branding him"the worst player I had ever seen in a Cardiff City shirt" – after featuring in two of the remaining matches that season, he was released on a free and signed for Bangor City presumably never to be seen again. However, that was far from the end of the John McClelland story because the spindly kid developed into a physically intimidating centre back who earned further moves to Mansfield, Rangers, Watford and Leeds amongst others – I wonder what would have happened to McLelland's career if City manager Jimmy Andrews had just slotted him in at centreback instead of the injured Impey thirty four years ago?
12 April 1975
Cardiff City 2 Bristol Rovers 2
City
Irwin; Attley, Impey (McLelland 1), Morgan, Larmour, Pethard; Dwyer 1, Buchanan,  Vincent, Sayer; Reece, McInch
Rovers
Eadie;  Jacobs, Aitken, Day, Bater; Stephens, Prince 1, Smith, Dobson 1, Warboys, Staniforth Sub (not used) Fearnley
HT 0-0
Att. 13,928