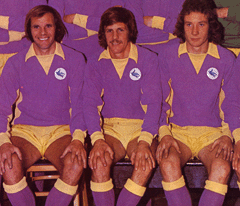 With City 2-0 up at half time in last night's game with Brentford, I asked what would the odds be on them having to settle for a 2-2 draw for the third successive home match, despite having been a couple of goals in front at one stage?
I got a one word answer – "astronomical". I half agreed with that assessment. In pure statistical terms, the odds on the same, relatively rare, thing happening three times in succession must have been huge, but, when you considered the effect on the psyche of both players and management of seeing four points quickly melt away like snow in the sun must have had, I believed the odds weren't as long as my mate did.
In the event, he was proved right and my misgivings didn't quite come to fruition, but what a close run thing it turned out to be in the end! Sure enough, just as against Burnley and Sheffield Wednesday, the two goal cushion was lost, but, this time, the game provided a fifth one in added time as Kenwyne Jones slid in the winner after sub Scott Malone sent the recalled Fabio into space and the full back, who often fails to deliver from promising crossing positions, put over the perfect low ball that the striker was able to nudge home.
So, all's well that ends well then? Well, maybe – my immediate comment as Jones' shot hit the net was "lucky bastards". This was aimed at everyone on the footballing side of the club, but, when you think about it, it probably applied just as much to the money men as well because I dread to think what the consequences of a third giveaway would have been in terms of our crowds for upcoming home matches. As it was, last night's attendance of 12,729 was comfortably our lowest league gate of the campaign so far, despite a bigger turn out of away fans than I was expecting.
Having now had a few hours to further consider it, was that two word verdict on manager and team a fair one? My honest answer is, I don't rightfully know – there are what I believe to be valid arguments either way and I'll be going into them shortly, but one thing I am adamant about is that this manager and his side do not seem to have it in them to put together a truly convincing 90 minute performance.
So, why should this be? Well, if you believe ex City player and current day media pundit Nathan Blake, there are at least two reasons for this – first, the team, both individually and collectively, is not fit enough and, second, Russell Slade is unable or unwilling to take steps to counter tactical changes made by opposing managers.
On that second issue, it was mentioned on this week's Blakey's Boot Room show that a friend of Nathan's who has been involved on the managerial/coaching side of the game had told him that he had come up against Russell Slade sides three or four times in the lower divisions and there was a definite feeling that he could be thrown by a switch in formation and tactical approach by his opponents.
That's the opinion of one ex City player and when I listened to another one, Ian Walsh, discussing last night's match with another former Wales striker, Iwan Roberts, the word "character" cropped up frequently – essentially, they were more sympathetic towards our manager and looked more towards a set of players who they thought should have shown more in terms of leadership and responsibility.
Having watched a portion of Russell Slade's post match press conference though, it was interesting to see him referring to character ("backbone" was the word he used), but in a positive way. Understandably, our manager preferred to emphasise the positive elements he saw from the game and one of them was the way in which the team responded to the adversity which saw Brentford's eighty sixth minute equaliser being greeted with widespread booing and chants of "you don't know what you're doing" (apparently, there were "sacked in the morning" and "Slade out" chants as well, but I didn't hear them).
With only three minutes of time added on, the team had seven minutes to try and rescue a situation which, I believe, would have had a profound effect on our season and, possibly, the manager's hold on his job if it had remained in place until the final whistle and I must say that their reaction was impressive.
Sammy Ameobi, introduced very late on for an erratic on the night Craig Noone, was only just wide with a shot a minute or so before Jones' winner and this emphasises that, while I accept there may have been an element of Brentford sitting back a little content with what would have been an excellent point for them under the circumstances, the team did not feel sorry for themselves – they went chasing the winning goal and got a reward that they deserved over the ninety minutes.
Those final seven minutes also offered something of a counter argument to the charge that the players aren't fit enough. Last season we scored a grand total of one goal (Conor McAleny's 90th minute equaliser at Reading) in the last ten minutes of a match which directly influenced it's outcome, whereas the winner last night means it's happened five times already this season and we've gained eight points as a result – I'd say that it's generally agreed that the team is fitter than it was last season (Nathan Blake has said this once or twice on his weekly show), but that's an improvement from a very low base figure.
Interestingly, despite those who say it always happens to us whenever we are denied a win or a draw by a goal after the eighty minute mark, we have only been "mugged" by very late goals which cost us points on three occasions so far, with the loss of five points.
Apparently, our manager is a big stats man and those are quantifiable figures which can be used to counter any claims about our fitness levels. Speaking as someone who tends to favour hard facts over opinions, those are persuasive figures, but there always has to be a place for recognising what yours eyes are telling you and, just as on Saturday (but much less so against Burnley), there was that dip in performance from City starting around the fifty five /sixty minute mark which saw our opponents generally dominate for very large parts of the remainder of the match.
Now, my view is that our last two opponents looked quicker and stronger than us during the last third of the matches and so I do have questions as to the team's ability to sustain acceptable fitness levels over a ninety minute period in recent matches. However, if we were to fully accept what those late goal stats tell us and say that our fade outs around the hour mark are not down to fitness issues, then it seems to me that things such as character and tactical thinking, both in terms of formations used and substitutions made, have to come into the equation don't they?
Before developing that theme, now seems an appropriate time to say that it's easy to lose sight of the good things we've seen in recent home matches in particular. In our last four matches at Cardiff City Stadium we've played sides in or around the promotion battle. We've dominated for the majority of the time in these games by playing enterprising and attacking football with the result that the entertainment level at home matches has improved immeasurably. Furthermore, just as on Saturday, we kept on attacking during the early stages of the stages of the second half, so that tends to give the lie to any theories about Slade telling the players to sit back and defend at half time.
So, there has been much that has been good in our last four home matches, but the truth as I see it is that we should have got twelve points from them and should now be one point away from fourth placed Hull before their game tonight, with the knowledge that, even if we were to lose at Birmingham on Friday, we would be in a Play Off position on Christmas Day.
Any highlights package of our last three home games which was put together in a fair minded way would show much more action in and around or opponent's goalmouth than ours. Interestingly, the apparently comfortable Reading win would probably show a different picture because it would have to include the number of great saves David Marshall had to make over the ninety minutes, but, particularly in the last half an hour after we had, seemingly, made the match safe.
Therefore, I would argue that each of those last four home games has followed a broadly similar pattern of Cardiff dominance for an hour and then a back foot struggle after that.
While I can understand to some extent the theory I heard expressed last night that Kenwyne's goal could be a pivotal moment in our season that will lead on to bigger and better things, I must say my view is more along the lines of why should a single, and rather fortunate given the way the game had developed, goal make the problems we have seen in recent home games disappear? If we keep on conceding two goals a game at home, we aren't going to see too many wins between now and May.
For me, the feeling persists that we are not too far away at all from being a side that is capable of reaching the Play Offs, but last night we had a back five which includes Scotland's current keeper, at least two players with captaincy experience during long careers at this level and another who has played in a Champions League Final. In midfield, we had someone who has captained their country to this summer's European Championships and two others who know what it's like to get promoted from this division. Up front we had a player who has scored the goal that beat Barcelona in a Champions League match and a striker with considerable Premier League and International experience who John Terry says is one of his toughest ever opponents.
Although some of our starting eleven last night are getting towards the autumn of their careers, it didn't contain one player who you would say is obviously getting to a stage where they are going over the hill in terms of their career. So, isn't it reasonable to think that we should be seeing better from them than what has become the familiar pattern from the hour mark onwards of the front two becoming isolated, with the midfield four sitting so deep that it's hard to distinguish them from the back four?
Shouldn't there be leaders out there who can see how we are making the same errors again and that we need to get back to having the clearly recognisable two banks of four that had been instrumental in enabling us to score the game's first two goals?
In a way, I'm presupposing that our manager is not going to do anything about the deteriorating situation there. This may be a somewhat unfair judgment, but, let's face it, it seems clear by now that with Russell Slade we are going to have two strikers, four midfield players in a fairly straight line across the pitch and a back four whatever happens – anything else seems like an extravagance he just won't entertain!
Just as on Saturday, I found myself shaking my head at how our manager responded to changes by the opposition which increased their attacking options by taking off a striker who was causing that opposition plenty of problems and replacing him with another one who only made a deteriorating situation worse.
With the opposition having to leave themselves open to counter attacks, bringing on an extra centreback or reinforcing the midfield doesn't have to be a purely defensive move, but I'm fast reaching the stage of acceptance that tactical flexibility is a term which just does not appear in the Russell Slade manual of football management.
In the replies on here to my piece on the Sheffield Wednesday match, a regular correspondent said;-
"As I predicted on his appointment, Mr Slade would not pull up any trees. And he has not. That said of course, there are many worse managers."
That sounds about right to me. Our manager has always struggled to win over the City fanbase and it's easy to fall into the trap of thinking that he is just plain useless. I don't believe that – with just three more league fixtures to play in 2015, we have only lost eleven of forty three Championship fixtures played in the year while sixteen of them have been won, so Russell Slade must be getting a few things right.
However, although he has silenced my persistent criticism concerning the lack of entertainment on offer, the rigidity in his tactical approach and the lack of true belief in themselves shown by both him and his team brings about an overall mix which, for me, is not currently capable of producing the occasional complete ninety minute performances that mark out teams which are going to finish in the Championship's top six.
*photos courtesy of https://www.flickr.com/photos/joncandy/albums/with/72157661746031029