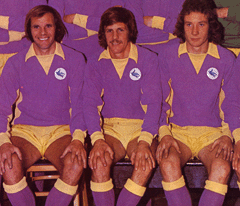 I presume it was the fact that the Cardiff City Stadium pitch had been used less than twenty four hours earlier which prompted the decision to switch the venue to the club's training base at the Vale for yesterday afternoon's Development team match with Bolton Wanderers.
Whatever the reason, the few spectators who made it to the 1-1 draw must have been grateful, because the complex was seen at it's best on an idyllic late summer's afternoon which emphasised the fantastic views to be enjoyed if the football wasn't good enough to keep your attention to their maximum.
In the event, I found the game a pretty enjoyable one, even if it turned out to be nothing like the team's previous three had been where they obtained easy wins while playing some really nice football.
Whereas Sheffield Wednesday, Ipswich and Brentford had all been seen off with a degree of style and class, a physically imposing Bolton team, which had beaten Manchester City's under 21s in their previous match, represented a far sterner challenge.
This year's Development team is one of our youngest since the present format was set up in 2011, with a few of the players making the step from Academy team to regular Under 21 starters without the safety net of a few months "bedding in" with a number of gradual introductions from the substitute's bench. By and large, the transition has been handled pretty well, but I'd say the likes of Luke O'Reilly, Robbie Patten and Eli Phipps (as well as Tom Burridge and Jamie Veale who were introduced for the final quarter of the match) had come across few opponents as powerful as Bolton were before.
I've realised that I've made Bolton sound like a team of giants who just bullied our boys to gain the supremacy they enjoyed for most of the game, but that's not really fair. Yes, they did impose themselves physically, but they also showed themselves capable of playing progressive, good quality, football.
The early minutes saw the pattern of the game set as Bolton pressed forward constantly. Keeper O'Reilly didn't always convince when the ball was in the air or at his feet, but he made himself into a City man of the match candidate with a series of good saves which marked him out as a good shot stopper with very quick reflexes -his first such save came in the opening few minutes when a Bolton striker got clear of Curtis Watkins.
A well struck shot flew inches wide as the feeling grew that a goal was coming, but, when one did after fifteen minutes, it was City who scored it with their first real attack. It was a very good goal as well, started by a superb crossfield pass by Watkins that found Jazzi Barnum-Bobb in a lot of space on the right and the full back's cross was an accurate one which the unmarked Phipps headed home at the far post with the minimum of fuss.
Last season, City basically stopped scoring at this level once Rhys Healey left for his loan spell at Colchester and the thought that the same might happen this time did cross my mind when his temporary move to Dundee was announced last week, but now we have Phipps who, hopefully, can step into the goalscoring breach.
At times, he looked like a kid playing against men yesterday (which he was to some extent), but Phipps can do is score goals, as he showed last year when he became what I'm pretty sure is the highest goalscorer we've had at Academy level in a single season.
City were unable to build much attacking momentum on the basis of that goal – Tom James put a free kick not too far over and skipper Tommy O'Sullivan's attempted lob at the end of one of their best passing movements of the half drifted well off target, but, there was little else to suggest they could get a second goal in the opening forty five minutes.
In fact, the basic make up of the game wasn't changed by the goal, Bolton were still making most of the running and O'Reilly was still, by a distance, the busier of the two keepers, but there were the beginnings of a build up of frustration on the visitor's part as they continued to trail.
Bolton's senior side have suffered from a chronic shortage of goals this season and in the opening minutes of the second half I began to wonder if that malaise was gradually working it's way down the different levels of the club.
In some ways, the match was beginning to resemble the Wales v Belgium game in June where a side which had been dominated in the opening exchanges grabbed a goal out of the blue and, although rarely looking like adding to it, were gradually able to squeeze the attacking life out of their opponents as they ran out of ideas.
Of course, as soon as I thought that, Bolton upped their efforts and, essentially, laid siege to City's goal for the next fifteen minutes. Whereas Wales had a very well drilled defensive unit and a fair smattering of experience to rely on, City's youngsters would, understandably, have not too much knowledge of how to draw the sting of superior opponents and end up "winning ugly".
However, with O'Reilly making more fine saves (the best of which for me was from an effort which deflected off James) and some good last ditch blocking, it was beginning to look as if the presence of the one experienced performer in City's ranks may prove instrumental in bringing about what would have been a fine win.
Gabriel Tamas played the full ninety minutes in what was his first Cardiff appearance and, although his lack of match practice caught up with him a little towards the end, he impressed with some high quality passes played out from the back and with the way he talked many of his colleagues through a game where they spent so much time on the back foot.
It's arguable if City would have come out of the match with the point they got if it had not been for Tamas' influence at the back, but, the irony was that  it was just when they were beginning to look as if they had survived Bolton's best efforts and were trying to get forward themselves, that they finally conceded an equaliser with around ten minutes to go.
In fact, the goal arose from what had been City's best attacking position for some time as they lost the ball near Bolton's left hand corner flag and the visitors were able to play a long pass forward which went over Tamas' head to give sub Alex Samizadeh a clear run in on goal which he ended impressively by rolling a shot past O'Reilly.
Having spent virtually all of the match having to try to put together counter attacks, it was cruel in a way that City fell victim to one in the end, but, there could be no doubt that justice had been done – in fact, for this truly to happen, there should have been a second Bolton goal in the time left.
Instead though, City, to their great credit, reacted well to their setback and, arguably, finished the better of the two sides as they looked for a winner. Although they never really tested Fitzsimmons in the Bolton goal, it was now their defenders who were having to get the blocks in, but they would have been powerless to stop a City winner if Veale (not the ideal player to be presented with such an opportunity really) had got a better contact on his header from six yards out after fine work by Tyler Roche, rather than glance the ball wide.
The game finished, as it had been played for most of the time with Bolton attacking. As I mentioned earlier, they will, rightly, feel aggrieved that they didn't win, but I believe City could be satisfied with the way that they had got something out of an encounter where they had spent so much time under the cosh. Best outfield players for me were the full backs Barnum-Bobb and James, but everyone put a big effort in and I don't think they'll be facing many teams as strong as Bolton were in the months ahead.