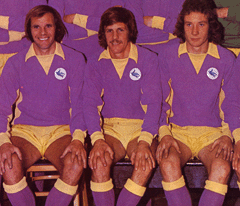 Maybe "shambolic" is too strong a word to describe Cardiff City's end to the season – after all, they've won five and drawn one of their last seven matches and still lie in third place with the chance to put things right today against a Burnley team whose interest in promotion should have been ended last week with their feeble 1-0 defeat at Leeds. However, the nature of Monday's pathetic 3-o loss to Middlesbrough at Cardiff City Stadium and the fall out from it means that at present there is certainly the potential there for this season to turn into a re run of the nightmare that was 2008/09.
As if the nature of the defeat wasn't bad enough, here have also been stories of players out until the early hours of the morning in the days before the game (there are even some claims of members of the starting eleven being out until 4 a.m., some thirteen and a quarter hours prior to kick off!). Whether they were drunk or not seems immaterial really if there is something to these claims and it has to be said that a statement issued by the club in response to the allegations and Dave Jones' response to a question about the matter in his pre-match press conference yesterday virtually admitted that a breach of club rules had taken place. Dave Jones is right in my view to concentrate on the playing side for now, but, especially given the importance of last Monday's match, I believe that supporters will want to see those involved (and the same three names do seem to be cropping up in this matter) heavily punished – the way I feel about it now, I wouldn't want to see anybody involved playing for the club next season.
The media have also got themselves in a lather about an incident from Monday that saw the, admittedly unwilling, celebrity linesperson Sian Massey knocked to the ground by Kevin McNaughton – although I concede that it does look as if McNaughton does change direction before the collision, I can't help thinking that the whole thing would have been forgotten about within minutes if the official involved had been Bert Jones from Milton Keynes!
The thing is though that it was something else that helped to give the impression that Cardiff City are a club in crisis when just six days ago we were realistic contenders for automatic promotion. Bearing that in mind, it was good to see Craig Bellamy bringing some sanity to proceedings yesterday as he tried to put things into some sort of perspective. Of course, what Bellamy said will make no difference if the team turn in another performance today that provokes comparisons with the 08/09 humiliation, but his presence at the club is one of the reasons that I still have hopes that the same sort of thing won't happen this time around.
Dave Jones bridled at the suggestion that he was in charge of a team of "chokers" at Monday's post match press conference and if the Middlesbrough game had been a one off then he would have been right to do so, but, sadly, that is not the case. You would like to think that, especially, those players who have been here for the last three seasons would welcome the chance they have in the next few weeks to lay such a charge to rest for good. As I mentioned in an e-mail to a fellow City fan yesterday, if I was a professional footballer I think the criticism that would hurt me the most would be to be thought of as a bottler or choker – even if the result goes against us, the team can take a big step towards making sure that that charge wouldn't stick if they go to Burnley and show some commitment, character and belief (the latter two especially were missing from a few of the side on Monday).
Earlier on I mentioned that Burnley's promotion chances "should" have gone now, but the truth is that they haven't quite yet. The current table shows them five points short of sixth placed Forest, but the QPR FA charge factor means that it is still possible for them to end up in the Play Offs with a win today if the commission looking into the signing of Alejandro Faurlin hit the team who have finished top of the Championship with a huge points deduction.
I was hoping not to mention what has become a tedious saga on here until the verdict was announced. That was meant to happen yesterday, but, completely predictably, it was revealed yesterday that it would be delayed and so, although there are some rumours around that say there will be a decision before the final round of matches kick off at lunchtime today, the likelihood is that everything will still be up in the air regarding the identity of the automatic promotion sides and one of those in the Play Off's when the regular season in the Championship ends in a few hours time.
My feeling has always been that if QPR knowingly supplied the authorities with documents that they knew to be forged (as outlined in one of the charges against them), then they should be made an example of and docked a substantial number of points and it's the possibility that this still could happen that makes today's situation such a farce. Apart from casting a huge shadow over what should be a fantastic time for the players and supporters at QPR, it also means that Cardiff City and Swansea City will go into today's matches knowing that victory might just see them winning automatic promotion. Another consequence of Monday's hiding is that our goal difference is now worse than the jacks and so if, as they surely will, they beat already relegated Sheffield United at home today, then nothing but a win at Turf Moor will do if we want to clinch what could still be a vital third place.
I suppose the FA's prevarication means that what would have been a pretty boring last day, in which the only real interest would be to see if Leeds could triumph over huge odds to rob Forest of the last Play Off place, has been made more interesting, but in truth they have again shown why their reputation is currently just about as low as I can remember it being. Yes, I accept that they are currently carefully treading through a legal minefield with the size of the prize on offer meaning that any decision they take will almost certainly being the subject of a further challenge, but what has been a compelling Championship season looks like ending in confusion and recrimination – it deserves better than that.