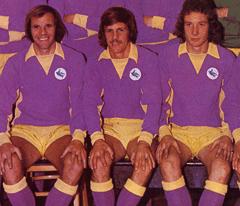 The one common theme about my pieces in this category up to now has been that I was actually there to see the match I was talking about – I'm 99.9% certain though that this doesn't apply to the match on the opening day of the 1963/64 season in which the great John Charles marked his first appearance for City with a goal that the Official History of the Bluebirds describes as having been scored from seventy five yards out!
If my father was still around mind, he would say that I was there to see what sounds like an amazing goal. Years after the match took place, we were watching some sort of debate on television as to who was the greatest player the panellists had seen in their life. My Dad answered "John Charles" (as I knew he would!) and then said "remember that goal he scored on his City debut from inside his own half?", I replied that I didn't and he assured me that I was definitely there because he had seen the goal and the only City matches he watched around that time were ones that he took me along to.
Now, I would love to be able to say that my first ever City game was one where, arguably, the two best Welsh players of all time (John Charles and Ivor Allchurch) scored for us with one of those goals being from absolutely miles out, but I can't – my first match was a nondescript affair against Northampton Town about six weeks later decided by a single goal by Mel Charles (his brother John was out injured that day). All I can think is that my dad was so keen to see his favourite player in action for City that he went along to that game by himself or with work mates – sorry Dad, you got most things right, but you were wrong this time.
The moment my Dad talked about arrived just before half time in a game with Norwich which saw a crowd of 22,000 attracted to Ninian Park to watch the Gentle Giant's first game for Cardiff City. Just before half time, with the score at 1-1, John Charles (who was playing at centre half that day) took a free kick from deep inside his own half that the Norwich keeper came for, made a mess of and saw the ball divert in off his shoulder. Ironically, the goal would not have stood if the keeper had not got that touch on the ball because the original free kick had been given for offside and was, therefore, an indirect one.
The embarrassed Norwich keeper was also making his debut for his new club that day, but, for what was, virtually, the next two decades, Kevin Keelan more than made up for this blunder as he clocked up a total of five hundred and seventy one league appearances with his last one (an amazing televised 5-3 defeat against Liverpool at Carrow Road in 1980) being as memorable as the first one. Keelan was unusual for a footballer in the sixties especially because, firstly, he was born in Calcutta and, secondly, his skin colour made him a natural target for the sort of "banter" from crowds that provided the basis for a good portion of the television comedy around at that time.
Norwich were regular visitors to Ninian Park in the sixties and seventies and I must have seen them play about ten times before they had anyone else but Kevin Keelan in goal for them. Keelan was a keeper who had a reputation for playing to the cameras when they were there and, from memory, he did used to like a dive when, perhaps, one wasn't required, but he was a quality goalkeeper – in my opinion. this is the one position where domestic standards have definitely dropped since my youth.
Going back to that John Charles goal, I would say that the closest one I have seen to it came eleven years later where, by strange coincidence, the goal was scored on the opening day of the campaign against a team playing in yellow, the goalkeeper involved was making his debut for his new club and the scorer's surname was Charles! City were 1-0 down to Oxford into the second half and showing exactly why they would be relegated in 1974/75, but they salvaged a point when captain and left back Clive Charles took a free kick from someway inside his own half. It might not have been from seventy five yards out as John Charles' effort had, reportedly, been, but, allowing for the angle, (Clive Charles was close to the Bob Bank touchline when he took his free kick), I would say it was from more than sixty yards.
Veteran keeper John Milkins, who had signed for Oxford after making almost three hundred and fifty appearances for Portsmouth in a fifteen year stay at Fratton Park, came charging out almost to the edge of the penalty area to claim the ball, but, just as Keelan had done, only succeeded in touching the ball into his own net – once again, the goal would not have stood without the keeper's intervention.
So, not quite the normal piece recalling past games against upcoming opponents this time around, but it would be good to hear from anyone who saw both goals – were they as similar as they seem to have been and was John Charles really that far out when he scored?
24 August 1963
Cardiff City 3 Norwich City 1
City Vearncombe; Edwards, Stitfall, M Charles, J Charles (1), Williams, McIntosh, Hole, Scott, Allchurch (1), King (1)
HT 2-1
Att. 22,078