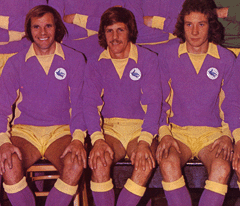 I don't think I've mentioned this before on here, but I'm working with two friends on a book about City covering the period 1991 to 2013 and we've now reached the stage where decisions need to made regarding how we get it published.
We've all put in a sum to pay for things like publishing costs, but it isn't that much and it's important that we make the right decisions about how we spend this money.
To that end, I'd be grateful for any comments about how you buy books these days. To show what I mean, the three of us are all in the late 50's/early 60's age group, so for nearly all of our lives there has only been the option of buying printed books. That's probably why I don't own a Kindle and would not place one very high on any wish list I might draw up – my two colleagues each have one, but I get the impression that they don't get used too often.
On the other hand, my brother (who at 53, is four years younger than me) is a big fan of e books, saying " I buy more e books than I ever bought paper ones and am now pretty unwilling to buy a book at all if it is only available on paper".
So, what do you prefer, do you feel so strongly on this matter that you would not buy books in one of the formats at all? If, as I suspect, most are prepared to buy both formats, which do you prefer and what one would buy given the choice?
Just to add a couple of things, firstly, thanks to those of you who have replied already (I plan to put a more formal thank you in the feedback section a bit later) and, secondly, if you'd prefer to reply direct to me I can be reached at paul.evans81@ntlworld.com  .