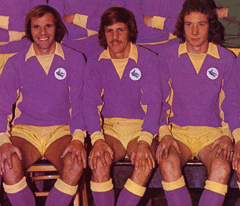 The  Under 18's ended their season this morning with a 2-2 draw against Portsmouth Under 18's at Leckwith and, like so many of our seasons since we gained Academy status for the 2004/05 season, they ended up losing more matches than they won. If you go by league tables then it wasn't a good season, they went into today's match in ninth place in a ten team league with no chance of getting any higher and I have to admit that there weren't too many games this season that I saw (and I must have watched seven or eight of them) where I can honestly say we were the better team.
On the other hand, we are constantly told by those involved with the youth team that it is not about results at this level, it's about player development. I can certainly sympathise with that viewpoint and, when you consider that three of this season's regulars in the team (Alex Evans, Ibby Farah and Nat Jarvis) have been offered full time deals, it can be claimed that the season was a successful one – off the top of my head, I cannot think of another season recently where so many players were offered pro terms at the end of a campaign. Perhaps that has something to do with the fact that we are not under the same financial constraints as we have been in the past, but, although this isn't meant as a criticism of the three players involved, I can't help thinking that there have been equally deserving youngsters for pro terms who have been released in recent seasons.
Anyway, Evans, Farah and Jarvis were all missing from the team this morning as City sent out a side which I would assume will be very like the one that starts next season. All four goals came in an entertaining first half but, not for the first time at the new and exposed to the elements Leckwith Stadium, a combination of a dry hard surface and a strong wind blowing down the pitch meant that good, constructive football was at a premium. City put some nice passes together around the quarter of an hour mark mind to score the best goal of the game when a sweeping move from right to left ended with a low cross from Kevin Sainte-Luce (who can be very effective at this level when he gets it all right) being tapped in at the far post by fellow French recruit Yannis Drais.
Ten minutes or so later, City doubled their lead when Jesse Darko challenged for a free kick to the near post and the ball rolled slowly beyond the flat footed visiting keeper – it seemed to me that the decisive touch may have come off a defender, but Darko got the congratulations and the striker, who has come on a fair bit over the second half of the campaign, deserved a goal for another hard working and pretty effective display. To be honest though, a two goal lead flattered City who, although looking quite dangerous at times going forward, were coming second in a lot of the individual battles going on all over the pitch and the visitors reduced the deficit shortly afterwards when they broke from a free kick deep in their own half and, as two defenders went for the same ball, their striker was left with a clear run in on goal from forty yards out.
Portsmouth soon leveled when they profited from a dubious looking corner decision to score from close range after the ball was headed on from the edge of the penalty area and they shaded the rest of the game, but, apart from a mad scramble midway through the second half when the ball was blocked on the City line a couple of times before being blazed wide from about five yards out, neither goal came under too much threat after that.
Best players today for City for me were Adedeji Oshilala who, after playing at full back all season, played effectively at centre back while I liked the look of the kid who started on the right wing before being switching sides and finishing the game at left back (don't have a name for him sorry), while, one dodgy second half moment apart, I thought the keeper (who has been a regular in the Under 16 team this season) was pretty impressive. As for over the course of the season, Ibby Farah has been the stand out performer for me as the captaincy seemed to bring out the best in him, while Joe Ralls (more effective as the game went on today) and Oshilala were the First Year scholars who impressed me most – with many of the current team still available next year as well as some decent talent from the Under 16's to, hopefully, come through, perhaps we will get good results to go with player development in 2011/12?
One last thing before I finish, I'm pleased to hear of plans for a 20/21 age group team for next season because, hopefully, that will mean that we don't get a repeat of the current position whereby players taken on as first year pros play virtually no competitive football unless they get a loan move. This time last year, Jon Meades had been offered a one year contract by the club, but, after playing in Norway for FK Moss during the first half of the season, he hasn't, to the best of my knowledge, played any football since about November! I'm not sure how Meades can have earned himself a further deal at Cardiff under such circumstances – maybe he isn't good enough for this level, but I can't see how he could have proved himself one way or another this season. Of course, saying we are going to have an age group team and actually having one could end up being two different things – we are supposed to have a reserve team but, although they have had a few matches in recent weeks, they seem to go for months on end without playing.