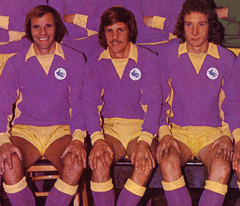 I'll tell you what, anyone wanting to make a very tidy sum for themselves in a couple of months time needs to lump as much money as they can spare on Charlton Athletic getting promoted at the end of the season.
Any team that plays as badly as the Londoners did for 90% of yesterday's match at Cardiff City Stadium and still ends up winning are surely dead cents to win all of their remaining matches as long as they keep their performance levels slightly above abject.
The visitors were second best for long stretches of the game and for much of the time had a vaguely disinterested look to them as their opponents were winning battles that they normally lose.
For example, and I'm really not joking here, City won the possession battle 54/46 (the first time they've had more of the ball than their opponents in a league match in five months I make it). A leading reason for this was that the home side were winning most of the 50/50 challenges in the middle of the park.
Joe Ralls, very harshly left out of the starting line up in what was a sadly predictable selection in my opinion, was particularly good at this facet of the game after coming on as an early sub for the injured Aron Gunnarsson and, while "dominating" would be putting it too strongly, City were enjoying the very rare luxury of edging the midfield battle.
For much of the first seventy minutes or so, City were able to work the ball to their wingers and full backs in fairly threatening areas. It would be an exaggeration to say that they were turning on the style, but it was so much better than the desperate and clumsy long ball stuff that was our signature for the months around the turn of the year.
Peter Whittingham was lucky to come straight into the side after his suspension, but, just like the other midfield returnee Craig Noone, can be said to have won his battle with his opposite number. In fact for much of the time, City were winning those individual battles all over the pitch.
Now, anyone who wasn't at the game yesterday must be reading this and wondering how on earth it ended up as it did. Well, one reason was that, just as it has been all season, the passing, although more accurate and plentiful than normal, was not done swiftly enough, hence my earlier need to qualify the word "threatening" with "fairly".
Another less obvious reason for us not winning in my book is that, while they certainly don't come along too often for this team, they do not capitalise on these periods when they are on top in matches..
The whole of the first half was an example of what I mean. The words I would use to describe it would be pleasant and comfortable. "Pleasant" probably isn't a word a manager would want to be used to describe his side, but that's how it felt as polite clapping broke out to greet some of the home team's work (City's lack of zip in passing the ball I mentioned earlier was perhaps the reason why this never developed into something more raucous) – the adjective was also very appropriate when considering the warm and sunny conditions that were more in keeping with May than March.
This brings me on to "comfortable" and it's this word that goes to the heart of the shortcomings shown yesterday. Sitting there in the sun enjoying watching City in control amounted to one of the more comfortable halves of what's been a pretty uncomfortable season.
I honestly cannot remember Charlton even remotely threatening the City goal in those forty five minutes, but what did all of this comfort and control amount to when it comes to an attacking threat of their own?
From memory, there was an early shot by Noone and a late effort from the impressive Conor McAleny that were both dealt with by visiting keeper Henderson without too many alarms, but I'm struggling to think of much else – most sides in this division cash in when things are in their favour as much as they were when Charlton were giving their impersonation of a team going through the motions.
To be fair, City were much more purposeful in a five to ten minute spell following a quiet start to the second half. With Noone to the fore, the feeling was growing that a goal was coming and City were able to deliver when the winger's cross was turned back by Kenwyne Jones into the path of Federico Macheda – now, the Italian may have his faults, but, unlike some of our strikers, you'd always back him to put away easy chances like this one.
With Charlton still offering nothing up front, there was a feeling that the game was as good as won, and so City's inability to maintain the intensity of the minutes leading up to the goal, would not cost them, but it was now that luck took a hand as Whittingham had to leave the pitch to get stitches put in a mouth wound.
Those three or four minutes where the team were down to ten men saw a momentum switch as Charlton finally began to hint at why they had won four of their previous five games. Credit to the visitors, they were given a sniff of a chance and took it – Whittingham was back on the pitch when the right side of City's defence went missing after a corner had only been half cleared and sub Chris Eagles had plenty of time to pick out scorer Tony Watt.
City's response was underwhelming, both in terms of what happened on the pitch and in the dugout – the introduction of Alex Revell was unimaginative and "lower division" in its thinking – Jones and Revell up front has never worked before and it didn't work this time.
Our manager tells us that the team is now much fitter than the one he inherited, but the fact is that we have scored just three goals in the last ten minutes of league matches this season and only one of them, Kenwyne Jones' against Leeds, can be said to have counted for anything – the other two were consolation goals in a losing cause.
We have not once done what Charlton did yesterday – that is score a goal in the closing stages which meant they ended the game with more points than they were on for in the eightieth minute. Maybe this was why I was telling anyone who'd listen that we were going to lose this game and, sure enough, within twenty seconds, Sean Morrison had given away the needless penalty that handed the points to Charlton.
There have been so many games this season where the same weaknesses raise their heads and it's become hard to find different ways of, basically, saying the same thing, but at least yesterday was a little different in that a new weakness was discovered. Being outplayed by this Cardiff team is akin to being mauled by a dog that has forgotten to put its dentures in – perhaps it may not be such a good idea to put thousands on Charlton going up, after all, they aren't going to be playing sides as obliging as Cardiff every week.
* pictures courtesy of http://www.walesonline.co.uk/