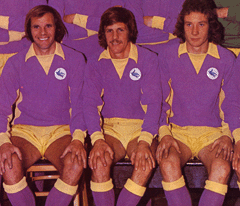 An awful lot of people have been putting yesterday's dreadful 4-2 defeat by Norwich City at Cardiff City Stadium down to manager Ole Gunnar Solskjær's habit of tinkering with his team. Certainly, when the player widely considered to be our best player in the previous game, Mats Dæhli, is left out and then not even brought on from the bench when it was all going wrong in the second half,  questions will be asked about Ole's decision making.
However, the implication behind blaming what went wrong solely on the fact that our manager, seemingly, has to make changes every time we play a league match is that everything would have been all right if he had picked the same side. Let's not forget that we were completely outplayed by a Fulham side which has lost every other league game they have played last time out and the time before that we were battered in the first half against Wolves – although it was a surprise that it happened in a home game, what happened yesterday was that we finally got the thrashing (disguised by a totally misleading first half an hour) that had looked on the cards given the performances for large parts of our three away games.
Different personnel each time, but the common theme in our last three matches is that Ole has described our performance during portions of each game as our worst of the season. I'm certainly not going to argue with our manager there – the truly concerning thing is that Ole is utilising many of his so called strongest squad in the Championship and performances are getting progressively worse.
There has to come a time when questions need to be asked as to whether the squad put together through the summer really is as good as everyone says it is – how can it be when there has not been a performance yet which comes close to justifying our pre season rating as favourites to win the division?
To be fair, if we gave our worst performance of the season for most of yesterday's match, it should be recorded that our football during the opening half an hour was comfortably the best we've produced so far. Norwich were almost as poor as we became in the opening stages, but I'd prefer to give us some credit for making a side that has the appearance  of a definite top six team to me look so ordinary.
When I heard our team line up, my immediate thought was that the balance in midfield was wrong again – it has to be Whittingham or Ralls, not both of them surely and, with Gunnarsson starting in his odd advanced role, we again looked to lack a player with the tools needed to adequately perform the sitting midfielder role. However, for a while at least, I was proved wrong - for just about the first time I can remember under this manager,we tore out of the blocks right from the kick off and never gave our opponents a moment's peace.
Our first goal epitomised the way in which Norwich were harried into errors with the ball being won way up the pitch to give Joe Ralls the chance to score impressively inside four minutes – City had already threatened with a Kenwyne Jones header inside the first minute. With Jones a very effective focal point as he put together his most impressive forty five minutes of the season so far, City looked sharper all over the pitch and they deservedly increased their lead when Aron Gunnarsson touched in a cross by Anthony Pilkington as Norwich looked for a respite after just about managing to foil what was probably our best passing movement of the season so far.
My words as the half time whistle blew were "that's the best half we've played under Ole". I said that despite the signs being there from about the half hour mark onwards that our midfield dominance was fading and that Norwich were getting more and more success by switching the ball diagonally from their left to right, but, although we came under increasing pressure, we were, at that stage, defending pretty well with our opponents being restricted to taking pot shots from distance as they ran out of patience in the face of a disciplined City side.
My thoughts at half time were that sides who are two goals down after forty five minutes tend to come on strong in opening stages of the second half, but, if we could get to about the hour mark with our lead intact, we should be okay. Instead, we launched straight into an attack which ended with Frederico Macheda blasting an angled shot which visiting keeper John Ruddy did well to keep out.
Now, I've seen and heard it said that it would have been game over if that effort had gone in, but, in view of what happened for the remainder of the match, is that really the case? Even at 3-0 down, I think Norwich would have have still been well capable of saving the game given our alarming fade out and the way that they reacted to what was, apparently, a half time rocket from manager Neil Adams.
From here on in, it turned into one of those games where virtually all of the meaningful action occurs at one end of the pitch. If Jones had given an impressive target man performance in the first half, then he was eclipsed by former City man Cameron Jerome who, on as a substitute for "Diver" Lafferty, made Matt Connolly's and Sean Morrison's life a nightmare with his power, pace and willingness to work for the team.
Jerome fully deserved his late goal when he capitalised on some shambolic defending and what seemed to me to be hesitant goalkeeping by the otherwise blameless David Marshall, but, in truth, it was virtually meaningless because a very impressive Norwich fightback had already put the game beyond us. What had been a concern in the closing stages in the first half for our left side became a full blown crisis as Nathan Redmond (who really should be playing in the Premier League) got right on top of Declan John (on as a half time substitute for the injured Fabio).
With Ralls fading badly, Whittingham, despite a couple of good long range efforts, not influencing the game at all and Gunnarsson, bizarrely, switched to the right wing, our midfield became an all too familiar disaster zone as Tom Adeyemi was brought on to try and perform a one man rescue mission – he never had a chance, because, we are nowhere near solving the most fundamental of the myriad of problems this bloated and expensive squad has.
Ole really has to address the problems we have in the middle of the park. At present, he seems to want to try and get the best of both worlds by fielding two strikers, but with one of them used more as an auxiliary wide midfield player. Our manager needs to have the courage of his convictions and either opt for a proper 4-4-2 (which wouldn't be my choice) or go for 4-5-1/4-3-3 with players who are able to make a better fist of the defensive responsibilities of the wide midfield role.
Adam LeFondre proved to be a willing, but fairly limited wide midfielder earlier in the season, but, yesterday Macheda (who looked knackered from about the forty minute mark onwards) appeared to be neither willing nor able in that department. I've already mentioned Declan John's struggles, but, to be fair to the teenager, he got no support whatsoever from Macheda.
I had not been impressed by Macheda turning his back on the play during one of the pre season matches in Austria and I couldn't believe what I was seeing yesterday as he gifted Norwich possession right in front of me when he tried a fancy flick deep in his own half when we were under pressure just before the break. On yesterday's evidence, if Macheda is going to play then it needs to be right up the pitch – our manager does not appear to have strikers capable of performing the sort of dual role that I daresay he was asked to perform at Manchester United to an adequate standard and this takes me on to another aspect of our manager's problems in coming to terms with managing what is a fairly typical British club.
The thing is though that Manchester United are anything but a typical British club and I believe it's time to question whether it is good for Cardiff City Football Club to have our manager (and some within the Boardroom perhaps) so keen on applying the Old Trafford template to us? Of course, there will be things that Ole picked up during all of those years under Sir Alex Ferguson that can be positively applied to our players, but I do find myself wondering sometimes if, like a lot of good players who go into management, he forgets that he is dealing with players who, for the most part, are incapable of doing the sort of things that his former team mates would find routine?
Maybe this is one of the reasons why I, and many other City fans it would appear, have so much trouble getting to the heart of what the Ole philosophy is. Managers need to be adaptable and I can fully understand the desire to change things slightly for a particular opponent, but there has to be a core set of beliefs that underlie his approach. Every City manager I've seen up until this year had a certain way of playing which he would fall back on if things were going wrong, but I still don't know what Ole believes in – watching the team struggle every week, you have to wonder if many of the players do either?
* pictures courtesy of http://www.walesonline.co.uk/