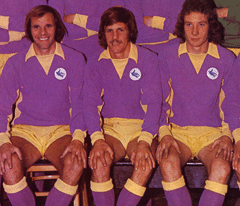 I suppose we have to accept the possibility that there won't be a Cardiff City next season, but, assuming we are still around and the present transfer embargo has been lifted, it seems to me that we will find ourselves in a similar position to the one we were in during the summer of 2005. This was the period following "Black Friday" in March of that year when new manager Dave Jones was greeted by a situation which saw the club having to sell players and offload high earners if they were to avoid the threat of Administration.
Virtually as soon as the 2004/05 season ended, winger Jobi McAnuff left to join Crystal Palace for £600,000. He was soon followed by Danny Gabbidon and James Collins who signed for West Ham for a joint fee of £3 million and while there was no transfer fee involved in Peter Thorne's move to Norwich, the removal of the man widely reputed to be the biggest earner at the club from the wage bill  was almost as important as the fees received for the other three players.
With Graham Kavanagh having been sold to Wigan in March and Robert Earnshaw having left for West Brom in the early weeks of the previous campaign, the heart had been ripped out of side that had made a promising start to life back in the second tier of the domestic game in 2003 and, with  04/05 turning into a long, if eventually successful, slog against the drop, optimism was in short supply that summer as Dave Jones sought to rebuild the squad with very limited financial resources.
The vast majority of the manager's budget in terms of transfer fees went on securing the services of West Brom centre half Darren Purse who proved to be exactly the type of leader the club needed during that season when they were forced to rebuild almost from scratch. Other new arrivals included veteran defender Neil Cox and full back Jermaine Darlington from Watford on free transfers, winger Kevin Cooper from Wolves for £100,000, Dutch defender Glenn Loovens on a season long loan from Feyenoord  and a couple of midfielders in Phil Mulryne and Jeff Whitley on free transfers from Norwich and Sunderland respectively.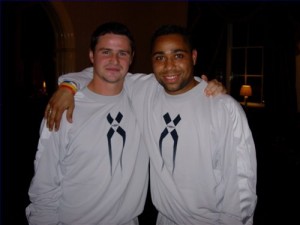 Those two last named players were the first examples of something that would become a recurring theme during Dave Jones' management of the club as he attempted to get the best from talented individuals widely reckoned to be "problem players". I can remember being pleasantly surprised when I first heard that we had signed these two players because they had been successful at better clubs than Cardiff and were still both pretty young. However, what wasn't clear to most supporters at the time was that both players had problems which meant that their careers were on a downward spiral when they came to Cardiff – a few months after signing for us both players were thrown out of the Northern Ireland squad for breaking a curfew and it soon became obvious that Mulryne, a talented play maker good enough to sign for Manchester United as a teenager who is now training to become a priest, was no longer able to cope at Championship level. As for Whitley, he did well for half a season as he gave the team some bite in the middle of the park, but barely featured after that and later, when at Wrexham, admitted to being an alcoholic.
Dave Jones was to add two more "misfits" to his squad during August 2005. There had been continued press speculation during that summer that City were trying to sign the prodigiously talented Welsh International midfield player Jason Koumas on loan from West Bromwich Albion, but, even though Koumas had effectively gone on strike with the Baggies because of a personality clash with manager Bryan Robson and so would probably be looking for a new club, the thought that it would be Cardiff City seemed too much to ask.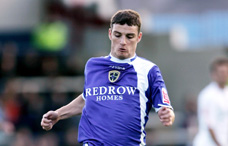 However, just before the season started, Koumas was there in the City squad and from the moment he appeared as a nowhere near match fit sub to transform a game with Leeds by scoring a memorable long range goal within three minutes of coming on, he proved to be a great success both in terms of what he brought to the team and the moments of sublime skill he provided for supporters many of whom had never seen a player of Koumas' ability in a City shirt before.
With only Alan Lee, who had not scored in ages, and the raw Cameron Jerome as striking options, there was a need for reinforcements in that department and, as the August transfer window was closing, Dave Jones brought in Michael Ricketts on a four month loan deal from Leeds. Ricketts really was a fascinating footballer. In February 2002 he was playing for England against Holland at the age of 23 after scoring goals galore in the Premiership for Bolton, a £3 million move to Middlesbrough soon followed, but Rocketts flopped so badly on Teesside, that he had left to join Leeds on a free within 18 months – now after failing to score at all for them in his first season, he pitched up at Ninian Park after doing little of note during an earlier loan spell at Stoke.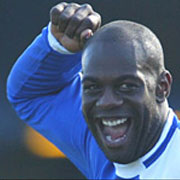 Probably helped by the fact that expectations were so low, Dave Jones' unlikely mixture of free transfers, loan signings, youngsters, journeymen and under achievers were able to maintain an unlikely Play Off challenge for much of the season – of course, Koumas was capable of winning the occasional game virtually single handedly. The real bonus came though from the goals scored by the rookie Cameron Jerome whose mixture of pace and raw power saw him find the net twenty times in all competitions as he established himself in the England Under 21 squad while earning a big money move to Birmingham at the end of the campaign.
Therefore, when a mid table Ipswich side that had only recently come out of Administration themselves arrived for a televised Monday night match on November 28, City were big favourites to win despite a run of just one win in six games. City were quick out of the blocks on a bitterly cold night and ten minutes had barely elapsed when they were awarded a penalty as veteran Dutch defender Fabian Wilnis clipped Cameron Jerome's leg – while the penalty decision looked a correct one, referee Marriner's decision to give Wilnis a straight red card seemed harsh.
With normal penalty taker Darren Purse sitting this game out through suspension, it wasn't immediately clear who would be taking the spot kick, but when Michael Ricketts stepped forward to take it, my thoughts were that anything could happen! With four goals to show from his twelve games so far, Ricketts had not been a disastrous signing by any means, but you could see why his career had gone downhill so spectacularly – he was immobile and slow, but once or twice a match he would produce a reminder of the sort of ability that had got him so far in the game only a couple of years earlier. To me Ricketts often gave the impression that he believed he was still the same player who had scored a winning goal at Old Trafford and this was reflected in the causal saunter rather a run up he took to the ball as he completely failed in his attempt at mind games with the visitor's young Welsh International keeper Lewis Price. Ricketts got in such a mess taking the kick that his weak effort would barely have had the strength to have rippled the net if Price had not got in the way of the ball first – if there is such a thing as a routine penalty save, then this was it!
Within a quarter of an hour though, Ricketts had made amends when he took advantage of Price's decision to stay on his line to steer home Joe Ledley's fine pass and from then until the last five minutes of the game, City were pretty comfortable – although a combination of poor finishing and Lewis' fine keeping kept the score down to one, all the signs were that would be enough to secure the three points. When Jeff Whitley brought down the visitor's young substitute Billy Clarke about twenty five yards out though, Spanish midfield player Jimmy Juan steered a low free kick beyond Neil Alexander and into the net to level the scores with four minutes left.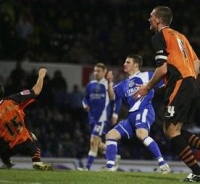 Faced with the prospect of only getting the one point when three had look guaranteed, City responded with some desperate looking hoofs forward which, in most circumstances, would never have got the desired result. However, for this season only, they had Jason Koumas to provide that bit of magic and he did so this time by beautifully controlling Neil Cox's long ball on the left hand side of the penalty area and then cutting in to beat two defenders. A goal looked certain, but then Koumas slipped at what seemed the vital moment, the Ipswich defence was so mesmerised though that he was able to pick himself up and dust himself down before putting the ball high into the net for a very dramatic winner.
City's 2-1 win cemented their place in the top ten and, if the season was eventually to peter out in the sort of finish which has become pretty typical of Dave Jones' time in charge, at least there was the consolation that Koumas would be signing for us permanently during the summer – or so Sam Hammam kept on telling us! In the event, Koumas ended his "strike" and started playing for West Brom again before becoming Wigan Athletic's then record signing at the start of the 2007/08 season. However, despite having more natural talent than most players he comes up against in the Premiership, he still hasn't truly established himself at that level and, at the age of 30 now, he probably never will – as to why this should be, I think it is safe to say that it is what goes on between his ears that has held him back.
As for Michael Ricketts, after his relative success at Cardiff, he drifted around the lower leagues for years but is currently without a club having been released by Tranmere at the end of last season. Perhaps a clue as to why it all went so wrong for him can be gained from the fact that, he was sacked by then Championship side Southend a few weeks after signing a two year deal with them in 2006 because he had put on weight since reporting for pre season – Ricketts gives the impression of someone who thought he had made it to the top and has been content to live in a comfort zone since then when it became clear that this was not the case.
One last thing about the Ipswich game before finishing which might be pertinent to our current financial situation. Since returning to this level in 2003 we have had five sub 10,000 crowds for home league matches and they all occurred within a year of Black Friday with the gate to see Koumas' late winner being the lowest of them – the number of golden tickets sold will ensure that we don't get any sub 10,000 crowds next season, but, unless new owners or investors can be found to restore faith and enthusiasm, I think there will be plenty of matches where Cardiff City Stadium will be less than half full.
28 November 2005
Cardiff City 2 (Ricketts 26, Koumas 90) Ipswich 1 (Juan 86)
City Alexander; Weston, Cox, Loovens, Barker; Parry, Whitley, Ledley, Koumas (1); Jerome, Ricketts (1) (Lee); Subs not used Margetson, Mulryne, Boland, Ardley
Ipswich Price; Sito Wilnis, DeVos, McEveley (Horlock); Williams, Magilton (Clarke)(Currie), Juan (1), Richards; Naylor, Forster; Subs (not used) Supple, Proudlock
HT 1-0
Att. 8,724