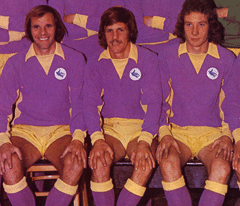 There seems to be something about Coventry City that suits the City team down to the ground. The game against them at Ninian Park was one of the more entertaining matches staged during our old ground's last season and could have ended up 6-4 as, unlike others, Coventry came here and had a go at attacking us, while Dave Jones has referred to the 2-0 win at the Ricoh Arena as our best performance of the last campaign on more than one occasion.
Now, I am not saying that last night's 2-0 win over Chris Coleman's side qualifies as our best of this season (how can it when we have trounced our real main rivals with an outstanding display!), but, last night's was a very satisfying performance which I believe compares favourably with the 6-1 win over Derby three weeks ago.
Just as they did a year ago, Coventry came to Cardiff prepared to attack and, certainly for pretty long periods of the first half, their use of three strikers looked like it might get them a reward as they pinned us back, but, truth be told, apart from one outstanding save by David Marshall from Clinton Morrison, messrs Best, Eastwood and Morrison got little change out of an increasingly confident City back line.
In contrast, City exploited a pitch slicked up by a day of incessant rain to put together some easy on the eye combination play which left the visiting defence bewildered at times in the second half in particular. Even during an even first half, you got the feeling that Coventry were clinging on when City cranked up their passing game and attacked with purpose – there was an air of desperation about the visitors at times in the first forty five minutes, but for most of the second period, they were stumbling about like dazed boxers as they struggled to cope with wave after wave of home attacks.
Therefore, in terms of all of the facets of the game, I think it is fair to say that City produced a more complete performance than they did in sticking six past Derby last month. This time around I thought the passing was a bit crisper, the movement a bit slicker and the defending better. However. there has to be a reason why we won by two last night and not five and I would say that it was because the ruthlessness which destroyed Derby wasn't there.
In particular, Michael Chopra was wearing his shooting boots against Derby and he wasn't last night. Chopra is in the middle of an odd run at the moment because, if you were told that a striker had only scored in one out of his last ten appearances then you would expect him to be down on both form and confidence, but, then, if you were told that in that one game where he did find the net, he did so four times you would come to a different conclusion.
That was what it was like with Chopra last night – he didn't look short of confidence, but it's just not quite happening for him at the moment. Luck doesn't seem to be running his way as can be witnessed by the lovely chip which came back off the post in the second half, but it has to be said that he should have rendered any debate about a soft looking penalty decision redundant by putting away the chance presented to him by Cranie's error – when other chances such as one he put too close to Westwood in the Coventry goal in the first half are borne in mind, then I reckon Chopra will be disappointed that he wasn't celebrating his third hat trick of the season last night.
While I am having a slight whinge at our strikers, I'd also just like to say that, although I belong very firmly in the camp which thinks that Jay Bothroyd is a very important player for us who, for most of the time, has proved himself to be a really good signing, I do wish he would remember that he is in the side to score goals as well as provide all of the good things he does for the team. Whereas, you get the strong feeling that the goals will start flowing on a more consistent basis for Chopra soon, I am not so sure whether that applies to Bothroyd because he puts himself in positions where he has a chance of scoring so rarely.
It would be wrong to spend too long being critical of what was a very good team performance though. Not for the first time this season, there were good performances all over the park, but some individuals do deserve a mention.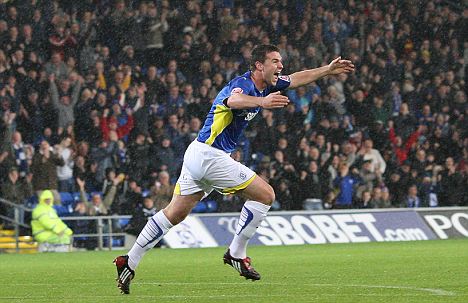 Firstly, congratulations to Anthony Gerrard on his first goal for the club. I've got to be honest, sometimes I look at our central defenders and think they are a potential weak spot in the team, but to do that is to make no allowance for the fact that Gerrard is having to learn how to cope at this level while playing every minute of every league match so far – he is doing fine up to now and you have to say that any club looking to buy him now would have to pay a lot more money than we did for him.
Peter Whittingham kept his scoring run going with a penalty which took some scoring when you consider how long he had to wait to take it and put in another performance which was a big improvement on the sort of diffident stuff that characterised too much of his play last season, but, I am not criticising him in the slightest when I say that it was our play down the right hand side of the pitch that really impressed.
I can remember watching Patrick Van Aanholt making his debut for Coventry in their 2-1 win over Ipswich on the first weekend of the season and thinking what a good prospect he looked, but, having used one boxing analogy already, I'll use another one now because Chris Coleman didn't half do him a favour when he, effectively, threw the towel in save his left back from taking further punishment!
City's right flank was good in the first half, but they were absolutely rampant after the break and Van Aanholt (who didn't get much help in his task from his left sided midfielder Michael McIndoe) could have been forgiven for thinking (with apologies to whoever thought up the old Lillee/Thompson chant!)
Ashes to ashes, dust to dust, if Burke doesn't get me, Matthews must.
It was an absolute pleasure watching Chris Burke and Adam Matthews performing in the second half – my seat in the Ninian stand gave me a close up view of some real high quality old fashioned wing play (and it didn't all come from Burke). If there was one little quibble, it was that nothing tangible came from the havoc they caused down Coventry's left, so I suppose the quality of the crossing could have been a bit better, but that is being picky.
Burke is fast turning into my favourite City player because he is a reminder of my youth when virtually every team in the country seemed to have a jinking Scottish ball player on one of the wings. The vast majority of the players I refer to used to tend to do their bit on the ball and then stand about waiting for someone to win it back and feed them again and, sadly, in these days of "work ethic" and "tracking back", they have virtually faded from the game. Therefore, we are so lucky to have a player who does all of the good stuff on the ball that those players from thirty and forty years ago used to, but is also prepared to do his bit when we don't have the ball. Having seen the Rangers result last night and how they have struggled to break down the likes of Motherwell and Kilmarnock this season, how on earth did they let Burke go for nothing?
Chris Burke wasn't my man of the match last night though, that honour goes to our seventeen year old right back. Adam Matthews had his problems with Freddy Eastwood early on, but was soon running past him and causing the visitors plenty of trouble. Matthews was strong defensively after those first few minutes and is good enough to play with a composure which would be dangerous to see in many other less talented defenders. However, he has so much more to offer than that and, having watched our best finisher chipping not very good free kicks into the box from about forty yards out last night, I just wish we would make more use of Matthews in attacking dead ball situations – if we need a right footed delivery, then he is as good as, if not better, than anyone else in the team.
However none of all that is the reason why Matthews was our best player last night in my book, the thing that swung it over Chris Burke for me was the beautiful pass our right back played down the touchline in the second half for our winger to run on to – it was a real through the eye of a needle pass which only a good player could play, but when it was also hit with the perfect pace which meant that Burke barely had to break stride to reach it, then you knew you were watching a special talent in action.