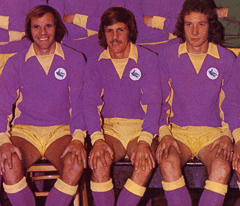 There are low key pre season friendlies and then there is yesterday's match at the Cardiff City Stadium when City brought the curtain down on what has been a pretty awful pre season with a 1-0 defeat by La Liga side Deportiva La Coruna. Regular readers of this blog will know that I rarely use one word where ten will do, but I am sorry there is little I can say about yesterday's match – Ross McCormack (who, sadly, looked like the 09/10 version we saw rather than the 08/09 one) missed a good first half chance when cleverly put through by Michael Chopra who fired not far wide shortly afterwards, but, once again, the front two showed that they just do not click as a partnership and we barely threatened again after that until sub Nat Jarvis shot into the side netting after a fine cross by trialist left back Gregory Vignal.
To be fair to our ineffective front two, much of the service up to them was poor with them often having to try to control passes a yard or more off the ground of the sort that Deportivo players were able to play along the deck all day long as the contrast between the technique of UK players and those from mainland Europe was, once again, exposed (the injured Steve McPhail was conspicuous by his absence). Chopra and McCormack were rather thrown together as well because Jay Bothroyd was announced as being in the starting eleven, only for him to withdraw with a hamstring injury sustained in the pre-match warm up – with the way things are currently at the club, supporters might be forgiven for looking at the player's absence at Notts County last week as well and wondering if there was something more to it than that.
That earlier comment about Deportivo's passing being better than ours may have given the impression that they were much better overall than us – they weren't, but they were a little bit better overall than us. However, apart from a second half shot shot which flew just too high and wide of Tom Heaton's goal, they hadn't really threatened until they easily opened up our defence with a move out of keeping with the general quality of the game to provide Marco Dioni with a simple goal eight minutes from time.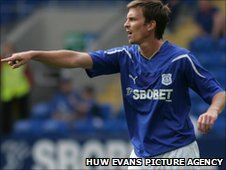 Darcy Blake and Kevin McNaughton were the stand out City players for me while the midfield pairing of Gavin Rae and Danny Drinkwater didn't do badly. We also fielded a couple of trialists with Finnish international Toni Kallio, who was released by Fulham recently, and Frenchman Gregory Vignal, who has played for Liverpool, Rangers and Birmingham in his time, both getting a half in the troublesome left back position. Kallio looked more of an out and defender and in a starting line up which was, again, short of aerial power, his height (he can also play at centre back) came in useful. Vignal, by contrast, was another one of the around five foot ten brigade we seem to specialise in these days, but, after a poor start, he settled in pretty well and offered more going forward – he was the slightly more impressive of the two on the day for me.
Of course, none of this really matters because with our transfer embargo still in place, we can't sign either of them and with the news breaking yesterday that Tom Heaton joins Daniel Drinkwater in not currently being available for the Sheffield United game next week, you have to wonder if it was ever lifted this summer despite the reports that it had been around mid June when the original tax debt was settled. In some ways, things seem to be getting more confused rather than clearer with the passing of time – for example, some news sources are still saying there is a problem with our Accounts despite them having been filed with and accepted by Companies House a fortnight ago and after earlier stories that the High Court appearance scheduled for 11 August had been cancelled after the first of the two months PAYE contributions that we owed had been paid, it is now being reported that we still have a date in Court in ten days time.
In saying that, Dave Jones' post match press conference yesterday was interesting in that he claimed that it was just the money owed for the Mark Hudson transfer which was holding up the lifting of the embargo but he then said that "Charlton have had the money" and that, technically, it wasn't a football debt. He also contrasted the way we are being treated with how Portsmouth were being allowed to bring in players while under an embargo – with City trying to stay out of Administration by gradually sorting out their debts while the in Administration  south coast club struggle with a debt five times the size of ours, on the face of it, it looks like he has a point when he says it is one rule for some and another for others.
So the implied good news is that the situation with HMRC has been resolved or is in the process of being resolved and at least the July wages were paid on time but there always seems to be something around the corner to bring things down again. This time it comes in the form of the PFA getting involved because the players released by the club last month (as well as Mark Kennedy who moved to Ipswich last week) had not received their severance pay (!!!!!). With reports also emerging that, besides being asked to defer this season's bonus payments, some players are still waiting to receive bonuses for last season (it has been claimed that Michael Chopra is owed in the region of £150,000), then I can't help thinking that morale in the dressing room must be close to rock bottom – I know they are only friendly matches, but three successive defeats tends to suggest that this is the case.