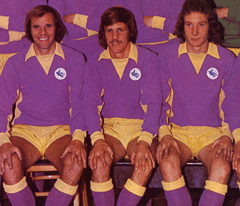 Has Cardiff City had a more joyless and debilitating year than 2014 in all of it's existence? Given that the first half of the year saw us performing at a level we hadn't competed at for more than half a century and the second half saw us in mid table at the level lower, there's definitely been worse years in terms of results and quality of football (during the thirties and nineties in particular), but I thought for a while when choosing to use the words "joyless" and "debilitating" because I genuinely cannot remember a year to match the one just about to end when it comes to those two adjectives.
A disaster of a year ended in a wholly appropriate manner as the team crashed to a 4-2 home defeat by Watford which revealed all of the things that are wrong at Cardiff on the field and, more than any other match so far this campaign, also highlighted much that is going wrong off it for the club.
"Joyless" explains itself really. I can only remember one game during this year that I came out of having truly enjoyed it. In the 3-3 draw at the Hawthorns in March, City showed the sort of spirit and resolve that has been lacking so often over the past twelve months to recover from going two down in no time and then conceding a third goal in added time to snatch what was in the end a deserved point. However, even then, the joy was tempered by the knowledge that, despite it all, our chances of staying up were probably less than they had been just as the match kicked off.
The travelling support was in good voice that day as well, but one of the reasons why I cannot say I ever felt the same way after any match I saw at Cardiff City Stadium in 2014 was that, right from the West Ham game that was supposed to be the start of a new era at the club, the atmosphere at home games has tended to be as flat as the proverbial pancake. To be fair, there was hardly ever much happening on the pitch to get the juices flowing and even when we won games, I sometimes asked myself "how on earth did we get the three points?" (e.g. Norwich in February and Reading last month).
I've noticed in recent home matches that conversations have tended to be less about what is happening on the pitch and more about discussing things such as the antics of people who are, how shall I put this, letting the ineptitude being shown on the pitch get to them. We laugh at the person concerned and laughs are few and far between at Cardiff City games these days, but it's the sort of gallows humour I can remember from that period lasting from 1985 to about 1999 when we were, invariably, a pretty ordinary lower division side – taking the piss out of people who are at least showing they care isn't where I really get my joy out of watching Cardiff City play, but, these days, I suppose beggars cannot be choosers.
I've no desire to go into too much detail about yesterday's game, but I suppose that I must. Actually, after Watford played through our midfield far too easily on a couple of occasions in the opening minutes, we settled down somewhat and were worth our 1-0 lead with about ten minutes left of the first half – in truth, this had as much to do with the fact that, up until then, Watford had been rivaling Forest as the worst team I'd seen at Cardiff City Stadium this season, but everything changed when they decided to start playing.
In saying that though, City had a couple of three on three breaks just before Watford's equaliser, but showing the lack of pace and quality that we've become all too used to, they botched them and about a minute after the second opportunity had been spurned, it was 1-1.
After the game I was listening to Jason Perry, Nathan Blake and Andy Legg discussing how the City players reacted when that goal went in. They were right to mention the lack of recrimination or even discussion between them as they trooped back to the centre spot and they were right to say that this was the time when there really needed to be leaders out there on the pitch, but they were not showing any special ex pros insight there, they were just pointing out something that many supporters have been aware of for months.
Not for the first time, the effect of conceding was akin to the air quickly escaping from a balloon, City were utterly deflated and, in no time at all, our two centrebacks (who the press tell us we paid £9 million for) left Ighalo free to head in from close range.
The second half saw Watford, who left their three best attacking players (Deeney, Vydra and Anya) on the bench, stroll through the game – they became the latest opposing side to score with a shot from outside the penalty area against us when Guédioura was given all of the time he wanted to fire in his second goal and Angella then added an easy headed goal to make it 4-1.
What did City have in answer to this? Well, apart from odd substitutions and a route one approach which made the sort of stuff we used to see from yesterday's opponents and Wimbledon in the 80s look sophisticated, there was absolutely nothing. The selection policy, tactical approach and prehistoric football employed by Russell Slade since he has come to Cardiff would probably be accepted by most if we were winning, but when a side plays like that and is on a poor run, then there aren't going to be many prepared to fight his corner – speaking as someone who has tried to be sympathetic to our manager, it's impossible to find anything from our second half showings over Christmas to counter those who want him out with.
Actually, City did manage to do something in the second half, they scored a good goal in added time when Craig Noone beat his man with a lovely bit of skill and crossed for Kenwyne Jones to head in powerfully – Noone was also not too far away with a well struck shot after that, but it was far too little, too late from a well beaten side who were more than two goals worse than their opponents.
In his post match press conference, Russell Slade tried to put our defeat down to four minutes of madness just before half time. I doubt it if he was fooling anyone there, but it did get me thinking "forget four minutes of madness, there's been more than two and a half years of madness at Cardiff City".
It's taken a while, but this takes me on to my use of the word "debilitating". The on line dictionary I've just looked at defines the word "debilitating" as "to make weak or feeble; enfeeble". It's worth remembering that ten days before the end of 2013, City fans showed a degree of passion at Anfield that drew respect and praise from around the footballing world. Yes, that passion may have been misplaced as it turned out, but it was in support of a man whose teams, despite some very poor showings towards the end of his reign, always gave of their best.
Malky Mackay's sides only tended to lose because their opponents were better than them, if it came to a battle of wills, they might not always have won, but it was very rare that they lost – can that really be said of Ole's and Rusell Slade's Cardiff teams?
Just over a year ago, Cardiff City was a club that still had passion, but, 2014 has been a year when much of that quality has been sucked out of so many people associated with it – I don't preclude some of our players from that either. This has been the year where home supporters have become used to hearing more of opposing fans, of hearing player's shouts and the dull hum that is heard when hundreds of people are holding conversations in a large area – the atmosphere that we were told could intimidate opposing teams has disappeared.
Yet, perhaps, there was an element of it's always darkest just before the dawn to what happened yesterday, because, while many decided to vote with their feet as the Watford goals mounted up, there were sections of the crowd who, in vocal terms anyway, were as stroppy as any I've heard this year – there were more anti Tan songs, Russell Slade had to endure choruses of "you don't know what you're doing" and "getting sacked in the morning", there were Ole's as Watford passed the ball around with barely a challenge from City players (it was 68/32 in the possession battle yesterday by the way – obviously, there's no need for me to say which team had a less than a third of the ball) and derision greeted the "official" attendance figure when it was announced. While not all of these things were helping the team on the pitch, they were signs that people have had enough of Vincent Tan and his rebrand.
With marches and protests planned for games early in the New Year and many, like myself, who were prepared to tolerate the rebrand initially, now thoroughly pissed off with everything to do with Cardiff City, opposition to Tan has never been stronger – yes, I know I and others have left ourselves open to justifiable "it's two and a half years too late" comments because of what we said back in the summer of 2012, but  we are where we are now and it feels to me as if things are coming to a head.
I'm not naive enough to predict that 2015 will see a return to the club being the one we all fell in love with so long ago, but maybe it will be a year when the fans begin to fight back in the sort of numbers that start to get the club worried. Whether it be through going on marches, going to games and making your contempt for Tan and his rebrand more obvious, boycotting games either on an individual basis or through not buying or renewing a season ticket, I think there are grounds for hoping that next year will see more organised and more widespread resistance to the one man in the world who really wants Cardiff City to play in red – perhaps he might even pluck up the courage to come to a game as well?
* pictures courtesy of https://www.flickr.com/photos/joncandy/