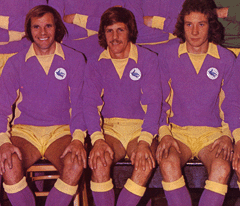 A review of the squad and it's prospects for the coming season has appeared in August just as the campaign was kicking off in previous years, but this time I decided it would make more sense to leave it until we had completed all of our business in the transfer window. The format will also be different because in the past I've looked at the goalkeeping, defensive, midfield and attacking options we had and argued whether they were stronger and weaker than in the previous season before trying to predict where we would finish in the table.
That seemed a commonsense way to approach things when we were playing in the same division every season, but promotion makes it a bit redundant now. Given the money spent and the quality of player brought in this summer, it's pretty obvious that we are stronger in all areas than we were (even in goalkeeping where the arrival of Simon Moore for Elliot Parish gives us more strength in depth), the relevant question now has to be are we good enough to hold on to our Premier League status?
Another advantage to doing this piece now is that the team have played a few competitive matches which they hadn't done in previous years so you do have something substantive to base your opinions on. Do three league matches offer enough evidence to state with any certainty where City are going to finish up and what division they will be playing next year? Definitely not in my opinion, but what I will say is that this will be a more optimistic piece than it would have been if it had been written just before we played West Ham and an awful lot more optimistic than it would have been if it had been done just after we played at Upton Park!
I daresay the home matches against Manchester City and Everton have made any City fan who saw them feel better about how the season will turn out, but those four points were won playing in a certain way and, if there are question marks about the squad at the moment I'd say they concern how we are going to fare when the onus is on us to force the issue.
The arrival of a proven Premier League performer with a point to prove in Peter Odemwingie should certainly help in this direction, but I'd say the only time we have found ourselves in a position where we have faced a team who were happy to sit back and let us have the ball, we didn't really cover ourselves in glory. In the second half against West Ham we dominated possession for the only time so far this season, but barely suggested that we had it in us to come up with an equaliser – indeed, the only worthwhile chance we created all afternoon (Nicky Maynard put it over the bar from about eight yards out) came when we were 2-0 down and there were seconds left to play.
To even things up a little, it has to be said that when we went behind against a Man City team who were not looking to close the game down after scoring, we manged to create a fine goal from open play within minutes. There are quite a few sides in this division who have not done that yet in a generally disappointing start to the Premier League season which has seen plenty of tight and grim affairs where defences have been on top. It's also a hopeful sign that, on the evidence of the Man City game at least, Premier League rearguards will have as much trouble defending our corners as Championship ones did when they are delivered with as much quality as Peter Whittingham and Don Cowie provided for Fraizer Campbell.
We've shown enough to suggest we will be disciplined, organised and difficult to break down against opponents expected to beat us, but, more often than not, we will end up with nothing from these type of matches – the four points we've got so far definitely fall into the bonus category as far as I'm concerned.
By and large, the points needed to avoid relegation will come in matches like three out of our next four when we travel to Hull and Fulham and entertain Newcastle – those bonus points we got against Man City and Everton will have been handed back if we get nothing from those three games.
I would have liked to see us have one more player with a bit of pace and flair about him for these matches that we going into thinking that we have a decent chance of winning. Based on the little I've seen of Jefferson Montero, he might have been too much of a luxury player for those matches with top sides where every member of the team is expected to play to a predetermined pattern designed to make life as difficult as possible for our opponents, but against opponents that should enable us to approach matches with a bit more of a sense of freedom, someone like him might have made the difference between three points and one or one point and none.
Even with the acquisition of Odemwingie, I'd say our transfer dealings since we got promoted have tended to more accentuate the things we were good at last year than improve the things we weren't so good at. That view may change if Andreas Cornelius can overcome a difficult, injury plagued, start at Cardiff and begin to show that he is as good an all round player as his form last season suggested he is – Malky Mackay must obviously think he is capable of doing this and a strong, mobile target man (I'm not sure Fraizer Campbell will be able to perform such a function over the course of a full season) would make such a difference to our prospects.
That said, even if Cornelius doesn't measure up, we've got quite a bit going for us. My main fear going into the season was that a very difficult first three months could see us left with too much to do over a less taxing second half to the campaign – I'd like to think now we are equipped to keep in touch with the safety zone while we have to face the likes of Man City, Spurs, Man United and Arsenal at Cardiff City Stadium and can do something about introducing the sort of matchwinner which I believe we are short of for now come January.