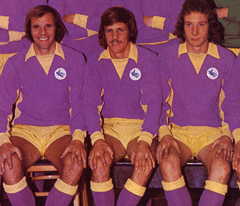 David Marshall
Arguably our best signing of the summer of 2009, a great shot stopper who came through a season of bobbly pitches which were not as good as he was used to without being embarrassed when it came to his kicking. At just 25, he is still young for a keeper and so can improve further, but I rate him now as the best goalkeeper we have had since 1963. However, the problems he and his defensive colleagues have had in dealing with inswinging corners in recent weeks cannot be ignored and so what would otherwise have been an 8 out of 10 becomes – 7.
Peter Enckelman
People tend to focus on the Cup Final goal when it comes to Enckelman, but the truth is that in his first two seasons with us he did a good, solid job and proved to be a reliable keeper. Sadly, this was not the case in 09/10 when we lost all four league matches he played in and he was at fault with three of the goals he conceded with the one at Preston being almost but not quite in the class of the notorious Birmingham v Villa goal – no quibbles about the decision to release him this summer from me  - 3.
Kevin McNaughton
Super Kev's worst season so far as a Bluebird. Was out with an injury sustained in the pre season friendly with Celtic until November, missed more games in March/April and, truth be told, never looked fully fit. Still managed to look as good an option as any we have as a defensive full back, but his passing let him down on occasions - 6.
Mark Kennedy
Kennedy's second season was an improvement on his first and when you consider that he turned 34 this month, that is no mean feat. A year ago he could, justly, be described as one of the players who ran of steam in those last four matches, but not this time around – he finished the season well and was still going as strong as anyone at the end of extra time against Leicester. Deserved great credit for the way he slotted away that penalty in the shoot out and for his reaction to Martin Waghorn's penalty miss – 7.
Tony Capaldi
It became pretty obvious that this was going to be Capaldi's last season at City and he did nothing really to suggest that this was a wrong decision. Didn't let anyone down when called into action at the end of the season, but, significantly, lost his place at Leeds when he was loaned out to a lower division club - 5.
Paul Quinn
The lack of discipline shown by Quinn at Preston in conceding a needless penalty at 0-0 showed that he is far from being the finished article as a Championship full back. However, for the most part, he did pretty well when called on and his magnificent performance in the heroic win over Leicester suggested that there is a lot more to come from him. Was unlucky in that he picked up an injury after playing so well in what I consider to be our best win of the season and I think some of the criticism he has received at times has been harsh - 6.
Miguel Comminges
An injury wrecked campaign for Comminges and it's good to see City giving him another six months to get fit and find a new club. However, the truth is that he had become something of a forgotten man before he picked up his injury late in 2009. Only made one, very brief, appearance in the league (at Plymouth) and had one start in the League Cup against Dagenham and Redbridge where he played in midfield - 3.
Adam Matthews
His absence from the squad at the business end of the season was a complete mystery to me – in Play Off matches where the onus is on teams to win as opposed to not to lose (as can happen sometimes in the league), surely you need your best attacking full back on the bench at least? It was still a very good first season for Matthews though – yes, he could do better defensively at times, but would we really have done worse at the back in our last two matches with Matthews playing? I can't help thinking that he may have seen the last of him in a City shirt and if that turns out to be the case, I believe that, just as with Aaron Ramsey, we should have made more use of him while we had him - 7.
Aaron Morris
Always looked a decent player when given a rare chance at first team level, but just one substitute appearance from someone who will turn 21 in December makes it very hard to disagree with the decision to release him - 3.
Mark Hudson
Had been playing well and establishing himself as a leader for almost three months when he suffered the injury in January which kept him out for the next three months. Hudson did not start or end the season well though and I've still not seen anything that really marks him down as being worth what we, reportedly, paid Charlton for him. Not as bad as some of his critics make him out to be – for me, Hudson is a decent to good Championship centre half, but we have become used to better than that in his position in recent years - 6.
Anthony Gerrard
I liked the way Gerrard's performances got better as we got to the business end of the season. Although I didn't envy Dave Jones the choices he had to make in the centre back position for the Blackpool match at all, I think it is fair to see that we missed Gerrard who had shown himself to be someone who was well suited to cope with high pressure games. Still a case of "work in progress" with him, but, when you consider that his transfer value must have, at least, doubled over the past nine months, Gerrard was a very good signing in terms of value for money - 7
Gabor Gyepes
Unlucky to be the odd one out from our three centrebacks at the start of the season, Gyepes was reminding everyone of what a good player he looked for much of the 08/09 campaign when he was red carded in the Leicester game at the end of March for a professional foul. There was no way back after that for someone who was considered to be our fourth choice in his position by the end of the season and it may be that he will be one of those who leave during the summer - 5.
Darcy Blake
Could well be City's best player of the second half of the season. After returning from a loan spell at Plymouth, did well in midfield in January when called on as injuries, illness and suspension began to bite, but it was at centreback that he most impressed as his pace gave the central defence something that it had been missing all season. His partnership with Gerrard was our best combination in that position for me, but the fact that Blake was sometimes undone when his midfield player's instincts kicked in as he tried to play too much football and that his lack of height made City susceptible to an aerial bombardment does emphasise that we were weaker than a top six side should be in this area. Still, a breakthrough season for Blake who was almost like a January transfer window signing for us - 7.
Chris Burke
A genuine candidate for Player of the Season, Burke's ability, creativity and goals made him a real match winner. Speaking as someone who was brought up on jinking, Scottish ball playing wingers, Burke was the City player I enjoyed watching most and, unlike plenty of others of that type, there was an end product as well. That said though, his performances in the Play Offs when it counted most were a great disappointment. Yes, he was troubled by a groin problem, but Dave Jones, who was pretty quick to relegate Burke to the bench during the regular season if there was any fitness issue with him, kept on picking him to start in a position where we had decent alternatives. - 7
Peter Whittingham
It's close between Bothroyd, Burke and Whittingham, but I think Whitts' goals make him my City player of the season. Although he remained something of a liability in defensive positions, Whittingham impressed with a more determined attitude which saw him willing to do more for the team. When you add that to his goals, his superb technique, his excellent dead ball delivery and his vision, you have some player at this level. Coped very well with the pressure of the Play Off Semi Final and I think he deserves more credit for his performance in the Final – Whittingham will never be the type to take a game by the scruff of it's neck and cominate it through his strength of personality,  but when we were good against Blackpool, Whittingham was always involved somewhere along the line - 8.
Kelvin Etuhu
The fact that Manchester City were so keen to get Etuhu signed up to a new contract before he came here on loan suggests that he is a footballer who could be a force at Championship level, but we never saw it. There were flashes of inspiration when his combination of pace and power took him past two or three defenders, but, there was rarely an end product. Injuries didn't help Etuhu's cause, neither did using him as a direct replacement for Jay Bothroyd when he was unavailable, but, even allowing for this, the feeling is that he under performed at Cardiff - 5.
Ross McCormack
Talk of under performing takes me nicely on to the player who did more of that than any other in 09/10. August saw him unsettled as he pursued a move to the Premiership, but that controversy was forgotten when he turned in an excellent display in the season opener against Scunthorpe, he was then unlucky to suffer an injury in the next league game which robbed him of the chance of that move to the top flight as well as a place in the City squad for the next for the next seven weeks. After that, I'm afraid McCormack spent more time out of the team than in it – playing well against Scunny, scoring a good goal against Watford and hitting City's pass of the season (at Bristol City) is nowhere near enough from a player who set the standards McCormack did in his first season at Cardiff – getting the old McCormack back for 10/11 would be like signing a new player 4.
Steve McPhail
McPhail was playing far better than he had done in the previous season before he was diagnosed with cancer in October. He was then injured against Forest and missed three months of the season as he received treatment for his illness and recovered from his injury only to then break his ribs against Peterborough in his second game back leading to another month out. City's record in games in which McPhail played was outstanding and this season, more than ever, he held the team together in the middle of the park. To do that while coming to terms with a life threatening illness is an amazing achievement for someone who deserves nothing but admiration for his efforts on our behalf over the last nine months – his mark would be even higher were it not for a subdued performance in the Play Off Final - 8.
Joe Ledley
Was, by his standards, ineffective over the first half of the season as he was slowed down by injuries to his hips, but, when he finally had the operations he needed in January there were times during his two and a half months out when I wished for even the poorer version of Ledley to be out there on the pitch. Looked more like his old self after his come back against the jacks and a strong second half showing meant that he was one of only a few City players who could say that they turned in an acceptable performance against Blackpool – Ledley has, almost certainly, played his last game for the club and we aren't half going to miss him - 7.
Gavin Rae
If I have one image of outplayed City central midfields this season, it is of Gavin Rae finally finding himself in a bit of space and then passing the ball straight back to the opposition. To be fair to him, Rae was outstanding in the great 3-0 win over Bristol City and I don't think there is a better team man on the staff, but any box to box midfield player is always going to find life harder once they turn 30 and he will be 33 in November – with his contract due to run out next summer, it would be hard to argue with the club if they attempt to offload him during the summer - 5.
Ricky Scimeca
Three consecutive defeats in November had seen City drop out of the top six and Dave Jones' response was to bring the old warhourse Scimeca into our midfield for his first league start of the season. Scimeca kept things simple during the game with Preston, but it was just what City needed as they recorded one of their most important wins of their season. The physical challenge of two starts in three days proved too much for the injury plagued veteran though – he was taken off at half time at West Brom and announced his retirement from the game a few days later - 5.
Aaron Wildig
As one career ended that night at West Brom, so another began as 17 year old Aaron Wildig came on as Scimeca's replacement. A promising first season saw Wildig get plenty of games in the January/February period before coming back into consideration towards the end of the season. If he struggled at all, it was physically rather than in terms of his technique as he.looks comfortable and confident on the ball. Although it was only a consolation in a heavy defeat, his goal at Newcastle suggests that he may be able to carry his scoring ability from central midfield at Under 18 level into the first team – we could certainly do with some goals from that area! - 6
Soloman Taiwo
An outstanding performance for Dagenham and Redbridge'in the League Cup earned Taiwo a move to Cardiff and within a month he was making his first league start in the home game with QPR. For a while, Taiwo's assurance and neat passing shone out in a dismal team performance, but once he started to make errors and the visitors went two up, his game fell to peices. A twenty minute "rabbit in the headlights" substitutes appearance in the defeat at Swansea had one suspecting that we has seen the last of him at first team level, hut a useful fifty minute contribution in the blizzard hit FA Cup game at Bristol City suggested he may have a future at this level – even so, it's a surprise that the Echo were reporting yesterday that Taiwo was in Norwich discussing a £100,000 move to the newly promoted Championship team - 3.
Jay Bothroyd
Managed to improve on an impressive first season at Cardiff to the extent that the reports limking him to decent Premiership clubs have become totally believable. If anything summed up the transformation of Bothroyd's career, it was that he spent about a third of the season captaining the team. It's become a cliche to say that he is the most important player at the club, but that only reaffirms what is obvious and many City fans have admitted that they thought our chances of Premiership football disappeared when Bothroyd limped off so early last week. Still can let his head drop at times and many of his bookings are avoidable, but he is an irreplaceable player for us right now - 8.
Micheal Chopra
More than any other player. Michael Chopra did the business when it really mattered and if, say, four of his team mates had played half as well as he did against Blackpool, then we could well be in the Premiership now. Chopra was also a deserved man of the match in the second leg against Leicester while his "legend" status was confirmed with those two goals against Swansea. However, after a blistering start to the regular season which, realistically, he was never going to maintain, much of what followed was curiously bland and ineffective as he looked nothing like the player he had been for much of his time with us in 2006/07 – his relatively high marking is more to do with what went on in those last two games as opposed to what we saw through much of the winter-  7.
Josh Magennis
The physical ingredients are there for a very effective striker at Championship level and he was certainly looking like one in  the thirty five minutes he played during his only league start against Blackpool. The broken leg he suffered that afternoon was a cruel blow for a player who may have been able to go on and establish himself over the following weeks, but, it's hard to escape the feeling that, in terms of technique at least, he looked like a goalkeeper trying to make it as a centre forward – I find it hard to argue with the club's decision to release him - 4.
Warren Feeney
Dave Jones' need to have a target man type striker in his side meant that, incredibly, Feeney was occasionally used in front of the likes of Chopra and McCormack. Never gave less than 100% but for me he spent more than three season at Cardiff and never showed anything at all to suggest he was a Championship quality footballer. Feeney is a proven performer one level down from ours though and I am sure that he will not be without a club for long - 3.