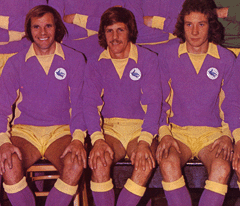 This time last year Dave Jones was under as much pressure as he had been at any time since November 2007 when he was, reportedly, given two games to save his job. Back in May 2009 there were plenty who were calling for our manager to go after the end of season capitulation which saw us go from genuine automatic promotion contenders to seventh placed also rans in the space of four matches and that sort of thinking carried through into the start of the 09/10 campaign which started with a feeling that he was very much on trial.
Although I always tended to blame the players rather than the manager for what went wrong after we had looked to be in such a strong position after beating Burnley on Easter Monday, I acknowledged the pressure Dave Jones was under when I said;
"Dave Jones is going into his fifth season as City manager and he needs to silence those doubters pretty quickly to guarantee he will lead us into a sixth season in charge at Cardiff."
in a piece I did on here speculating on what the new season held for our manager.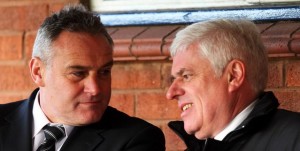 As it turned out, Dave Jones' job security never became an issue – City came storming out of the starting gates with Micheal Chopra scoring goals galore and were leading the table at times in the early stages of the season. In typical Dave Jones feast or famine style, there were bad runs in September, November and February which saw City losing more games than a team chasing a top six place really should do, but the truth was that, apart from the week after Ipswich had won 2-1 here on 29 November, we were never out of the top six from late September onwards.
Given all the off field uncertainty that could easily have effected on field matters, this was some achievement, but it also has to be acknowledged that through the summer of 2009, Dave Jones was given plenty of money (far more than he should have been as it turned out) to spend on new players. Besides the club record transfer of Michael Chopra from Sunderland, over £2 million was spent on our defence as a new keeper, two centrebacks and a full back all arrived for significant fees, so when our manager and others go on about not being given any money to spend in January, it does need to be remembered that Dave Jones was given more cash for new players in the summer of 2009 than any other City manager in the club's history.
In saying that though, I believe that Dave Jones had been assured that there would be more money to come in January when he was buying Hudson, Gerrard and the rest and my view is that he expected to the "golden ticket" money to be used in the manner in which the club said it would when the scheme was launched. The fact that it wasn't, put Dave Jones at a serious disadvantage compared to every other manager in the Coca Cola Championship with the exception of Neil Warnock at Crystal Palace come the new year.
Despite all the money spent on the defence, our goals against record was poor for a top six side, there was still the matter of us often losing the central midfield battle and we didn't have an obvious replacement for the talismanic Jay Bothroyd in the event of him being injured or suspended. While other managers could identify weaknesses and do something about them, Dave Jones was in a completely different position – the emergence of Darcy Blake as a player who would make the starting eleven on merit when City had a, rare, clean bill of health was almost like us signing a new player, but this was more than offset by a dreadful run of injury and illness problems which saw key members of the squad missing for periods of months rather than weeks.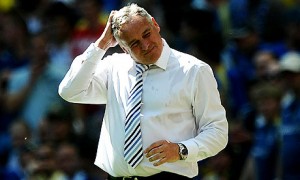 That City were able to maintain their challenge at this time reflects tremendous credit on the players and manager, but, inevitably, the loss of so many of the squad, as well as the club's parlous financial position, began to have an impact – when City went to Coventry on 16 March, they had lost four out of their last five matches and they looked to be losing their coveted top six place to the home team when Clinton Morrison put them ahead. From somewhere though, City recorded a 2-1 win courtesy of a holy disputed penalty in added time and they never looked back in the regular season from there.
A defeat at Derby in the last game of the campaign counted for nothing because City were already in the Play Offs on the back of an unbeaten run of ten games which has seen two of the three great constants of the Dave Jones years exploded – the old chestnut about Dave Jones' sides always running out of steam in the closing games of a season no longer applies and Coventry, Swansea and Sheffield Wednesday were all beaten after they had gone 1-0 up.
After making a meal of dispatching a Leicester side who should have been out of the tie at 2-0 down in the Semi Final of the Play Off's Dave Jones stood on the brink of what would have been the biggest achievement of his managerial career. When you consider the circumstances under which he has had to operate at Cardiff and, in particular, what he had to put up with after August 22 when we signed our last player (Kelvin Etuhu), I think promotion would have put him right up in the  top echelons of English born managers in the game – his continuing prickly relationship with the local media which has seen him refuse to speak to Media Wales journalists recently (can't say I blame him for this given the rubbish some of them come out with) would have been forgotten and our manager would have had a nine out of ten, at least, season.
Sadly, one game changed all of that. The oft described "biggest game in the club's history" with it's huge financial rewards to the winner and abject disappointment to the loser means that our manager fell at the final hurdle. Firstly, there was the choice of centrebacks for the Blackpool game. There are many who won't be using hindsight when they tell you that the selection of Blake and Hudson was a mistake and if you watch our defending in the second Leicester game you can see what they are getting it. I would have, just, gone for Blake and Gerrard myself, but I really do think that this was an awkward decision for our manager in which he could have gone any one of three ways (I always felt he would end up picking Hudson and Gerrard) and would have, in all likelihood, ended up being criticised.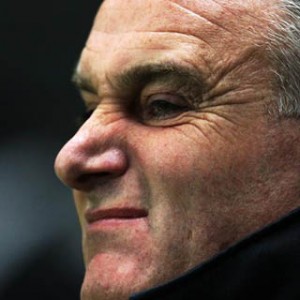 Apart from that though, the City team virtually picked itself and although there have been some since the game who have said they would have gone for all sorts of weird and wonderful systems beforehand, I defy any City fan to say with hand on heart that they had big problems with us starting off with Dave Jones' tried and trusted 4-4-2 no matter what formation Blackpool used. The trouble is though, that there had been rumours throughout the preceding week that Jay Bothroyd, who was almost universally regarded as our most important player, had been struggling with a calf injury and as soon as it became clear that the rumours had a factual basis to them, then the situation changed and, all of a sudden, 4-4-2 was no longer the best way of countering Blackpool's well established 4-3-3.
Leaving aside conspiracy theories about how fit or unfit Bothroyd actually was, it did seem that the City bench were caught on the hop by what happened – when the response came it was, disappointingly, predictable as the word went out to get the next biggest man on and stick with the 4-4-2. It always cracks me up when people on messageboards accuse Dave Jones of being "tactically naive" when what they really mean is that he didn't do what they thought he should, but, this time, I have to admit that anyone thinking that does have a point. I mentioned on here a few days ago that those who saw him replace Bothroyd in the first few minutes of our defeat at Doncaster back in August thought that Kelvin Etuhu would never make a target man in a million years. Now, in the interests of fairness, it has to be said that Etuhu started in the suspended Bothroyd's place for the marvellous home win over Leicester and for the hard earned victory at Palace in March, but I still say the balance of evidence from the games he has played in the central striking role is that Etuhu is far better suited to the position he prefers (i.e. on the wing, where, by the way, I didn't think he did too badly when he was switched there for the closing minutes on Saturday).
A straight swap of Etuhu for Bothroyd looked doomed to failure from the moment it happened but, given Dave Jones' reluctance to play Ross McCormack and Michael Chopra up front together, it was the only real option if we wanted to continue with our manager's favourite formation – something more original was required, the formation we used at Bristol City in the FA Cup Third Round tie back in January for example. That night with the City squad ravaged by illness and injury, Dave Jones sent his side out in what was almost a  4-5-1 formation with Joe Ledley sitting in front of the back four, Gavin Rae (who was replaced by Soloman Taiwo in the first half) and Aaron Wildig as a middle two and Peter Whittingham in a central role behind Michael Chopra with Ross McCormack alternating between supporting Chopra and dropping deeper to play in wide areas.
After the game I can remember Dave Jones saying that City had been forced to play the ball more to feet than they would normally do and the fact that they were able to do so with some success in a game played in a blizzard with snow settling on the pitch proves that we have the players who could have come up with the same approach on Saturday if we had tried it. Such a system could have nullified Blackpool's extra man in central midfield, asked questions of Keith Southern (who, I understand, was Sky's man of the match) and moved their centrebacks around more. With Chopra playing so well, he would surely have been able to cope with being a one man strike force at times (let's face it, that's what happened anyway!), but instead we went for the same old, same old 4-4-2 – perhaps the real reason we went with such an out of character formation at Bristol was that Bothroyd, Magennis and Etuhu were all injured at the time?
Even allowing for Bothroyd's injury, we would be in the Premiership now if the third great constant of the Dave Jones years had held true, but, after only losing the once, to Ipswich, after scoring first during the regular season, we failed to heed the warning that we had got when Leicester won after going 1-0 down. You could argue, with some justification I suppose, that this showed that Dave Jones' luck ran out at the worst possible time, but, other things that went wrong look to be the result of human error rather than fate. Despite this I am happy to hear that the intention is for him to still be here come August  - it was still a good season all round for Dave Jones, but it could have been so much better and so I can only rate it as a 7 out of 10 season for our manager.