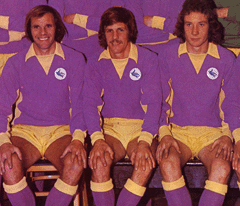 Just a very quick report this week because there has been very little City related news over the past eight days.
In recent weeks, there has been some speculation linking us with Joe Ledley. I dismissed it when I first heard it because Joe has been a first choice at a Premier League club all season as Crystal Palace have enjoyed a second impressive campaign at that level, but the rumours were persistent and this story from earlier in the week suggests there may have been something to them. There's something of an element of covering all bases to the story, but I'm more prepared to believe that something may happen with this one than I was previously as a result of it. The irony is that we would surely have stood a great chance of getting Joe when he signed for Palace in January 2014 for less than £1 million, but it was pretty clear that we were chasing "bigger fish" than him at that time – I thought he was exactly the type of player we needed back then and nothing that has happened since has made me change my mind.
There were a couple of rumours which emerged yesterday and they are both covered in this story. Regarding Alberth Elis, his name meant nothing to me before yesterday, but I think the reporter is probably right when he implies that City's best, and, possibly, only, chance of getting him is to do a deal quickly – always assuming that there is any truth in the speculation of course. As for the Simon Moore to Leeds rumour, my first instinct when learning of it was that there may be something to it and, if it's true that Leeds are prepared to pay £500,000 for him, then I'd say that might be a hard sum to resist. There was a time when we could afford to have £500,000 rated goalkeepers on our bench every week, but, given the club's change in policy over the last eight or nine months, I think they have gone now – by the way, on the subject of good second choice goalkeepers, congratulations to Tom Heaton on his selection in the England squad this week.
The only other thing to report is how the Play Offs are progressing. In League Two, ex City players Joe Jacobson and Aaron Holloway suffered heartbreak as their Wycombe side (managed by ex City loanee Gareth Ainsworth) were, first, pegged back by a Southend equaliser deep into added time at the end of the game and then beaten in the penalty shoot out despite both of them scoring from their spot kicks themselves – in fact, Joe all but scored Wycombe's goal when his free kick hit the underside of the cross bar before glancing off the Southend keeper into the net.
In League One, Preston trounced Swindon 4-0 yesterday to clinch what was probably a deserved promotion given how far clear of the other Play Off sides they finished in the regular season. Just as in League Two, the team I had supported during the Final had been beaten though, thereby maintaining my remarkable record in these matches whereby around 98% of the sides I support end up losing (how on earth we managed we managed to beat QPR in 2003, Lord only knows!) – all of which, almost certainly, means very bad news for Norwich City fans when they take on Middlesbrough for a place in the Premier League next season this afternoon!
by The other Bob Wilson with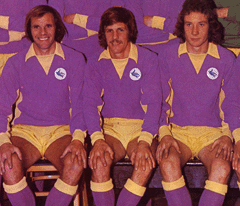 Not a great deal to report this week. Apparently, nearly all of the decision makers at the club have been away for one reason or another lately and so it was always going to be a quiet week where what news there was would be of the speculative type.
Having been linked with a Chesterfield player last week, there were reports this week that we are interested in at least one more.
The midfield player Sam Morsy, who was said to be a target last week, impressed in a losing cause for Chesterfield in their 3-0 (aggregate score 4-0) loss to Preston in the League One Play Semi Final (it will be them or Swindon in the Championship next season after Monday's incredible 5-5 draw with Sheffield United sent them through on a 7-6 aggregate score),  but lone striker Sam Clucas had a tough time of it against a pair of commanding centre backs.
Clucas was released by Leicester as a 16 year old because he was considered too small which tends to make the point that he is hardly ideally built for a lone striker role (ironically, Chesterfield's neat build up play may have got some tangible reward with someone like Eoin Doyle up front),
However, Clucas has made his name more as a winger cum wide midfield player (he's also occasionally played at full back).and, if City really are after him, I would assume this is where they would want to use him.
Word is that Chesterfield may have to sell after the failure of their promotion bid. Certainly, the departure of manager Paul Cook to League Two side Portsmouth days after their season suggests that they may be about to enter one of those "transitional phases" that City have specialised in recently- albeit this time it would be the break up of a winning team rather than the dismantling of a mediocre one.
So, perhaps the players we are being linked with would be available at reasonable prices and, if that is the case, then I'd hope that rumours that we are also looking at Chesterfield's impressive right back Tendayi Darikwa are true as well.
Just when I was beginning to think we would spend the summer being linked only to Chesterfield players, there were a couple of stories that we were chasing Wigan central defender Rob Keirnan (reportedly Reading and Birmingham are also after Keirnan who would cost us a "nominal" fee) and Bosnian international midfield player Senijad Ibricic who is, seemingly, available on a free at financially stricken Turkish club Kayseri Erciyesspor – with forty two caps for his country and a record of thirty five goals from seventy six games during  a spell at Hajduk Split, Ibricic would appear to represent a step up in class from our other "targets", always assuming there's any truth in these stories!
Finally, Brentford and Ipswich will be on our fixture list next season following their defeats by Middlesbrough and Norwich respectively in the Play Offs. For me, Boro were the more impressive in their 5-1 aggregate win over the Londoners compared to the 4-2 in Norwich's favour over the two games in the East Anglian Derby, but that counts for little in what is always described as the richest game in football – with no confidence whatsoever, I'll go for a narrow Middlesbrough win.
by The other Bob Wilson with