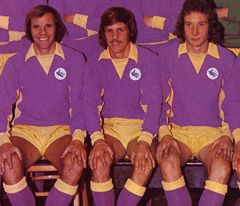 A few weeks ago Russell Slade said this would be the time when you could expect to see more transfers in and out of the club and, with the players having reported back for pre season training last Wednesday, we would, in an ideal world, be seeing these three new players that our manager tells us he is chasing arriving in the next week or so, thereby giving them more or less a full training programme at their new club to help integrate them by the start of the season in six weeks time.
While I understand and, in some ways, sympathise with the view that the grass isn't always greener when it comes to bringing in new players to any club (see Ole's many and varied signings last summer for proof of this), I do believe that, at this moment in Cardiff City's life, it needs the stimulus that a couple of exciting signings which get people talking about an upcoming season can provide more than most times in it's recent history.
In a way I feel sorry for local newspapers in particular during this time of year as they strive to find something worthwhile to say about the clubs they cover and it seems to me that some of the stories you read in the South Wales Echo these days have an air of desperation to them as hacks try, and largely fail, to engender some interest in a subject where, to be frank, little has happened in the last couple of months to raise enthusiasm levels.
Now, I wonder how many read that reference to nothing interesting happening for a couple of months and thought I was being generous – try the last eighteen months, not two! Notwithstanding the encouraging announcement from the club last week about almost 10,000 season tickets having been sold (well,  I thought it was encouraging!), that sort of response typifies the attitude of what seems to me to be many Cardiff fans at the moment – they need something to happen to get them fired up about their team again and they are far from convinced that the current squad, ownership and management have it in them to provide that catalyst.
There are valid reasons why such thinking is somewhat unfair, but an attitude that emphasises the negative over the positive (in fact, any positives are barely acknowledged) has taken hold among vast swathes of City fans, myself included, over the last couple of seasons and, surely, even those who see any criticism of City as disloyalty have to acknowledge that there is an awful lot that the club has got wrong on and off the pitch in since getting promoted.
So, in an effort to accentuate the positive, I say well done again to the club for ensuring that the new blue kits are going to be available by the end of next week and also for getting season tickets out to fans in the last few days – both of these things represent considerable improvements when compared to what has happened too often in the past and tends to add a little credence to my theory that Ken Choo has overseen an improvement in some aspects of the club's administration at least.
That said, something happened last week that didn't put the club in a good light when there was an acknowledgment that it was looking less likely that the training week in the Netherlands next month will include the hoped for couple of fixtures against top rated Dutch clubs. Besides that, with Russell Slade not prepared to see the team play on artificial surfaces in the two matches against junior sides offered as replacements, it seems that our pre season trip abroad this year could be a training only event – just as they were in Malky Mackay's last two seasons with the club.
The reason for this is explained in this piece, but the reference to Swansea having had a match called off for similar reasons in the past, could beg the question as to why no one at Cardiff thought to raise this when the idea of going to the Netherlands was first mooted or is this an another example of the sort of willingness to only judge the club negatively which I referred to earlier?
For the third consecutive week, there was an announcement of a player leaving the club. This time it was Uruguayan centre back Maximiliano Amondarain who agreed to a termination of his contract halfway through what I understand was a four year deal. Amondarain signed after a successful trial in the summer of 2013 after having been a member of the Uruguay squad which had reached the Final of the World Under 20 Championship a few weeks earlier. Amondarain didn't got any game time in that tournament though and never once made it into the City first team – he was largely solid, steady and composed in the fifteen or so Development team games I saw him play for us, but I'd say that Deji Oshilaja and Tom James overtook him in the central defender pecking order at the club during his time with us and so letting him go looks a sensible move for both club and player.
The only other piece of worthwhile info I can think of from last week is that City's Head Coach Paul Trollope will be Wales' new Assistant Manager. There's been no formal announcement yet, but it looks certain that he will be the replacement for Kit Symons, who stood down after the win over Belgium this month to give his full attention to his job at Fulham. Like Symons, Trollope will work with Wales on a part time basis and continue at his club, so, it seems that, despite our conspicuous lack of Welshmen on the pitch, there will be a Cardiff City presence in the parties that link up for international games.
by The other Bob Wilson with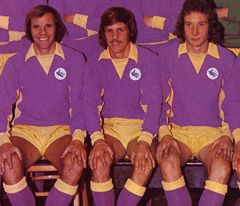 After a few weeks where it was hard to find things to write about at times, there has been plenty happening with City this week and the problem I may have is that I will forget something important!
The first thing to mention is that on Tuesday the draw for the First Round of the Capital One (League) Cup gave us a home tie with Neil Ardley's AFC Wimbledon. This match will take place on Tuesday August 11, three days after the Championship season starts and, when the fixtures for that competition were announced twenty four hours later, City were given their first home opening day fixture for three years with Fulham providing the opposition for the big kick off.
The four league matches which follow (QPR A, Blackburn A, Wolves H, Forest A) look tough on paper, but one thing that more than a decade of Championship football since 2003 has surely taught all City fans is that it is a league where things rarely turn out as expected – maybe stranger things haven't happened than Russell Slade being named August Manager of the Month, but you get the point I'm trying to make!
City's programme for 15/16 can be viewed here and, before finishing with fixtures, I should mention that the club appear to have run into problems arranging games against opposition of the desired quality for their week in the Amsterdam area next month. This story shows that City are, apparently, having trouble getting local permissions for matches against top flight Dutch opposition, so, while the tour still looks like going ahead, it may be that it will see City having to play lower league teams. Finally, on the fixture front, it was confirmed that City will have a home pre season match with Watford visiting Cardiff City Stadium on Tuesday 28 July.
Cardiff's new kit for the upcoming season was also unveiled yesterday. As far as this subject goes, I was guilty of not knowing my own feelings when the change to red was first announced because my initial reaction was that I didn't think the colour we wore was that important, so I couldn't get too worked up about the fact we were going to wear a red and black kit. It took a few months for the penny to drop, but what I really felt was that I wasn't (and never have been) too bothered about the kit we wore as long as we had blue shirts.
That said, my preference would be for us to wear the white shorts which were considered good enough for the first forty or so years of our Football League existence, but I'm not going to die in a ditch about the fact that they will be blue next season. Here is the kit, and probably the best thing to be said about it is that, unlike so often in the past, supporters won't have to wait until about November before they can buy it – well done to those at the club who enabled it to be available from 3 July.
On the transfer front, there was little in the way of speculation this week, but, better than that, there were a couple of actual moves to talk about. Actually, the first one didn't really feel like we were losing a player because I'd guess I wasn't the only City fan who thought we'd never see French full back Kevin Theophile-Catherine play again for the club once his loan move to St. Etienne for virtually all of last season was announced. Well, after a year where he was a regular starter for the Ligue 1 side, the move became a permanent one in the week with the club paying around £1.5 million for a player who, like so many others, fell away during the second half of our Premier League season after a decent start to the campaign.
All in all, I'd say that was a decent fee from City's perspective and they didn't have to give another club any of it to make Semi Ajayi our first signing of the summer. The young centreback, who had been on loan to us from Arsenal for the closing few weeks of last season, was not going to be offered another contract by the Gunners when his current deal runs out at the end of this month and so joins us as a free agent on a two year contract.
The Nigerian Under 21 international, who moved to the Emirates from Charlton two years ago, looked pretty promising in the couple of Under 21 team games I saw him in (given that the Development team largely gave up on scoring goals from about December onwards, the fact he got two in one game against Coventry was probably enough alone to get him his move!), but, at the risk of sounding like someone who always looks for the negatives with City these days, I do find it a bit sad and a little concerning that we get rid of a locally produced centre back in Josh Yorwerth, who Ipswich (a club which finished well above us last season) manager and former Republic of Ireland international centre half Mick McCarthy thinks is good enough to merit a two year contract with the Suffolk team and bring in a player who McCarthy decided not to offer a deal to after a trial period at his club in January.
In saying that, I accept that Yorwerth and Ajayi are at different stages of their career development, but it would be good to see some evidence soon from our manager which counters the growing suspicion about him I have that he is doing little or nothing to offer encouragement to local youngsters that they can work their way into the first team squad under his management.
Finally, although the cynical view would be to say that anything above, say, 5,000 could be rounded up to arrive at the "approximately 10,000″ season tickets sold  as mentioned in this announcement by the club confirming the Watford friendly, I think this is something which should be seen as good news given the dire pronouncements about the number sold from the "in the know" brigade. Whether the earlier figures such as 2,500 sold at the end of March and about 4,000 as the league season ended were true or not, it looks like there have been pretty significant sales in recent weeks and, who knows, perhaps reaching three quarters of last season's total of 16,000 by the beginning of August isn't completely out of the picture – if that were to happen, I would say it would be an impressive figure given the way 14/15 went.
* picture courtesy of http://www.walesonline.co.uk/
by The other Bob Wilson with