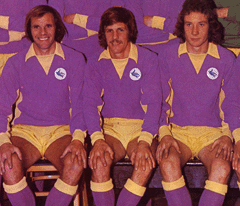 City are currently in the middle of their week long pre season camp in Austria and most of the first team squad got some match practice yesterday as warm up matches were played against German team TSV Munich 1860 and Albanian outfit Teuta Durres.
Three players who I'm sure Ole would have liked to have used yesterday were Craig Noone, Kevin Theophile-Catherine and Kagisho Dikgacoi, however, they were not available for selection. Noone has suffered a recurrence of the groin injury that ended his season early in the spring and may well need an operation – either way, he will miss the start of the league season. Theophile-Catherine has unfortunately had to return to France after a bereavement in his family and, strangely, Dikgacoi is still awaiting international clearance for his move to Cardiff from Crystal Palace. Aron Gunnarson and David Marshall are also carrying minor knocks which meant they were not risked for either match and there were three other absentees who I will talk about later.
I watched the TSV Munich match on a dodgy quality Internet feed and the German team, who I remember as the side West Ham beat in the Final of the European Cup Winner's Cup at Wembley in 1965, provided a stern test in temperatures of 35 degrees centigrade which saw play stopped halfway through each half for a drinks break. City certainly rode their luck in edging the game 3-2, in fact, after a pretty even first half which saw both sides score twice, they were almost over run after the break.
Munich, who finished seventh in last season's Bundesliga 2, spent virtually all of the second period attacking and it needed a few fine saves from Joe Lewis and a couple of disallowed goals for offside to keep City in the game before forgotten man Etien Velikonja popped up with the winner with five minutes left (I thought it was Kenwyne Jones at the time, but I'm blaming poor quality pictures and the fact that a pillar from the main stand was blocking pictures of the penalty area – that City were attacking the other end at the time does not weaken this excuse in any way!).
The first half goals were scored by Macheda and Whittingham (Whitts' goal was from one of those free kicks almost by the corner flag – this time he surprised tracksuit bottoms wearing former Palace keeper Gabor Kiraly in much the same way as he did Julian Speroni at Selhurst Park in season 11/12) with Munich equalising quickly both times. I have to say that there were elements of City's game which I found quite concerning. For example, our defending at set pieces was poor and, for a side  containing some of our best passers in Eikrem, Whittingham and Dæhli, we weren't half guilty of given the ball away cheaply at times.
Also, the contrast between Munich's effective pressing of our attempts to build from the back and the way the German's were allowed to play out from defence was marked  - at times some of attackers even had their backs to the play as Munich defenders brought the ball out. Such things cannot happen once the serious stuff starts, but allowances need to be made for the heat I suppose.
There were some good things about City's display, they broke quickly on occasions and finished the game pretty strongly as their opponents, perhaps, paid the price for their high octane approach. When you consider that Ole was able to field a completely different starting line up a couple of hours later for the game against Teuta Durres (who finished fourth in last season's Albanian Premier League) which was comfortably won 3-0 with goals by new boys Guerra, Burgstaller and LeFondre, then I'd say the over riding feeling about yesterday should be satisfaction at the depth of quality we have in our squad.
That leads me on to the three others who are not in Austria. Steven Caulker and Fraizer Campbell were left behind in South Wales with Ole conceding that both players will be leaving – at one time it looked like they would become team mates at Crystal Palace, but it's now being reported that QPR are again favourites to land Caulker and Leicester's move to sign Campbell is back on again. Gary Medel is also almost certainly on his way to Inter Milan, but it's still not clear if the deal will be a loan or a permanent one – apparently officials from the Italian club will be in Cardiff early this week to try to finalise things.
Kevin McNaughton's season long loan to Bolton has been confirmed and, although Fabio could be used on the right I suppose, it's looking more likely that John Brayford will make a long awaited league debut for Cardiff at Blackburn on 8 August.
With Gunnarsson already used as a right back at Bath and Magnus Eikrem forced to play there against Munich yesterday, it's a position where City don't have  a great deal of cover (especially if, as rumoured, Theophile-Catherine leaves the club), but it seems Ole has no plans to bring in someone else who can play there. The two players we were linked with last week play in other positions. Bolton's right sided midfield player Lee Chung-Yong is supposedly a City target, but I reckon this one is something of a long shot – more realistic for me are reports that we are going to make another bid for Southampton centre back Jose Fonte.
* picture courtesy of http://www.walesonline.co.uk/
by The other Bob Wilson with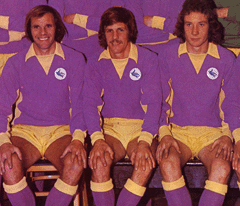 Cardiff City played their first pre season matches this week. Firstly, they beat Carmarthen Town 3-0 in a game that was switched to Haverfordwest at fairly late notice and then they drew 1-1 on Saturday at Bath City. Both matches were played to a similar format with City almost completely changing their team at half time. Given the very large squad we currently have, this would appear to be a sensible policy as it gives Ole the chance to see most of the players available to him in action before we are halfway through July, but, while the theory was sound, the practice proved to be more problematic.
For example, an early injury to Craig Noone (who may require an operation which will cause him to miss the start of the season) in the Carmarthen match saw him replaced by new signing Guido Bergstaller. With Ole reluctant to give any of his outfield players more than sixty minutes playing time, the Austrian then had to be replaced for the last twenty minutes or so, but, with all of the other substitutes used, it was back up keeper Ben Wilson who had to come on and play in our midfield! On Saturday, it was Kevin Theophile-Catharine who picked up a second half knock and there was only Joe Lewis left on the bench to replace him, but, this time, Ole decided to play on with just the ten men – I suppose it gave the team some practice for a situation they are likely to encounter during the upcoming season  as the odds have to be against us having eleven players on the pitch at the end of every match we play.
City's goals at Carmarthen were scored by Nicky Maynard and Joe Mason for the first half team, while it was Frederico Macheda who found the net after the break. At Bath, Jan Inge Berget put us ahead in the second half, but former City Academy scholar Zac Evans leveled for the home side. A draw against a team four levels below us in the English football pyramid and a so, so win over a Welsh Premier League outfit are hardly going to get the other twenty three Championship teams quaking in fear, but that's not the point of these games – I daresay a couple of 8-0 wins would have got people sitting up and taking notice, but it's much too early yet to start drawing any conclusions about how we are going to do based on what we see in warm up games.
Apart from a story claiming a proposed season long loan deal for Manchester United centreback Michael Keane only needs to be rubber stamped by new manager Louis Van Gaal for it to go ahead, there has been no talk of new players in the past week, but there have been a couple of departures and there's a growing feeling that there will be a few more shortly.
It was revealed last week that Don Cowie had turned down the offer of a contract extension at Cardiff and on Thursday Wigan Athletic announced that the underrated midfield man had become the second Cardiff player to sign for Uwe Rosler's side this summer – I wish all the best at his new club to a player who always gave his all in a City shirt. Young centre back Ben Nugent's departure is a temporary one with his loan to Yeovil due to end on 4 January, while Ole confirmed yesterday that Kevin McNaughton will be joining Bolton on a season long loan deal shortly (this is an odd one to me, why give a new one year contract to someone who you are prepared to loan out until May?).
Apart from savings to the wage bill and possible loan fees, none of these moves will make the club much money, but it looks like some of the predicted departures of established first team players are going to be happening sooner rather than later and, it may be that these will net the club not far short of £20 million in transfer fees alone. Inter Milan have been in discussions with City regarding Gary Medel – if the reports coming out of Italy are to be believed, the two clubs are some way apart with Inter favouring a season long loan to be followed by a permanent deal if things go well, while City look for an immediate sale for a fee of around £10 million (which would be not far short of double what Inter are prepared to pay if the rumours are to be believed).
With Olympique Marseille also joining in the chase for the Chilean international apparently, City's chance of getting the sort of fee they are holding out for appear to be better than they looked a few days ago – certainly, if we could get an eight figure sum for Medel, then the new Committee structure which oversees transfer in and out of the club could legitimately claim kudos for delivering such  a deal.
In the case of Steven Caulker, the fee has been set at more or less what we paid for him and it looks as if a few clubs have been prepared to match the release clause figure in his contract. So, it's widely reported that we should be getting £8 million for the centreback, but the question is who from? For a fortnight or so, it looked pretty certain that QPR would be securing Caulker's services, but, after stories that the player was holding out for a move to Liverpool (negotiations with the Anfield club were reported to have stalled originally over the player's wage demands), it's now claimed that he is signing for Crystal Palace.
Excessive wage demands are almost certainly the reason why Leicester City pulled out of their move for Fraizer Campbell and, for a short while, the possibility of the striker starting the season at Cardiff was being entertained, but Palace are, seemingly, also in for Campbell and so it looks like Tony Pulis will be looking to extend his record of never being relegated as a manager with two members of the team that finished bottom of last season's Premier League in his squad.
Just to finish with a few paragraphs about the World Cup. My belief that Brazil would win the tournament because their superb home record would be too much of an obstacle for anyone to overcome, was spectacularly blown  out of the water in just about the most incredible game I've ever seen. If ever there was a side that would not be intimidated by playing the most successful team in World Cup history in their own backyard, it would be Germany and, with Brazil's two most influential players absent, I did concede there was a possibility that I might be proved wrong, but, if Germany were to win then I could only see it being by a single goal or on penalties. Instead, we witnessed a massacre – the writing was on the wall for Brazil in the time after they went 1-0 down as their opponents kept on opening them up so easily and once the second one went in, the game resembled a practice match with four of the goals being tap ins as a rudderless home team simply imploded.
Brazil's feeble performance in losing 3-0 to the Netherlands in the Third Place match on Saturday night showed that the wounds from four days earlier were still open and the devastating and humiliating nature of the loss to Germany means that I wouldn't be surprised if the Brazil team is still bleeding for decades to come. In fact, in a nation which places so much store in football, I feel that the psyche of the country as a whole could be seriously affected for years to come – in sporting terms the only thing I can think of which might influence a country's morale as much as Brazil 1 Germany 7 is if the All Blacks had been beaten something like 70-10 by France in the 2011 World Cup Final and, even then, I'm not sure the hurt would go so deep.
So were Brazil very bad or were Germany just brilliant? Well, the evidence of last night's Final suggests to me that it was more the first option than the second one. Although Germany finished the ninety minutes the stronger and looked the better team in extra time, I thought their 1-0 win over Argentina flattered them, because it was the South Americans who created, and wasted, the better chances. Leaving the Brazil game to one side, Germany's 4-0 dismantling of Portugal in their opening match marked them down as potential winners and I believe that, overall, they were the strongest team in the competition, but, for me, Argentina raised their game in the Final in every department, except for finishing.
With the winning goal coming deep into extra time just as everyone was thinking that  a penalty shoot out was inevitable, I suppose it could be claimed that the Final was similar to the one four years earlier in South Africa, but that apart, there was little common ground between the two matches. In  2010, one of the sides involved seemed more interested in kicking lumps out of their opponents than trying to win the game, whereas last night you got the impression that both sides wanted to win the game by going for goals throughout. True, Argentina were content to play a counter attacking game, but the speed and purpose they showed when they did break forward offered all the proof you needed that their outlook was far from a defensive one.
By offering a much more watchable final than many in recent memory, Brazil 2014 confirmed that it was the best of the modern day World Cup tournaments. However, for me, although Germany came close at times, it didn't have the outstanding team or classic Final to put it above 1970 and Lionel Messi's failure to really impose himself on the competition meant that it also didn't have the brilliant individual that lit up the 1986 tournament (the Final that year was a real thriller as well). So, 1970 and 1986 remain the two best Worlds Cups I've seen, but 2014 is there in third place because, by and large, it was full of positive football, had one or two truly amazing matches and had a verve and a colour that was not totally down to it's brilliant setting.
by The other Bob Wilson with