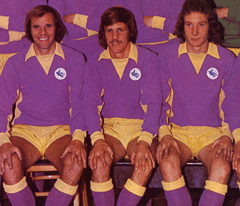 With their FA Youth Cup Fourth Round tie at Burnley scheduled for Tuesday, I thought today's league match for our Under 18s against Millwall might have been cancelled to give our lads a rest in the days building up to the game. Instead though, the game went ahead with us fielding what seemed to me to be the Under 18 version of a Development team – it was a side full of young hopefuls given a chance to break into the "old uns" side!
I say that, but the truth is that the City team was full of lads I didn't recognise – they might have all been eighteen year olds for all I know. There's always  a period at the start of each season when I really struggle with the new players coming into the side, but, having watched our regulars play for five months or so now, I'm pretty confident of my identification skills and the only one of the eleven that I recognised was Lloyd Humphries (who is a sub most weeks) with his unmistakable shaven head.
Anyway, whoever was playing, City lost further ground at the head of the table when, having been beaten 2-0 at Swansea last week, they were thumped 5-1 at Leckwith this lunchtime by a side they had beaten 3-0 with their "senior" team a couple of months ago.
There was a misleading start to the match as City started brightly and a lovely move released their right back who cut in on goal and fired a shot across the goalkeeper that flew very narrowly high and wide. Some more nice passing ended with a shot not too far wide by our number eleven, but that was as good as it got for the home side as they were hit by two quick goals that raised questions for different reasons.
For the first, the linesman flagged for a Millwall offside, but the ref played the advantage which resulted in our left back charging forward to join in an attack which never came as the visitors regained the ball and one of their forwards had a clear, unopposed, run down the right from where he crossed and their centre forward headed in. So, in effect, the side that were supposed to have the advantage ended up conceding a goal – now, of course, City should not have lost possession in the way they did, but it did make me wonder about the wisdom of playing advantages to defending teams.
City could have been forgiven for feeling somewhat sorry for themselves given the nature of the first goal, but they had no one but themselves to blame for the second one which followed a couple of minutes later.  Anyone who reads the reports on youth games that have appeared on here down the years will know that from time to time I bring up the way that our youngsters are encouraged to play out from the back. In particular, I talk of how we sometimes get ourselves into trouble by sticking to those principles, but my feeling has always been that the odd cock up is a worthwhile price to pay if it means our kids are encouraged to play "the right way".
This time, a goal kick was taken short to the right as our centre backs split and our number five I think it was played a pass inside to whom I'm not quite sure – the ball went straight to a Millwall forward stood about twelve yards from goal who sidestepped a challenge and scored easily. Now, as the ball hit the net I found myself wondering what is the point in trying to get our kids to play in this manner when it is totally different from what we are seeing from the first team currently?
There were a couple of occasions in the second half when City had free kicks about ten yards inside their own half and one centre back passed it ten yards sideways to the other one as, yet again, they tried to build from the back. Can you imagine Turner and Morrison doing that, or even one of them taking the free kick – it would be left to Marshall or Moore to lump it upfield.
City did have a couple of half chances before half time including one when Millwall's right back cleared off the line after a cross from our number eleven, who showed a fine turn of pace to get clear of his full back, was diverted goalwards by a defender, but the visitors could easily have added to their lead with a couple of shots that flew just wide of either post.
Half time arrived with the score 2-0 and, for the most part, the second half was mostly notable for the torrential rain which was occasionally interrupted by hail that crashed very loudly against the stand roof (a structure that the small crowd were eminently grateful for!).
As for the football, any chance of it becoming a contest ended when Millwall made it 3-0 shortly after they had hit the upright – perhaps City's keeper should have committed himself to come out and put Millwall's number ten under pressure, but instead he stayed put and was beaten by a low shot hit across him into the corner.
City had a go after that and finally got on the scoresheet during a late flurry of goals – unfortunately it was sandwiched by a couple from Millwall and, by the final whistle, they were a very well beaten side.
I usually like to name a few players who had impressed me, but I'm sorry I can't this time – despite the scoreline, I thought our number eight did pretty well in midfield (as did our number four, who didn't reappear for the second half), while the number six looked a stylish defender at times and, finally, a word for the two half time substitutes numbers 12 and 14 who both did well in a losing cause.