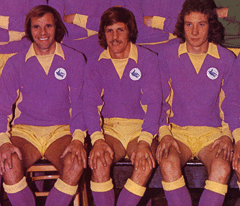 I don't suppose you can begin an article by going off on a tangent before it's been established what said article is all about can you, but I'm going to anyway! On Wednesday I cancelled my subscription with Sky, but my decision was not just to cancel with that channel, it was to do away with subscription television all together – Netflix excepted.
From now on, my television watching will be done through the aforesaid Netflix, Freeview and my Roku TV stick. There are two main reasons for this – first, financial necessity, realistically, I can no longer afford to pay over one hundred pounds a month for broadband, landline telephone use (truth is, I never use the latter any more anyway) and my television watching.
The second reason is that I have grown increasingly disillusioned with the Sky Sports (essentially, that's all I really mean when I talk about subscription television channels) way of covering football in particular. The fact that every year I have to pay a lot more for a declining standard of product (Sky has lost,and continues to lose, out to BT on quite a few fronts lately) that seems to feature an ever increasing number of advert breaks has a lot to do with it, but also there's a growing weariness with a presentation style that is captured brilliantly in this piece.
So, I found it quite liberating and enjoyable to be able to calmly keep telling the girl at Sky I spoke to that I just wasn't interested as she worked her way, with an increasing sense of desperation I felt, through all of the ways whereby I could pay less if I just chose to stick with them. By the end, it amused me that someone who had started off as being friendly and chatty with me became increasingly curt and monosyllabic as I deadbatted (I will miss Sky's cricket coverage mind) back all of her suggestions as to how I could keep on paying her company for a service which does not justify what they charge.
Anyway, to get to how all of this had an affect on my opinions on last nights' 0-0 World Cup qualifying draw between the Republic of Ireland and Wales in Dublin, since I contacted Sky and entered their thirty one day notice of cancellation period, I've had all sorts of problems with them – scheduled recordings have "failed" and, last night, I missed three pretty sizable chunks of the game because I kept on being told I was not receiving a satellite signal- if I was a cynic, I would think Sky are having their revenge on me!
What I couldn't watch, I listened to on the radio and, based on that and the summing up of the match I was able to watch when the signal came back, it would seem that most of the match's talking points occurred when I couldn't watch what was happening.
Certainly, there was little of note in the the football I watched. Wales have now played three games against opponents whose players they are very familiar with in the last nine months and have not performed well in any of them. They were beaten by England because I believe they paid them too much respect and also because a few of the side froze on the day, while the prize at stake made the game with Northern Ireland a fortnight or so later a very cagey affair where Wales were unable to make their greater individual ability tell to any great degree against committed and organised opponents.
In some ways, last night was a repeat of that Northern Irish match – what little good football I saw came from Wales and if a side could be said to have had "control" of the match while it was eleven against eleven, then I would say it was us.
However, back in the summer, Wales were a team that was at a mental peak and, despite the long, grueling season which preceded it, their fitness levels were impressive throughout Euro 2016 – it struck me I was watching a very different side last night.
Perhaps the best way of explaining what I mean is to use the man widely being represented as the villain of the piece last night, Neil Taylor, as an example.
Before doing that, the first thing to say is that I hope Seamus Coleman makes a full recovery from his injury and is soon bombing forward down the right in the manner which makes him such an effective attacking full back.
As for Taylor, I can remember him being sent off for Swansea in the first minute of a Play Off match at Nottingham Forest after a poor tackle on Lewis McGugan, so he does have a bit of history in this regard, but, as far as I can tell (the Soccerbase database has gone walkabout for some of the seasons I need to look at to get the player's full disciplinary record), he's only been sent off twice in a career which will soon enter it's second decade and he's someone I would never rate as a dirty player.
The tackle on Coleman looks awful by modern day standards, but it strikes me as a poorly judged challenge rather than a malicious one – I don't think the ref (who completely missed an elbow to the head on Joe Allen by his Stoke team mate Glenn Whelan in the first half by the way) had any option but to produce the red card, but the knee jerking Welsh fans calling for the book to be thrown at Taylor have got it wrong as far as I'm concerned.
Neil Taylor went into the Euros as a solid, if pretty unspectacular, Premier League performer who had been first choice left back for club and country for a couple of seasons. He had his awkward times in France (notably when England's Kyle Walker enjoyed some success down his side of the pitch at Lens), but, generally came out of the tournament with his reputation enhanced, it's been downhill for him all of the way since then though.
Taylor was soon out of the Swansea side when the 16/17 campaign started and became a member of Aston Villa's under achieving Championship squad in January following his January move to the Midlands – by any standards, the player has not enjoyed a good season.
Rather than being intent on "doing" Coleman, doesn't it seem more realistic that the horrendous injury occurred because Taylor is not at that physical and mental peak that he and his Wales team mates  reached last summer? Isn't it more sensible to believe that here was a player who, for whatever reason, is not at his sharpest in terms of timing and decision making when it comes to his tackling?
For as long as I can remember there has been a feeling that the performance levels of a lot of established big name players for their clubs fell away somewhat in the seasons following major international tournaments – this may be due to some extent to tiredness as the consequences of a very short close season bite or, sometimes, a sense of anti climax, but, whatever the reason, the player is not quite as effective and influential as he normally is.
If this can happen to established internationals, doesn't it have to follow that there is even more of a chance of it happening for some of Wales' players – especially when you consider that the whole nation had not experienced what being at a major international tournament, let alone playing a leading part in it, for fifty eight years.
In terms of a measurable decline in standards, Taylor's drop from first choice Premier League pick to regular for Championship also rans is probably the prime example of something which I would argue applies to a few in last night's Wales team.
Colin Chester, did pretty well last night, but he has struggled at times in Villa's inconsistent team, Joe Ledley saw in his thirtieth birthday in January as an occasional member of a struggling Palace side and Wayne Hennessey, another to recently reach thirty, probably owes his place in the first team at Selhurst Park to an injury suffered by one of his goalkeeping rivals at the club.
The post Euros dip has also affected our two "superstars" I believe. Yes, Gareth Bale and Aaron Ramsey have both suffered long injury absences this season, but they've not been anywhere near their best when they have been fit. In Bale's case, he is such a team player when representing his country that it may be that his somewhat flat performances for club and country can be put down to him putting so much into Euro 2016.
It's different with Ramsey who I'll willingly admit is my favourite Premier League player. Because of this, I always tend to get defensive when he is criticised, but even I have to acknowledge that, with the exception of the time when he was sidelined and then making his way back from his broken leg, this has to be the worst season of his career so far. His manager's crass handling of him at the start of the season didn't help, but that's a long time ago now and there's still no sign of Ramsey showing anything like the form which earned him selection in UEFA's team of the tournament last summer – he looks like a player going through a very tough spell in terms of his confidence at the moment.
It's of great credit to Ramsey's Welsh team mate in that selection of Euro 2016's best that he has kicked on from last summer, but who else besides Joe Allen (easily our best player last night from what I saw) has had a good 2016/17 campaign out of those players who were regulars in France?
If you look around for Welsh players who are excelling this season, you tend to have to pick out men who, for whatever reason, were missing in France like Tom Lawrence and, to a lesser extent, the Barnsley pair Adam Davies and Tom Bradshaw.
I happen to believe that while the reasons for what's gone wrong since last summer are different, there are definite similarities between how Wales and Leicester City have reacted to what were career defining highs for so many members of the respective squads.
Leicester players must have been thinking "this is as good as it gets" when they were being presented with their Premier League Winner's medals a few days before Wales embarked on their amazing month long expedition to France – maybe Leicester's decline has been more dramatic than it should have been, but I think most would have predicted a drop in standards this season for them, so why shouldn't it be the same with Wales?
Of course, it's easy to lose sight of the fact that Wales have not lost a game in this group yet and that, under different circumstances,  away draws against Austria and Ireland would be results to be celebrated, but put them in with the home one pointers against Serbia and, especially, Georgia and the picture looks bleaker.
That Georgia result is the one that is really hurting us. Wales could have few complaints about the outcome against them on the day and I can remember voicing the hope that the Georgians were bound to take points off some of the other favoured sides in the Group, but their results since then (a home draw with Moldova and yesterday's away win for Serbia that takes them to the top of the table) tells you that the 1-1 draw at Cardiff City Stadium back in October was more down to our weaknesses than any improvement on the Georgians part.
With Austria joining us on seven points after their 2-0 win over whipping boys Moldova, Ireland and Serbia enjoy a four point lead over their two main rivals for a top two finish – that's still not insurmountable as far as topping the group is concerned, but a defeat in Belgrade in June will, surely, prove terminal to our chances of automatic qualification. When you consider our lethargy since France, our awful record in games played in the old Yugoslavia and the fact that we'll be without the suspended Bale, I'm afraid I don't see anything else but our first defeat in the group when we next play. If that were to happen, then something like nine to ten points from our remaining four matches could still see us into a Play off place and, with a proper close season behind them, I wouldn't rule that out for this Welsh team which has proved in the recent past that they have it in them to do just that.
,* picture courtesy of http://www.walesonline.co.uk/