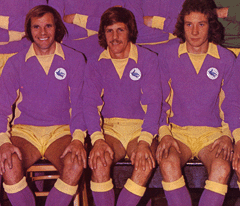 It has to be said that last night's events at Ashton Gate would have been all the more enjoyable if the game hadn't have been played against such a worrying financial backdrop for the club. Yesterday's news regarding Crystal Palace has surely concentrated a few minds (it certainly has mine) as to what the future may hold for Cardiff City. People talk about there being too much at stake for the money men at Cardiff City Stadium for the club to go under in the next few weeks and I tend to think they are right, but, without promotion or substantial new investment, the likes of Steve Borley and Paul Guy paying off the tax man in the next fortnight is only delaying the inevitable – if another Championship club is to join Palace in losing ten points before the end of the season then we look to be the overwhelming favourites to do that at the moment.
Right, having got that out of the way, what an absolutely marvellous result and performance! With the sides having met on the previous two Tuesdays, as well as in August, the experts (and me!) were predicting a tight encounter last night with little between two teams very well versed in each others strengths and weaknesses and, let's be fair, we were right for all of twenty odd minutes!
After we played Scunthorpe ten days ago, I said that the important thing was how we came out of the run of draws we were going through – four of them on the trot combined with the Plymouth defeat meant that it was a worrying five without a win, but, all of a sudden, we have won three games and those draws now have us unbeaten in seven. In saying that, the two Cup wins in the past eight days would have been completely forgotten if the result had gone against us last night and the script of the past forty years says that should nearly always happen at Ashton Gate. However, perhaps, like most people in my age group, the reality shows that I am behind the times – truth is we have now only lost two of our last seven at the home of our proper rivals (I'm showing my age again with that "proper rivals" remark).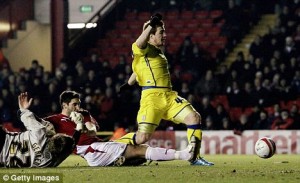 A result like last night almost makes all those fruitless journeys to Bristol City down the years worthwhile and, given what happened in the FA Cup replay and last night, it's so much better that we ended the Ashton Gate hoodoo with a 6-0 rather than the 1-0 that City fan Gavin Williams robbed us of a fortnight ago.
As to why we were able to run riot last night, well it's interesting to look at our scoring record – with fifty from twenty six games, we are second only to West Brom in the scoring stakes, but our total of thirty from fourteen away matches is, comfortably, the highest in the Championship. Remarkably, we have now scored a six, three fours and a three on our travels and it is worth mentioning that, from the pictures I have seen at least, the wurzels played with the same high line that Derby did in conceding six to us in September.
By lining up like they did, Derby almost defended like a home team in that game at Cardiff City Stadium as they were ruthlessly picked off by Messrs McPhail and Chopra and it seems to me that you push your backline up at your peril against Cardiff because, even without McPhail we appear to have enough players who can pick out passes to the speedy Chopra and the strong Bothroyd.
Even though the stats seem to say that we find it more difficult at the Cardiff City Stadium where most teams tend to sit that much deeper, our scoring record there is still a pretty impressive twenty goals from twelve matches (and it is worth remembering that we have scored a four and two threes in home Cup matches). Therefore, although they are more effective on the counter attack, the Cardiff City team of 2009/10 carries the biggest goal threat of any of our sides since the 2000/01 outfit which finished up as the highest scorers in the Football League.
This should not really be a surprise when you consider that our front two and wide players are probably as good at creating and scoring goals as any in the Championship – is there any club that can boast a quintet of the quality of Chopra, Bothroyd, McCormack, Whittingham and Burke from which to pick their front four? The fact that all five of those players are long in quality and flair but, to varying degrees, short on consistency explains why, despite the very impressive overall record, our goalscoring has quite an uneven look to it.
Thirty four of our league goals have come in just eight matches, so the other eighteen have seen us hit the net just sixteen times and we have only managed to score more than once in three of those games. So, it would appear that, as long as those five players stay fit, a few more teams are going to take a bit of a pasting in the remaining months of the season because if three or more of them are on their game, we are too good for most defences in this league.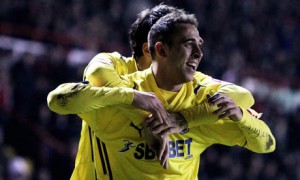 Of course, with that often under rated passer Joe Ledley likely to be missing for the rest of the campaign and a question mark as to when Steve McPhail can play again, it could be asked where are the players to fire the bullets for our front five going to come from if, as is feared, we don't bring in the new players we were promised this month? My answer to that is that the front five are good enough when they are in the mood to do that themselves. In the last eight days we have seen some high quality passing from Peter Whittingham and last night's superb ball by Ross McCormack to Michael Chopra for the third goal is my nomination for City's pass of the season so far.
Actually, that third goal offers so many grounds to be optimistic as to what will happen over the next few weeks (on the pitch at least!). It sounds daft to say this about someone who is the second highest scorer in the Championship, but, after his fantastic start to the campaign, Michael Chopra has been almost a passenger for us for much of the time. The way he put away those two chances last night though suggests that his confidence in front of goal is returning. By the same token, it will almost be like having a new player if Ross McCormack can maintain his performance levels of the last two matches. While he has shown flashes of his quality when in the team, McCormack has been far more of a bit part player compared to last year but now he is scoring again and also showing his ability to pick out a pass (the ball he played for Joe Ledley's disallowed goal on Saturday was a beauty) it has to be hoped that we are going to be getting much more in upcoming matches from two of that front five than we have seen in recent months.