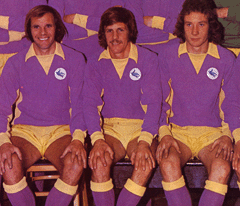 If the Jabulani ball was the problem that I believe it was in the first round of matches, then there is increasing evidence that most teams are beginning to come to terms with it. The outstanding goal yesterday by Valter Birsa of Slovenia against the USA yesterday offered the clearest evidence yet that players are starting to figure out how to get the best out of the troublesome new ball and, with the majority of teams playing with more freedom, the entertainment value of South Africa 2010 is on the rise after a truly turgid first few days.
Of course, there is always the exception to any rule and last night England produced an inept, fear ridden and clumsy performance as the group "minnows" Algeria embarrassed them tactically and in terms of technique in a 0-0 draw in Cape Town (the venue taking away the excuse of high altitude affecting a team which looked out on it's feet with more than an hour to go). The pundits keep on telling us that England are much better than the likes  of Algeria, USA and Slovenia and yet they now find themselves in a position where they, almost certainly, have to beat the last named of those teams to qualify for the last sixteen.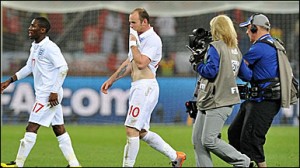 I watched England last night thinking that they would come to life sometime soon because they are so obviously better than the Algerians, but, around the hour mark, the penny dropped – England were playing so poorly because they are a poor team at the top level and everything they have done in major tournaments (always provided they qualify for them of course) since Wayne Rooney broke his metatarsal in Portugal during Euro 2004 confirms this. Just because the Premiership might (emphasise the word "might") be the best league in the world, it doesn't automatically follow that the Englishmen who play in it are that brilliant. Looking at the team that played last night, you have a goalkeeper who will be forty in a month or so who, deservedly, earned the nickname "Calamity", a talented but fallible right back in Glen Johnson, two central defenders in Carragher and Terry whose performances in domestic football in the season just ended offered plenty of clues that their best days were behind them. In midfield Steven Gerrard is continuing his below par club form, Gareth Barry doesn't look fit, Frank Lampard is, once again, unable to produce his club form on to the international stage and Aaron Lennon has not built on the promise he showed in Germany 2006 while Emile Heskey, the man who we are told, gets those around him to play is manifestly not doing that as he shows why he is an Aston Villa reserve.
The two players I didn't mention from last night's starting line up are Ashley Cole and Wayne Rooney who I would say are the only two England players who have ever showed world class form in major international tournaments – Cole has done okay this time around, but Rooney has been woeful as he gives the impression that he would rather be anywhere but South Africa at the moment. In some of the previous tournaments when England were playing really poorly (e.g. Italy 1990), they prospered after changing the way they were playing, but with their manager being such a devotee of 4-4-2, it's hard to see that happening this time around – France are virtually out of the tournament already and it looks like England could well be joining them as high profile failures in four days time.