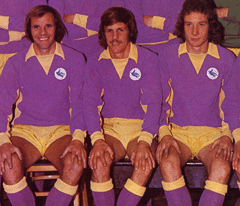 Although there had been signs of problems earlier in the year with things like "Whalleygate" and the lack of big money signings in the January transfer window when the team were handily placed for a Play Off challenge, I think the time when the penny dropped for most supporters that we were skint was in the autumn of 2004. Once Sam Hammam had taken over in the summer of 2000, the early years of the decade had seen City largely buying whoever they wanted as they blew their rivals in the lower divisions out of the water with transfer and wages spending which they could only dream of. Promotion to the Championship had seen the "spend, spend, spend" policy continue as Alan Lee and Richard Langley arrived for big money and I would guess that the wages paid to free transfer signings like John Robinson and Tony Vidmar probably put them beyond the reach of many of City's new rivals in the game's second tier.
We were paying millions for players, but the notion that we might have to sell our "crown jewels" like Robert Earnshaw and Danny Gabbidon was derided by Sam Hammam as teams rumoured to be making a bid for either of them were dismissed as being our "feeder clubs". Then, just before August Bank Holiday Monday, it all changed as, completely out of the blue, one of those "feeder clubs" had a bid accepted for Earnie and, within a day or so of the story breaking, he had signed for West Brom. For a while, Sam Hammam tried to brazen things out – there were reports that three Albion players would be signing for us as part of the deal and he faced angry supporters at a hurriedly arranged meeting shortly after the transfer was completed, but, despite all of the assurances, the team's results were showing that things were far from well at Ninian Park.
August and September 2004 were awful months – after taking four points from their first two matches, City picked up only four more from a possible twenty seven as they slid to twenty third in the table with the Earnshaw money largely unspent. True, Jobi McAnuff did arrive from West Ham for less than ten per cent of what we got for Earnie, but as defeat followed defeat, there was almost a feeling of Nero fiddling while Rome burned about the lack of transfer action to try and put things right. Of course, what supporters didn't know at the time was that the club's bankers had pulled the plug on the club's madcap spending – Citibank had said no when we went to them for yet more money and, seemingly, the only people prepared to lend the club money was some overeas company called Langston who came up with £24 million pounds worth of loan notes.
Perhaps it was the Langston money which finally enabled manager Lennie Lawrence to get some players in as experienced full back Darren Williams and young midfield player Gary O'Neil arrived on loan from Sunderland and Portsmouth respectively and, if the results still wouldn't quite come, then the level of performance showed immediate improvement. Williams' provided some much needed solidity, but it was the energetic and skilful O'Neil who was mainly responsible for the side beginning to turn things around as he complimented Graham Kavanagh perfectly to give us what was a potentially excellent Championship central midfield.
O'Neil was ball winner, playmaker and box to box man all rolled into one and remains one of the best central midfield players I have seen play for the club – with youngsters Joe Ledley and Cameron Jerome also breaking into the team and the exciting, if unpredictable, McAnuff starting to settle, City games started to become enjoyable again. Although there were too many draws for the team to pull clear of the relegation strugglers, an unbeaten October certainly helped things along as the feeling grew that City were on the up again.
The final match of October against Leicester offered more evidence that a more than useful City team was taking shape. Leicester, with their nucleus of older players with plenty of Premiership experience, had been many people's pre season favourites for the title following their relegation from the Premiership, but, like City, they had been drawing too many matches and found themselves in a mid table position going into the game. This was nowhere near good enough for the powers that be at Leicester and manager Mickey Adams had lost his job a few weeks earlier as they moved to bring in current Scotland manager Craig Levein to succeed him. Levein was in the stands to watch the game before formally taking over from the following Monday and what he saw that afternoon must have left him in no doubt as to the size of the job awaiting him.

Whereas Leicester's experience had looked a strength in August before a ball was kicked, it looked a weakness now as several of their veterans had made the transition from canny, seasoned pros to washed out liabilities in the physically demanding Championship. Leicester's cause was not helped by the clever, but largely static target man Peter Thorne being ruled out by injury so that winger Paul Parry was  pressed into service as a central striker and Parry played a full part as the movement and energy of the younger City team ensured that it was a very uncomfortable ninety minutes for many of the more venerable Leicester players – one of whom, centreback Matt Elliott, was playing the last game of his career that afternoon.
O'Neil had already hit the post when Parry let fly with low, raking shot from twenty five yards which thudded off the upright with the visitor's keeper Kevin Pressman well beaten, however the 36 year old who was, to put it mildly, a little over his ideal fighting weight, was the one veteran in the Leicester side who was able to roll back the years in this match and he reacted superbly to block Alan Lee's effort from the rebound. Lee, who was City's top scorer at the time with five goals, was going through something of a hot streak in front of goal (by the standards of his time with us at least!), but he was to make nothing of the chances that came to him that afternoon as Leicester somehow kept their goal intact.
With the visitors also looking threatening at times, the game provided plenty of action at both ends but that elusive first goal just would not come – the second half saw more of the same as Pressman made an outstanding save from Kav's twenty five yard effort and came to the visitor's rescue on other occasions as chances came and went at regular intervals. There was time for O'Neil to hit the woodwork again from a free kick, but the game finished scoreless – although the standing ovation the team received at the end of the match proved that this was anything but your bog standard boring 0-0 draw.
Despite all the encouraging signs though, it was a sixth goalless game in the last seven at Ninian Park for City and, having seen his side hit the woodwork four times and miss a penalty in another stalemate with Leeds four weeks earlier, Lennie Lawrence, predictably, stated that somebody was going to take a right hammering at our hands soon. As it turned out, our manager was proved right four days later as West Ham returned to London having been well and truly stuffed by 4-1 as Lee, Ledley (with his first ever goal), Parry and McAnuff ended the goal drought with a vengeance.
All the while, there had been some talk of Portsmouth manager Harry Redknapp being willing to let Gary O'Neil come here permanently if we could stump up the £750,000 he was asking for him. There was a time when the club which had spent almost as much on the likes of David Hughes and Gavin Gordon and more than that on Andy Campbell in the previous three years would have fired off a cheque for that amount with barely a second thought, but those days had gone now and so a player who could have become the fulcrum of the team for years slipped away (truth be told though that, by the time he went back to Portsmouth in early November, O'Neil was playing well enough to go straight into their first team and stay there) as supporters had to get used to the new reality which would see overdue wages only being paid after the captain was sold to Wigan just four months later.
30 October 2004
Cardiff City 0 Leicester City 0
City Warner; Williams, Collins, Gabbidon, Barker; McAnuff, Kavanagh, O'Neil, Ledley; Lee (Jerome), Parry (Bullock); Subs (not used) Alexander, Weston, Boland
Leicester; Pressman, Makin, Elliott, Heath, Stewart; Scowcroft, Nalis, Gemmill (Stearman), Tiatto (Gillespie); Dublin (Blake), Connolly; Subs (not used) Gudjonsson, Benjamin
Att. 13,759