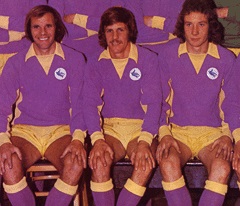 You only have to look at messageboards and listen to supporters' phone ins to realise that it's failure, rather than success, for their club/country that gets people more prepared to hit the keyboards or the phones in a desire to get their opinion across.
I'm as guilty as anyone in doing this. Take last week for example, where my first reaction when faced with a blank screen as I started my piece on the game that finished Cardiff City 2 QPR 1 was to think that I would write at length about how crap we were in the first quarter of a game in which we managed to take our 100% winning run in the league to a record breaking five, thereby opening up a three point gap on the rest of the division.
In the end, common sense won out because, while I did have a lot to say about how poor we were at the start of that game, I'd like to think I was able to put it into some sort of context by acknowledging that we dominated the match from the point where we equalised in the twenty second minute and, in the end, our opponents could count themselves lucky to have only lost by the one goal.
Last night's World Cup qualifier between Wales and Austria at Cardiff City Stadium in a game where, realistically, both sides needed to win to keep their hopes of reaching Russia next summer alive, offered a real case of deja vu for me, because there was exactly the same period of woeful football from the home team, before they were able to assert themselves and go on to record a close, but deserved, win.
Yes, I think that the fact that it's Wales, not Austria, who can keep on dreaming of a place in the World Cup Finals represents justice when you look at what happened over the whole ninety minutes, but I also accept that, unlike last Saturday, the opposition has a more valid claim for thinking differently.
For a start, Austria's domination lasted for half of the game, rather than the quarter of it with QPR. I think there's enough evidence around to suggest that some opposing international sides have buckled when a full Cardiff City Stadium gets right behind the home team, but, despite the best efforts of the crowd, it was all too easy for the Austrians in the opening forty five minutes.
Maybe I should qualify that slightly because, as Chris Coleman rightly observed after the match, we did have a good ten minutes or so right at the start where both of the players we thought would have to be the ones to turn in a matchwinning display for us had reasonable chances to score.
However, after that, we were awful and it was a real relief to get to half time with the game still goalless. Often, you hear it said that a side might come to regret not cashing in while they were on top, but Wales had been so bad that it was hard to see how and where they could raise their game to anything like a level where they could make the Austrians pay.
Much has been made of how Wales were set up tactically during this time when they struggled and, of course, events would prove that this was a factor in why we struggled so much. However, the three centreback formation has been the one that Wales have enjoyed most success with under this manager and we have been able to get parity or better with opposition central midfields despite being outnumbered three to two in there like we were last night.
I would argue that it was as much the personnel involved as the system which was a problem for us last night – this can't be proved of course, but I happen to think that with a midfield two of Joe Allen and a fully fit Joe Ledley, we would have seen a different type of first half last night.
Yes, systems are important, but it's often as simple as one side looking composed, controlled and confident when in possession of the football, while the other has so much trouble first getting it under control and, then, second, making effective use of it on the rare occasions when the ball is there to do their bidding – for Wales last night, read Cardiff City last weekend.
One thing I'd also say about our poor spell was that, although it's not his fault, Sam Vokes' presence in the team can tend to encourage the sort of aimless, high, whack forward in his general direction in the hope that he may be able to use his aerial ability to cause some sort of problem for the opposition, that we saw last night. This Welsh team shouldn't be about that type of football, but so many of the balls played up to Vokes were of a type that he could do nothing with – they were uncontrolled and hopeful.
I would argue that if Aaron Ramsey finds it hard to maintain his defensive discipline when playing for his club in a deeper midfield role, it would be naive to expect him to do so in a must win game for a side in which he is generally regarded as one of only two "matchwinners" in their ranks – therefore, there had to be a real element of risk in putting him in the position where he started the game last night.
When Austria threatened the Welsh goal during our poor spell, it generally came when the Baumgartlinger, Alaba and Arnautovic axis was able to exploit gaps on the right hand side of our defence. Chris Gunter and James Chester struggled to cope with this, but they had a right to expect more help from those in front of them – finding a way to stop that trio being so influential in the second half was, perhaps, the main reason for our win.
So, while I accept that the change of system was a factor in the transformation of the game in the second half, I think it was also the personnel involved who made a difference.
Although I'd say that it's widely accepted now that Chris Coleman has been a good Wales manager/head coach, I think there is still a feeling among some that he is just lucky to have been the man in charge when one of the best generations of players around the same age we've ever had have been at their peaks. However, that's a harder line to justify after what he did to transform a Welsh performance last night that was going nowhere after forty five minutes.
What I said earlier about our central midfield two could be taken as a criticism of David Edwards, but it shouldn't be, because I thought he was one of our best players and the introduction of Andy King for the unlucky Jazz Richards at the break, meant that this largely unappreciated pair were mainly responsible for Baumgartlinger, Alaba and Arnautovic almost become bit part players in the second period.
By switching Ramsey to a position which almost had him as a second striker in a 4-4-2, Coleman freed our best playmaker into areas where he could become more influential and an energised home team went on to have the better of the third quarter of the game. Rambo came close to breaking the deadlock with a close up volley which would have taken some saving from Lindner if it had not struck an Austrian defender's hand and an effort which the keeper clearly turned aside, despite the erratic Romanian referee not noticing his intervention.
Lindner was to make a wonderful save from a Gareth Bale effort from almost thirty yards as well, but this was one of only very few meaningful contributions by Wales' talisman in the first hour as, for whatever reason, it seemed to me that he lacked the acceleration which is instrumental in him getting past and away from his marker.
Bale has done so much for his country down the years that he is never going to be subbed, other than for reasons of injury or preserving his fitness for games to come, in the foreseeable future. However, with the game nearing it's final quarter and a couple of Welsh attacking players stood on the touchline ready to enter the fray, if the criteria used was purely based on what he had done in this match up until then, then the notion of Bale being one of those to make way wouldn't have been a purely fanciful one.
Hal Robson-Kanu for Vokes was an entirely predictable change and, in the event, Tom Lawrence, our most lively attacker up to then in my book, joined Richards in having a right to feel hard done by about his withdrawal from the game.
The identity of the second Welsh player to be introduced in the sixty ninth minute was a shock to me though. I had always argued that Liverpool's Ben Woodburn needed to be capped in a competitive game by Wales sooner rather than later to ensure that the Chester born seventeen year old was not snatched from us by England.
I'd assumed that the best way to ensure Woodburn would be turning out for Wales for the next decade or more would be to introduce him late on against a Georgia or Moldova if we were a goal or two up. Instead, Coleman chose to give him that first cap in the cauldron of Cardiff City Stadium in a match which just had to be won.
It's an indictment of the times we live in that so much of what's written and said on social media is done so purely to be controversial and is aimed at creating a reputation for forthright views from the contributor. That's how ridiculous stories like the one here labelling Woodburn a "failure" before he has reached his eighteenth birthday get written – last night he was given twenty one minutes to prove that the conclusion reached about him was pure bullshit and he managed to do it in just five!
As was remarked by John  Hartson I think it was, it was amazing for someone so young to get so much power behind a shot from a position about twenty five yards out. At first glance, you could be forgiven for thinking that Lindner should have saved Woodburn's shot, but then as you see the goal for the second, third or fourth time, you realise that the keeper was blameless – he was simply beaten for pace!
So, in the completely unlikely event of Woodburn going out of the game early having had only a modest career, he will at least do so with one "I was there" moment, which people will talk about for generations to come, behind him – other sports have their attractions, but that goal, the reaction to it and the identity of the scorer all combine to prove, yet again, that football truly is the "World game".
In all of the euphoria following the goal, it was easy to forget that the reason Wales found themselves in the position whereby they probably had to win all four of their games this autumn to stand a chance of qualifying (at the moment, our group looks the most likely one to produce the ninth second placed team which will miss out on the Play Offs) is that they have been hopeless at preserving 1-0 and 2-1 leads in this qualifying campaign.
However, the circumstances behind last night's game meant that, in essence, Austria needed to score twice in the sixteen minutes, plus added time, which remained and so it was inevitable that they would have to leave large gaps at the back.
Arnautovic made one of his few telling contributions of the second half when his shot looked to be beating Wayne Hennessey, only for Ashley Williams (a real Wales Man of the Match candidate if it wasn't for a certain Master Woodburn!) to head clear for a corner and Bale (who played his best football in the game's last quarter) did really well to get his tackle right when an Austrian goal looked likely, but, generally, the goalmouth action came at the Austrian end as Wales' control increased if anything.
Robson-Kanu, as he often does, made a big impact coming off the bench, but he, criminally, ignored the unmarked Bale as he wasted a two on one by shooting high and wide, Bale's stunning overhead kick drew another fine save from Lindner and Robson-Kanu shot against the post as Austria realised that this was the night when they could forget about trying to make up for their disappointing Euro 2016 with a better showing in World Cup 2018.
So, by the end, Wales had earned a win which enabled them to capitalise on the Republic of Ireland dropping a couple of points in Georgia despite going ahead as early as the fourth minute. I was confident that Georgia would take points off some of the other three sides with a realistic chance of qualifying after their draw here, but this was the first time they had done so – I still see our visit to Tblisi next month as a real potential banana skin, but, first, we need to win away on Tuesday against the group's whipping boys Moldova, who were beaten 3-0 in Serbia yesterday.
The Serbs still look very likely group winners and there will be far more pressure on the Republic than them when they go to Dublin on Tuesday, as they now know that anything less than a win for them, combined with a Welsh win in Moldova, would see us climbing above them into second spot.
Finally, I would have thought that, despite the reaction to it from Welsh supporters, the majority of neutral pundits would probably have gone for a home win if asked for a forecast on yesterday's game, so there's a strong case for arguing that Wales Under 21s 3-0 win in Switzerland in their first match of their latest European Championship qualifying campaign was the result of the weekend.
City's Cameron Coxe and Rhys Abbruzzese were the Welsh full backs and both played the whole ninety minutes, while Mark Harris came on as a second half substitute. Tyler Roberts, already a scorer for Walsall on his loan spell there, Sheffield United's very promising David Brooks, back with Wales after being named player of the tournament when representing England in Toulon and George Thomas, recently signed by Leicester City from Coventry, were the goalscorers.
Many of the players now in the Under 21 squad are the ones who have been in the group which have ensured that we have done well in different levels of age group football in recent seasons. Their results in general lead me to believe that, collectively, they represent the best age group squad since the Allen, Ramsey, King, Collison, Vokes and Ched Evans group which saw us contest a thrilling Euro Under 21 qualifying Play Off with England eight years ago, but they face a real test on Tuesday when they travel to Portugal.
*picture courtesy of http://www.walesonline.co.uk/