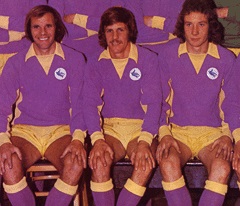 It's strange how teams react to certain grounds. For example, good City sides (including the one that won this division five seasons ago) seem to turn to jelly whenever they pitch up at London Road, Peterborough.
Although the matter as to why teams can go decades racking up the losses at some grounds (like we did at Ashton Gate, Bristol from 1970 to 2010) when you have different generations of players going there and performing abjectly has always been a mystery to me, I suppose there are times when teams that have been together for a few seasons can develop a complex over going to certain stadiums and a "we never do well here" mentality develops.
However, if a side's poor record at some grounds can be explained to some extent, in the short to medium term at least, it's hard to understand why it is that managers have bogey grounds.
As this piece shows, Neil Warnock is a superstitious man and I suspect that he will have been aware of the stat which surfaced in the build up to Cardiff City's game at Craven Cottage, Fulham yesterday – it is a ground that he has never won at during his thirty seven year managerial career.
Now, with Fulham having been in the Premier League for a fair amount of that time and most of Warnock's career having been spent in the three divisions which now comprise the Football League, it may be that he has not taken as many teams to the ground that lies on the banks of the Thames in south west London as he has done to some of the other ones that he'll be returning to in the next eight months. However, the sheer longevity of his career in management has to mean that he will have had plenty of chances to record that elusive first win at one of my favourite grounds.
Despite his superstitious nature, I cannot see our manager being the type to allow any reservations he may have had beforehand regarding a visit to a ground where he has such a poor record as a manager, to be transmitted to his players in the build up to his latest attempt to record that elusive first win there.
However, did his true feelings reveal themselves when our manager said after the match that he would have "snapped your hand off", if you'd have offered him a point beforehand?
Alternatively, and I suspect correctly, you could conclude that Neil Warnock regarded our 1-1 draw as a very acceptable outcome on purely footballing terms even if it did mean that the club record breaking run of consecutive league wins to begin a season had come to an end.
As Warnock remarked, no one else in the Championship plays like Fulham and our manager has remarked previously that they were his tip to go up at the start of the promotion Play Offs last season.
For my part, I didn't see another Championship team to rival Fulham when they were really on their game in 16/17 and, as I believe I've mentioned before on here, the 2-2 draw at Cardiff City Stadium last February was the most entertaining match I've watched live in years.
In that game, there were long periods, particularly in the second half, when it felt like Fulham were on the brink of overwhelming us such was their domination both in terms of possession and territory, but then City would hit them with a pacy and direct counter attack, almost always involving the superb Kenneth Zohore, and you were reminded that we had it in us to put the ball in their net in a matter of seconds when we got things right going forward.
It really was a fascinating contrast in styles when the teams last met, but, by the end, you could make a decent chance for saying that we deserved the win such was the number of incidents and scoring chances around the Fulham goal compared to the number around ours.
The difference yesterday was that, with Zohore not as influential, (in fact, the front three who have been so effective this season probably had their quietest game up to now in terms of attacking impact), City were never the attacking influence that they had been seven months earlier.
Warnock said the point was a deserved one in the end and Danny Gabbidon was in agreement with him in his role as Radio Wales summariser, but I would say that, just as in February, while the draw was probably a just outcome, if one of the teams did deserve to win, it was the one playing at home.
City needed to be resilient and organised to claim their point yesterday. They also needed their goalkeeper to make some good saves, while the home keeper was, largely, unemployed – the only time Neil Etheridge blundered, when he missed his kick after rushing from his goal line to hack clear, he was grateful to the covering Joe Bennett, playing against the team he could have joined last month, for getting back to clear Johansen's effort off the line.
We also had luck on our side when Ayite's shot hit an upright in the second half, but then it was the home team's turn to enjoy the rub of the green when the ball fell kindly to Ryan Sessegnon after Bennett's great tackle on Ayite following a typically fluent Fulham move.
The seventeen year old was easily able to tuck away his third goal in the last four meetings between the clubs and so City found themselves staring at defeat with fifteen minutes remaining.
Given the attacking potency we've acquired as 2017 has gone on, there are always grounds for genuine hope that we can get back into a game when we fall a single goal behind, but, as mentioned earlier, our front three were not at their best yesterday – indeed, Zohore had already been withdrawn when Fulham scored and Junior Hoilett was to follow him four minutes after the goal.
I mentioned our record of being the side with the best stats for gaining points from losing position in last season's Championship from the date of Neil Warnock's appointment in my piece on our last game before the international break and the QPR encounter offered a case in point on how we managed to do that.
Largely, but not quite exclusively, our good record for turning losing causes into winning ones or draws was achieved with the players we had on the field at the time – it was a common refrain from Mr Warnock in the second half of 16/17 that we didn't have enough depth to our squad, there weren't enough "game changers" on the bench.
Against QPR, it was the eleven who started the game that turned a 1-0 deficit into a 2-1 lead and eventual win, but, for the first time, yesterday offered tangible evidence of the stronger hand our manager has this season when compared to last in terms of what he has available if the starting eleven don't look like turning things around.
A good way of illustrating this is to think of the players who were available yesterday, but weren't even substitutes. There was no place on the bench for City Player of the Year in 14/15, Matt Connolly, Greg Halford, brought in to paper over the cracks in our small squad through his versatility last January, was also missing, as was Anthony Pilkington, our top scorer two seasons ago, and our new striker Omar Bogle was another absentee.
With Lee Camp pencilled to make his City bow in a Development team game soon and Callum Paterson possibly getting some game time when they face Hull at Cardiff City Stadium tomorrow, the competition for places should get even hotter soon, as the consequences of all of the summer recruiting becomes ever clearer.
Yet, our manager was quick to point out at Friday's pre match press conference that, essentially, our one hundred per cent winning record after five games had been achieved with eight of last season's team and three free transfer signings from Walsall, Rochdale and Football Bourg-en-Bresse Péronnas 01!
The point Warnock was making was that the players that we spent, relatively modest, transfer fees on during the summer had not figured too much so far and it was not the one who cost the most, Lee Tomlin, that he turned to yesterday.
Now would be a good time to, belatedly, mention what was a busier final day to the transfer window than had been expected by most City supporters. There were four departures, Declan John got a great season long loan move to Rangers, while Stuart O'Keefe and Matt Kennedy secured temporary moves to Portsmouth for 17/18 and Craig Noone's contract was cancelled to enable him to move to embargo hit Bolton as a free agent – kudos and good wishes to Nooney as well for his classy farewell message.
In the days leading up to deadline day, speculation had grown that Joe Ledley would be returning to City as our manager talked about bringing in one more midfield player, but it would appear that this did not happen because Warnock's number one target, Derby's Craig Bryson, had become available late in the day as his club found it harder than expected to move out the players they had marked down for departure.
So it was, that Bryson was able to complete a season long loan move about ten minutes before the window closed and it was much the same for winger who arrived from Blackburn on a loan deal which lasts until January.
Just as with all Warnock signings it seems, it's quite easy to come up with reasons as to why these two will not be successes at Cardiff. Bryson will be thirty one in November, which is, generally, not a good age for someone who describes themselves as box to box midfielder and there were quite a few Derby fans who said that his form in the past two seasons has not matched what he came up with in 14/15 – one of two seasons in which he won the Derby player of the year award. It seems Warnock has complete faith in the player though and it was Bryson he turned to just past the hour mark yesterday when he came on for Loic Damour.
I must say that, more than any other player he's signed, I found it hard to get too enthusiastic about Feeney's arrival. Again, the aging process should dictate that a winger for whom pace is a big asset, is likely to be less effective when he reaches thirty (as Feeney did in January), but, more than that, it was the fact that he was not getting games at League One Blackburn (a Blackburn based journalist friend of Radio Wales' Rob Phillips had recently described Feeney as having been "abysmal" in his latter appearances for the Ewood Park team), that left me feeling distinctly underwhelmed by his arrival.
Yet it was Feeney who Warnock replaced Hoilett with as the last ten minutes approached and, yet again, I was reminded about the description of Warnock's transfer dealings on the day we appointed him by a supporter of another team he had managed, about him bringing in unexciting signings that end up working.
Even if Feeney never does another thing else for us (which I suspect won't be the case under this manager), he's got an assist to his name and he almost had a winning goal as well – albeit a lucky one as misdirected centre came back off the crossbar.
Feeney looks like someone who tends to get his crosses in early and, when he was fed by Mendez-Laing, his quick delivery was met by one of those players we paid a decent transfer fee for in the summer who have not had much chance yet, we had the goal that would earn us a third draw in our last four visits to Craven Cottage.
Danny Ward had done some good things in his fairly fleeting appearances off the bench in our league matches before yesterday, but his close range downward header that found the net in front of the 3,000 plus travelling army of supporters was the first time he'd had a major influence on proceedings – it won't surprise me if it earns Ward a first league start at Preston on Tuesday.
I'll finish with a couple of stats which offer completely contrasting viewpoints on how we'll fare over the rest of the season. The glass half full one is that each of the last five sides to have a one hundred per cent winning record after five matches in this league have been promoted, but the glass half empty one is that the side which has led the Championship at the end of August in each of the previous six seasons has not been promoted.
I must admit these are both stats I came across in the media in the past week and have been unable to confirm them in my research, but, assuming the second one is true, it does tend to back up a fear I have that our start to this season is comparable to the blistering one we made in 06/07 when we enjoyed a five point lead at the top of the table at the end of October, but then fell away so badly that we were in the bottom half of the table come season's end.
Given our fixtures between now and Halloween, it's hard to see us being five points clear come the end of October, but Neil Warnock has said that if we can be top four going into November, then he believes we can be up there challenging for promotion come the spring and it shouldn't be forgotten that this is a man who knows better than most what it takes to get out of this division in an upwards direction.
It might be that the day we drew 1-1 at Fulham will be seen as the day it all began to go wrong for us as far as promotion was concerned in 17/18, but the preparatory work put in during the summer in terms of acquiring the squad depth we needed and the spirit this squad has makes me hopeful this won't be the case.
We've played three sides that were heavily tipped to finish in the top two before  a ball was kicked in our first six games and have taken seven points off them to help establish a two point lead at the top of the table – you won't catch me saying we are going to hold on to that position, or the one below it, but I'm increasingly confident that we won't see a repeat of what occurred in 06/07 either.