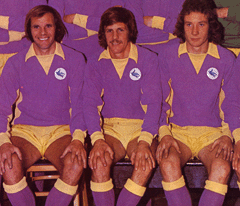 I chose the somewhat ambiguous title for this piece to highlight the confusion that a run of drawn games can create. Cardiff City's 2-2 draw against Queens Park Rangers at Loftus Road in "the Malaysian derby" between two clubs who not only have owners from that country, but also share the "distinction" of having come last in the Premier League in the previous two seasons meant it's two draws from two games for them this time around – so are we on the edge of a crisis or putting the foundations in place for the top six challenge that Russell Slade has targeted?
How any individual answers that question can depend on their natural disposition – in City's case, the previous two years have given plenty of reasons for fans to approach the 2015/16 campaign with a gloomy outlook which would not be improved by a failure to get off to a winning start in their first couple of matches, but, equally, there is a view which says things had got so bad that there was only one way to go and there have been definite signs so far that the slide has been arrested.
To be honest, there was enough to satisfy (not sure that's the right word) both camps in yesterday's match – I'll try to set these things out in the next few paragraphs before then saying which side of the divide I fall into and why.
Looking at the pessimistic assessment first, we were sloppy and unconvincing at the back at times – this started within the first thirty seconds with a carelessly conceded corner and then when we repeated that error ten minutes before half time, some abysmal marking enabled Clint Hill to head his time in front. That was the low point of our evening on the defensive front, but another goal conceded from a corner (albeit aided by what looked like a handball by Hill and, possibly, by the scorer Charlie Austin as well) and the way we had some hair raising escapes as the home side chased the third goal which would have put the game beyond us has to be a cause for concern.
Up the other end of the pitch, City never really managed to force home goalkeeper Rob Green into saves of the quality Simon Moore, impressive yesterday after his error last Saturday, had to make and the Alex Revell/Joe Mason forward partnership once again failed to convince with the former, for the third time in as many matches, not really doing enough to answer questions about why he was selected in the first place and the latter coming second in his individual battle with the powerful and pacy QPR captain Nedum Onuoha (the home team's best player in my opinion).
On the other hand, optimists would point at the fact that we came back from two goals down to prove that our manager has a point when he talks about an improved attitude within the camp, that the Malone/Ralls partnership on the left continues to develop, that we were able to make changes that had a big influence on proceedings as we brought Kenwyne Jones, Craig Noone and Sammy Ameobi off what was an impressive looking subs bench and that a loud and passionate away support suggested that the relationship between, team, club and fans is definitely improving (I believe this is vital if we are to enjoy any tangible success this season).
Now for my take on things, the first thing to say is that there is a clue as to how my thinking is in the title – the words "another last gasp goal" identify what to me seems to be a very important difference from last season. During 14/15 there was much talk (especially from Russell Slade) about the team's lack of fitness and I'd say this line of thinking was supported by how we performed in the last ten minutes of games – if we were drawing or losing going into this period, the stats showed that we had little or no chance of turning things around.
Through the forty six league games of last season, we managed to score just five goals after the eightieth minute and, worse still, those goals were in, most cases, meaningless. Top scorer Kenwyne Jones got three of them which only increased the margin of victory or defeat as his goal against Leeds tuned a one goal win into a two goal one, whereas his efforts in the games with Watford and Middlesbrough were only consolations in a losing cause. The other two we scored did have a bearing on the final outcome, but, even then, in one of the cases (Blackburn) Sean Morrison's header looked to have turned a draw into a win, only for Rudy Gestede to equalise in added time to leave us with the same result as we had going into the final stages.
No, only Conor McAleny's 90th minute equaliser at Reading in April actually gained us any points last season, so, with something like 2.2% of this season played, we have already doubled the number of result affecting goals we've scored in the last ten minutes this time around – that's an impressive stat for me which says much about the fitness and attitude of the team. Okay, there was a period after Noone's equaliser against Fulham when the visitors took charge as they chased a winner, but we kept on going right until the end yesterday and, truth be told, I thought we looked fitter and more up for the game than QPR throughout the ninety minutes.
Yesterday's match surprised me in many ways, with the majority of them being pleasant ones, but there were one or two of the unpleasant variety. Starting with the downs, even during the darkest days of last season, City were usually good at defending set pieces with the opportunity to pick two from four good centrebacks for this league being a fundamental reason why we didn't concede too many times from corners, free kicks or long throws. Yesterday, the absence of Kenwyne Jones (very good at this part of the game in much the same way as Jay Bothroyd used to be) for most of the match, including the two goals conceded, didn't help matters, but, even so, we were downright poor in this area much of the time.
Not only that, it seems to me that when someone scores from a free header in these situations, it's because a player who doesn't specialise in "boring" things like marking has lost his man, but for QPR's so cheap opener, it was our centrebacks who were culpable – in particular Sean Morrison. Now, judging by what I read and hear, I have a higher opinion of our captain than many other City fans, but I couldn't begin to explain what he was doing for Hill's goal and he was at it again a few minutes later when he lost Hill from another corner.
Sky's guest pundit for the game, Ian Holloway, said the two goals we conceded were signs of "early season defending" – I thought this offered a useful insight as to the way training is structured during pre season. It would seem that, in the desire for optimum fitness in those weeks leading up to the start of the league season, working on set piece defending takes something of a back seat. It must be tempting, and understandable I'd say, for a manager to ease off on things his team were good at only a few weeks earlier to concentrate on what they weren't so accomplished at during the previous season – my guess is that set piece defending training is something that wasn't high on Russell Slade's list of priorities when the players reported back in late June, but it might be something that he'll be working on in the next few days!
On a similar theme, it was a surprise to see normally defensively reliable Lee Peltier make such a casual packpass to Simon Moore. Through no fault of his own, Moore was unable to prevent the corner which led to the first goal of the game – although I'd hardly say he had a poor game yesterday, Peltier has not been as good defensively as he was last season in the warm up and competitive matches the team has played so far – I can't think of a game before yesterday where Scott Malone was the best defender in our back four and I doubt it if there will be too many more of them in the future.
Of course, the fact that Malone doesn't look to be what you would call a natural defender is not offsetting what he is giving us going forward this season. It was amazing to see a City full back as far forward in open play so often as Malone was yesterday, but with the conscientious Joe Ralls always ready to fill in behind him, he is getting into areas of the pitch where he can be very influential more often this season. Malone's superb late volley from about twenty two yards was the icing on the cake in a very good individual performance and, given the quality of his strike, there has to be a chance that, for the first time in ages, we may have a full back who'll be able to chip in with three or four goals a season.
If Russell Slade really did spend much of the pre season working on things that were poor last season, that may explain the pleasant surprise which saw our midfield actually being good yesterday with all four of it's starting members doing their bit in an area of the pitch where we were dominant. Even though it was five on to our four in midfield (something which is usually a reason for us being over run in the middle of the park), City still managed to have the edge on QPR with the BBC's stats showing we had 62% possession, but it was not that, sometimes meaningless, figure that was most impressive for me, it was the poise and confidence on show as City probed patiently and, occasionally, stylishly.
When trying to work out why we seem to be contesting in midfield more than we did last year, it's easy just to put all of it down to the man who barely featured last season, Kagisho Dikgacoi, and, as he gradually gets fitter you can begin to appreciate more the understated way he must have made Crystal Palace a more solid and competitive outfit in that area – the quality of his passing has been another of those pleasant surprises I mentioned earlier as well. However, City were helped as well yesterday by having Peter Whittingham contributing a lot more than he did against Fulham. Whereas his passing was often awry last week, he was mostly on target this time and he did his bit defensively as we chased an equaliser late in the game. If his dead ball delivery could only be described as variable, at least Whitts was able to provide the assist for Morrison's header that got us back into the game – anyone else noticed that we are using outswinging corners a lot more this season than we normally do?
With Ralls looking an increasingly mature and disciplined performer and Pilkington providing hard work to go with that little bit of flair, there is a balance to the midfield that could well be upset by the inclusion of someone as individualistic as Craig Noone or someone who is still bedding in at the club like Sammy Ameobi – I'd still prefer a five man midfield, but, if it is to be four, then the current quartet appear to be best suited to do the job.
It was a shock of the nice kind as well to see that we were so much better than our opponents in lots of ways, but one thing that becomes more noticeable with better possession is that there is a lack of real dynamism to our play in attacking areas. In some ways, QPR reminded me of last season's City team as they looked laboured and a little lost in midfield, but, even though they struck me as a side who may have problems this season, they showed they have that dynamism going forward that City struggle to find. Certainly having someone capable of scoring nearly twenty times in the Premier League helps in that direction (I think we would have stayed up two seasons ago with a Charlie Austin in our team) and it should also be said that City's general dominance and desire for a goal meant that our opponents were often counter attacking against an undermanned defence, but even so, it seemed to me that, even in the event of Austin going, they will have an attacking vibrancy that we can't match at present.
Maybe including Noone or Ameobi and switching to a midfield five could improve things, but I can't help thinking that we need that leader and big personality from outside the club who will speed things up a little. Similarly, I'd like to see someone who would be able to knit things together up front, Kenwyne Jones could do that job, but only up to a point in my book because his lack of mobility would count against the fluency we are beginning to see from the team now and there would also be the temptation to return to the bad old days of last winter by knocking the ball long to him all of the time.
All in all though, I find myself firmly in the cautious grounds for optimism camp after two draws that for me point to more to come rather than a hiatus before the rot sets in. Indeed if the funds can be found to add the sort of players I talked of then I think we could have a squad which is easily capable of exceeding the fairly modest targets I had in mind ten days ago.
One of those was the hope that I would be able to come out of the occasional game thinking "I enjoyed that". Well the only thing that stopped me having that wish fulfilled yesterday was the fact that I was not there watching the game, but I had been able to see a televised performance that was far better than the three I can remember watching on Sky last season.
* pictures courtesy of http://www.walesonline.co.uk/