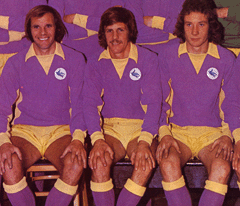 Given the current financial pecking order in the Championship, yesterday's 2-0 defeat for City at whatever Derby County's ground is called these days wasn't a shock.
Derby are one of this leagues "moneybags" clubs currently, while, almost daily, the evidence grows that, despite another substantial and, given the way the club has performed on and off the pitch since it won promotion two and a half years ago, completely undeserved parachute payment, the drawbridge has been well and truly pulled up on what was once a very substantial playing budget for Cardiff City.
At his pre match press conference on Friday, Russell Slade seemed to be in a very good mood as he talked about bringing in a player on loan to boost his side's goalscoring potential. Indeed, such was the way our manager talked, I began convincing myself that this new man would be arriving in time to be included in the squad at Derby.
With Alex Revell away at Wigan and Ben Turner at Coventry (both scored in home wins for their, presumably, temporary clubs yesterday), the suspicion lingers that to get one in, two need to go out at the modern day austerity driven Cardiff City.
While it needs to be said that it could well be that the timing of the arrival of any new recruits (I use the plural there because I suppose there is the chance that more than one may come in before the loan window closes next week) is probably out of Russell Slade's hands, surely he has to see that his post match comments bemoaning his lack of striking options are only going to get the substantial army of critics he has even more on his case?
After all, City have got themselves into a position whereby their best option if our manager had insisted on putting a specialist striker on the bench would have been Eli Phipps, who has barely started playing for the Under 21s after just finishing with the Under 18s.
Frankly, I think it's a disgrace that this manager, who so obviously prefers to use two strikers in every match, had only two senior specialist forwards (one of whom only arrived back from international duty on Friday) available for what was a very important match against a promotion rival – well, the table says we are promotion candidates anyway!
I don't know who was directly responsible for causing this situation, but the signal sent out is completely at odds with all of the talk we hear from on and off field club management about the aim for this season being a top six finish.
So, if all of the blame for the lack of fit and available strikers available at the club may not necessarily he laid at Russell Slade's door, I suppose there also has to be an acceptance that he may have decided to stick to the team and formation which beat Reading a fortnight ago if Aron Gunnarsson and Anthony Pilkington had not come back from international duty with injury and illness respectively which made them unavailable for the Derby trip.
I'm trying to be fair here to our manager, but it was what he chose to do when it came to team selection and tactics that makes it becomes so much harder to find a defence for him.
Derby have based their promotion bids of the last three seasons on playing through their three man central midfield in what is a 4-5-1, cum 4-3-3 formation – as far as I'm aware, the three central midfielders have been a constant during that time.
By contrast, you can go all the way back to Dave Jones' time at the club, to see plenty of times where a City side playing 4-4-2 have been overrun in the middle of the park by teams exploiting the one man advantage they had in central midfield. It happened in the days when we had any two out of McPhail, Rae, Ledley or Olofinjana in there and it happens constantly to the current team, especially when Peter Whittingham is one of the central two.
Even relatively modest sides have been able to exploit this weakness, so a team with the central midfield riches Derby have were always going to look to target this area.
So, what does our manager do – play his Mike Bassett style f*cking 4-4-2 of course, like he always does!
Not only that, he chooses to shift Joe Ralls, who had made such a difference to that area against Reading, out from central midfield to his more normal left sided role which sees him trebling up as a part time full back, central midfielder and winger in the lopsided 4-4-2 which teams were finding so easy to defend against in October and early November.
I can't speak for others, but it was no surprise whatsoever to me that Whittingham came straight back into central midfield and, with Gunnarsson out, it meant that the central midfield which had made a traditional 4-4-2 look workable against Reading had gone. Instead, with Kagisho Dikagcoi in alongside Whittingham, we went with that lopsided formation that worked for a short while in the early weeks of the season, but has long since been found out by our opponents.
After those couple of set piece goals against Reading, it was service as normal as City registered their fifth nil in their last seven matches while barely threatening the Derby goal – I believe I'm right in saying that, in the last six games where we've played the lopsided 4-4-2, we have "scored" one own goal!
Now, I daresay Russell Slade may think that playing two strikers away from home in the modern game is indicative of an attacking approach. Perhaps it is in theory, but in practice with Cardiff City, it is anything but that.
With no goals, and only nine efforts on target, in our last four matches, we have been feeble away from home lately. In fact, apart from a penalty in defeat at Rotherham and a well constructed Joe Mason goal at Brighton back in the days when we used to score in open play, we've not scored away from home since August!
In that time, we've taken just three points, so our manager is going to have to shelve his talk of us having turned things around on our travels – it may have been true back in August, but it's not any more.
It's not being wise after the event, because I'm one of hundreds, if not thousands, of City fans who have been calling for the sort of tactical flexibility which sees Ralls being used in a three man central midfield backed up by two wide men looking to attack in away matches especially. If Whittingham has to be played in central midfield, then give him the help which will provide him with a better chance of playing the sort of passes which can damage our opponents.
Instead, we persist with a front two consisting of one player whose confidence looks shot after not scoring in seven games because our lopsided midfield have barely created an opportunity for him in that time and another who, despite the local press' efforts to turn him into one of the Championship's most potent strikers, is something of a hit or miss performer at this level.
Russell Slade may have valid reasons from his previous clubs as to why he favours 4-4-2 (albeit with slight variations sometimes) so much, but, a year and more into his job here, he still appears to fail to see that the squad he has put together at Cardiff are not suited to playing it in the manner he, presumably, wants them to.
Not only that, his tactical approach is leading to dull football which means that, even when they win, supporters are finding it difficult to truly identify with their team. Yesterday, all we had to offer was dogged defence and a spirit which has helped see a slight improvement in performance from last season, but it's becoming increasingly hard to see much difference between what the team are producing now and the awful stuff we were having to put up with just under a year ago.
Besides having a moan about our lack of strikers, our manager conceded that sometimes you have to say that the opposition were better than us and that we deserved to lose. That's fair enough – as I said at the start, you only need to compare the playing budgets of each club to work out who were going to be the likely winners yesterday.
However, I mentioned Mike Bassett earlier and I find it hard not to think that there are comparisons between our manager and Ricky Tomlinson's unlikely England boss – they both come across as men who are not convinced that they have what it takes to succeed at the level they are managing.
Russell Slade's Cardiff play underdog football every week – is that because our manager sees himself as an underdog at this level? With his habit of talking up the opposition, that is an impression which, rightly or wrongly, definitely comes across to me.
Indeed, although I accept that, of course, this wasn't what he meant, when our manager said "unfortunately the two goals we conceded came from us having possession of the ball", you could be forgiven for thinking that, with our possession figures increasingly heading in the same direction as last season, Russell Slade's perfect performance from his team would see them let the opposition have all of the ball and then see them score an own goal late on to win the game –  we had too much of the ball against Middlesbrough, but we're getting there!
*pictures courtesy of http://www.walesonline.co.uk/