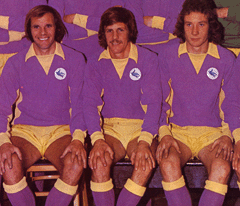 I must admit that I was prepared to view last season as a one off when it came to the huge number of penalties we were awarded, but with us having been awarded a further three of them in our first four competitive matches this time around, maybe there is more to this than first meets the eye and it is not just down to coincidence.
Before trying to come up with some sort of answer as to why we do so well on the penalty front, it might be worth just listing the ones we have been awarded since the start of last season. Trying my hardest not to be too biased,  I will put an * alongside the ones that seemed dodgy to me at first viewing (after all, the match officials only get the one look at the incidents which result in the penalty award).
08/09
Norwich (h) – foul on McCormack
MK Dons (h) – foul on Scimeca
Derby (a) – foul on Ledley
Coventry (h) – foul on Ledley
Watford (a) – foul on Whittingham
Forest (a) – foul on McPhail
Palace (h) – foul on Chopra*
Palace (h) – foul on Eddie Johnson
Reading (h) – foul on Chopra
Swansea (a) – foul on Chopra*
Preston (h) – foul on Bothroyd
Sheffield W (h) – foul on Ledley
Watford (h) – handball
Swansea (h) – foul on McCormack*
Palace (a) – foul on Ledley
Preston (a) – foul on Ledley
Ipswich (h) – foul on Roger Johnson
09/10
Scunthorpe (h) – foul on Burke
Dagenham and Redbridge (h) – foul on Bothroyd
Plymouth (a) – foul on Burke.
So that breaks down as -
Fouls on
Ledley 5
Chopra 3
Bothroyd 2
McCormack 2
Burke 2
Scimeca 1
Whittingham 1
McPhail 1
Eddie Johnson 1
Roger Johnson 1
Handball 1
Penalties awarded in first half 7
in second half 13
Penalties awarded at home 13
Away 7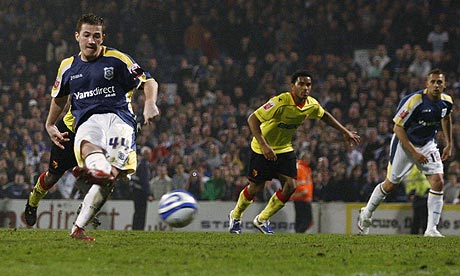 In 56 competitive matches since the start of last season we have been awarded a total of 20 penalties which means that on Sunday, for example, there is a 36% chance that we will get a penalty given to us. Now, to me, that seems a far higher percentage than at other clubs (indeed, there are some clubs who go a whole season without being awarded one), so why should that be?
Well first, I would say the figures tend to bear out what many would have suspected anyway;-
1. You are more likely to get penalties awarded in the second half as defenders tire.
2. You are more likely to get penalties awarded at home than away – that said City have been awarded seven penalties in twenty eight away matches in the last year or so and 25% is a very high rate for an away team getting spot kicks.
However, both of those points are not really addressing why City get so many spot kicks. One thing that needs to be said is that the three players at the top of the list for being fouled in the penalty area are certainly not averse to going to ground at the slightest contact, but I can't help thinking that to believe that players at any side don't sometimes fall when they feel contact in the penalty is naive and out of date – they all do it, it just appears that we are better at doing it than others!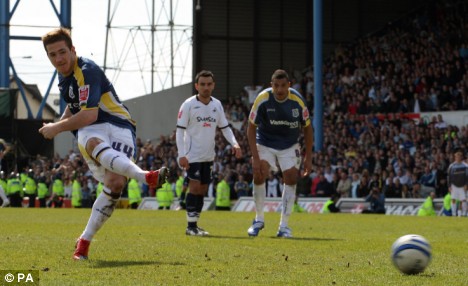 Interestingly, the player at the top of that list Joe Ledley wins more free kicks than any City player in recent memory in my opinion and, although, as mentioned previously, Joe does tend to fall over very easily, most of the free kicks and penalties he gains for us seem to be correct decisions to me. Joe doesn't possess searing pace and, although he can beat players one on one, he isn't what you would call a great dribbler of the ball, but he does have a knack of just getting a foot to the ball when you don't expect it and I think it is this that wins him so many decisions – so, I wouldn't be surprised at all to see a dropping off of some sort in the number of penalties and free kicks we will get over the coming months if Joe leaves by the end of August!
Besides the Joe Ledley factor then, what else is it that gets us so many penalties? As mentioned previously. although you don't like to admit it about your team, we do have a few players who go to ground easily, but, if we were earning penalties solely for what would later be shown to be diving, then I think the word would get around amongst officials and our penalty count would soon dry up.
I can't help thinking that match officials go out onto the pitch for games involving us knowing that we have a number of players who have the ability, at Championship level anyway, to beat opposing players through skill (e.g. Chopra, McCormack, Whittingham, Burke, Ledley, McPhail and Routledge while he was here), though pace (e.g. Chopra, Burke and Routledge while he was here) and through sheer doggedness (e.g. Ledley). You notice that I haven't mentioned Jay Bothroyd there, but I left him out just to point out that he is a lot more skilful than most six foot plus target men in this league and so he is another who can get penalties by bamboozling defenders with good technique – although I must add in Jay's case, that I can't help thinking that he is one player we have who referees look at a bit suspiciously and this can mean that sometimes we miss out on what should be penalties and free kicks and would be if any other City player was involved.
So, in the end, it's hard to point at one specific thing and say that is why we get so many penalties, but, although I know I am biased, I would say that a lot of it has to do with the fact that we possess a lot of attacking players with above average ability for this division and match officials are fully aware of that!