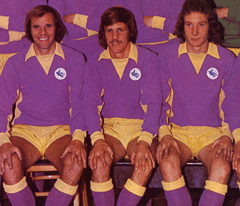 First of all apologies for the lack of a pre match quiz yesterday, I've been having car trouble (headlights and indicators flashing on and off for no reason – even when parked – and unable to open doors and boot at times) over the past few days and spent a lot of yesterday rushing about all over the place trying to sort it out – I was only really able to finally settle down and start listening to last night's 2-1 defeat at Middlesbrough with about twenty minutes left.
Therefore, there's not a great deal I can say about the game and with me having to get the car to a garage today for 9 o clock – I wouldn't be able to do my usual piece on the game even if I had been at the Riverside watching it.
So, just a few quick comments – apparently, we competed better than we did at Norwich on the weekend and made things difficult for Middlesbrough for an hour, but, just at at Carrow Road, it seems that the margin of defeat flattered us given the general balance of play.
Both Wales Online and Radio Wales have made reference to how little was created in open play and, even though our possession figure reached the dizzy heights of 47%,  I've read or heard nothing to contradict the view that we played the usual one dimensional long ball stuff that sees us looking towards set piece situations for our main, virtually only, chance of  registering a goal.
My feeling at the final whistle last night was that yet another match has passed by without providing any of those moments, passages of play or performances, both individually and as a team, that you'll remember in years to come. Call it what you want – the term je ne sais quoi springs to mind (Malky Mackay used to call it the X factor), but our performances this season have seen little or nothing of the stardust that is supposed to land on every team a few times a season to give you the hope that although it's crap most of the time, you get to see the occasional sign of what your team could be like.
Now, I understand I may be leaving myself open to charges of hypocrisy there – having been critical of the contribution of "flair" players like Daehli, Ravel Morrison and Kimbo this season and, generally, backed the manager's decision to leave then out, it's a bit rich me carrying on now about a lack of the type of qualities that can win a game in a second! Fair enough, but I still maintain that none of our recognised flair players at the start of the season (and this includes people like Whittingham and Noone) have done enough so far this season in my opinion to guarantee themselves a place every week.
My point is that the flair players we had and those still at the club have not and are not doing enough to merit the addition of that five letter word to their CV this season – Whittingham and Noone are living off past glories in the flair department I'm afraid. Indeed, the best hope of a Cardiff player sprinkling a very cold night with some of that stardust rested with a kid who has only just broken into the team – give it time though, Kadeem Harris will be performing in the same nondescript fashion as the rest of them once he's had a bit more "coaching"!
You'd like to think that if it's felt that the players charged with creating something through their skill and technique weren't deemed good enough, then steps would be taken to bring others who might be able to perform that function in, but, with two thirds of the transfer window over, there's not even been a smell of creativity linked with us yet – no offence to Scott Malone or Alex Revell, but they don't seem natural replacements for the likes of Daehli and Ravel Morrison to me.
I know this isn't really true, but I'm exaggerating somewhat to try and make the point that watching Cardiff City is much like wandering over your local park on a Sunday morning to watch a match - in both cases, the "beautiful game" has decided to take a holiday!
After the game last night Russell Slade did not deny rumours that Huddersfield right back Lee Peltier is about to join us (possibly in exchange for Nicky Maynard?) – this comes with speculation that Sheffield United have put in a bid for John Brayford. Now, for me, Brayford's form has dipped from early season levels recently, but, even so, if we were to let him  go and replace him with someone who looked quite a prospect about four years ago, but whose career has been on a slow and gradual dip since then, it says that the team is declining in terms of basic quality. Indeed, it's becoming hard to argue against the notion that nothing is nailed down at Cardiff so to speak – everything is for sale at the right price and there is no "master plan" in force for putting together a new, well thought out and coherent Cardiff City team.
A poor night was completed with the news that City's Under 18s had been beaten 3-1 in the Fourth Round of the FA Youth Cup by Burnley at Turf Moor – the youngsters, who had been looking so good in the final weeks of last year, have struggled since their Christmas break, losing all three of the matches they've played.
In my piece on the 5-1 defeat by Millwall on Saturday, I raised the apparent contradiction between the studied, build from the back possession based game played by the sides below first team level at Cardiff and the get it forward quick and play for throw ins, free kicks and corners mentality of the seniors. However, unless both were making their way back after injuries, the baffling decision to start last night's match without leading scorer Eli Phipps and their most creative midfield player (Jamie Veale) suggests that, even if they stuck to a footballing approach against Burnley, the Slade influence is beginning to filter down to youth level!
* picture courtesy of  http://www.walesonline.co.uk/