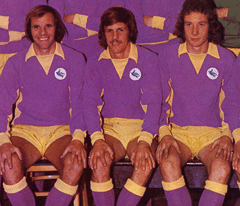 Any Bristol City fan who began supporting that club in the last seven years could well view Cardiff City as one of their bogey teams. After all, it has been a good last few years for City in severnside derby games with five wins and just the one defeat to show from the past ten matches between the sides – since Peter Thorne's header beat them in that Play Off match, the wurzels have definitely been second best to us with just three goals to show from those ten matches. However, our current dominance in the fixture is going to have to continue for years or even decades yet to match what City supporters had to put up with in over thirty years of misery against the team that some of us still see as our biggest rivals.
If there was one game which perfectly summed up the total dominance of the wurzels over us in the seventies, eighties or nineties it was probably the one played between the sides at Ninian Park on 20 April 1981. The match was played on Easter Monday so you would have expected that perhaps there would be a decent turn out for it, but only a miserable 5,579 (more than a thousand down on that year's average) bothered attending – perhaps those who stayed away did so because they knew that in those days when Bristol City came visiting, defeat for City was inevitable.
The first game between the two sides that season had been drawn 0-0 at Ashton Gate on Boxing Day which was exactly the same outcome as when we had last visited there six years earlier to the day, but those two draws apart, all of the other eight matches played between the sides since our last win in April 1971 had seen the wurzels come out on top – the previous four games at Ninian Park had been away wins. However, those eternal optimists amongst our support, like myself, had genuine grounds for thinking that this time it would be different and the thought of being there when City condemned the wurzels to a second  successive relegation was impossible to resist!

After, an eighteen month period which had offered hope that, after years of relegation battles, we might be establishing ourselves as a mid table outfit in the old Second Division, it was back to normal in 80/81 as the season developed into a scrap to preserve our status. A 3-1 beating by fellow strugglers Preston in their previous home game meant that, despite an encouraging 1-1 draw at Swansea on Easter Saturday, we were now favourites to be one of the three sides who would drop into the third tier.
Our problems were as of nothing when compared to Bristol City though who were a club in freefall. Despite the fact that the sums of money involved back then were so much smaller than they are now, football constants still apply and, having thought they had become an established First Division club when they survived at that level for a third successive season after their promotion in 1976, the Bristol City Board had pushed the boat out by giving the vast majority of their squad very lucrative long term contracts which, from the outside at least, seemed to signal that they just had to stay in Division One to survive.
Of course, 1979/80 had brought the almost inevitable relegation and now at the lower level, the club were just not bringing in enough income to pay the wages. With gates and morale plummeting, results were even worse in the Second Division than they had been in the top flight and they came into the game all but relegated already. Anything else but a wurzels win that afternoon would consign them to the drop (neighbours Bristol Rovers had already gone) and, even then, City's much superior goal difference meant that they would need some big victories, and us some heavy defeats, if they were to overhaul us – as far as I was concerned, bogey team or not, everything was in place for an afternoon spent gloating at our main rival's demise!
Bristol still had a smattering of the players who had proved themselves up to the demands of the top flight for those three seasons, but with just seven goals scored and six draws to show from their nineteen away matches up to now, there were plenty of reasons to be confident that City would finally get it right against their local rivals this time. Given both sides' situation near the bottom of the table, the match was never going to be a classic and the first half saw a rare Steve Grapes goal being cancelled out by one from Kevin Mabbutt (who is probably now best remembered as Gary's brother, but, certainly early in his career, he had made quite a name for himself by scoring almost twenty goals in the old First Division).
Although I wanted the win, a draw which sent the wurzels down would not be a bad consolation prize, but after the break supporters were denied even that as normality was restored  with the wurzels getting the win which meant that they could keep on hoping, while we found ourselves in the last relegation spot one point behind Preston with three games left to play. Scottish midfield player Jimmy Mann was the Bristol City hero as he found the net twice in the second half and it is a testimony to how poorly City defended that the wurzels were not able to score more than a single goal in any other away match that season. Top scorer Peter Kitchen did reply for City, but a 3-2 defeat left us looking down the barrel as Preston pulled a further point clear with a 0-0 home draw with Blackburn the following night.
Two points from their game in hand with a priceless 1-0 win at Grimsby courtesy of an early Gary Stevens goal pulled City level with Preston and the Lancashire club's worse goal difference meant that, effectively, we were  a point better off than them. Things swung further in our favour the following week when Swansea did us a big favour by clinching their promotion to the top flight with a 3-1 win at Preston. While that was going on, we played out a home goalless draw against a Derby team that had challenged for promotion but now had nothing to play for.
City were now one point in front and with a better goal difference going into their last match, but as it was at home to runaway Champions West Ham, there had to be a good chance that we would have to rely on Derby doing us a good turn by beating Preston at the Baseball Ground. In the event, that didn't happen – Preston were 2-1 winners which meant that a defeat by the hammers would see us relegated, but a dogged rearguard action against opponents who gave the impression that they could have gone up another couple of gears if they really had to ensured another 0-0 draw as Ninian Park celebrated yet another last gasp escape from the drop.
As for Bristol City, a draw in their next game meant that any hopes raised by their win over us were quickly extinguished and they completed a hat trick of relegations a year later. The consolation for supporters though was that at least they still had a club to follow because I had watched them play at Newport in January in a game which was widely reported as being there last ever match – liquidation looked inevitable, but, at the last moment, the eight remaining players at the club on those expensive, long term contracts I mentioned earlier agreed to an offer whereby they received half of the money due to them on condition that they cancel their contracts with the club. Although the club continued, it was to be a long road back for them and our demise in the mid 80s helped to ensure that for the next twenty or more years all of the league derbies between the two sides would be lower division affairs, but, until that Thorne goal in 2003, the constant that remained was that we never beat them!
20 April 1981
Cardiff City 2 Bristol City 3
City  Healey; Jones, Pontin, Dwyer, Sullivan; Grapes (1), Ronson, Lewis, Micallef; Stevens, Kitchen (1) Sub. (not used) P Giles
Bristol City Moller; Stevens, Aitken, Marshall, Hay; Musker (Tainton), Fitzpatrick, Sweeney, Chandler; Mabbutt (1), Mann (2)
HT 1-1
Att. 5579