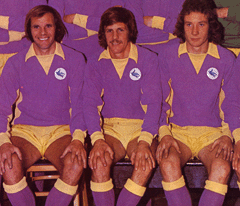 There's something about Reading at home in the Championship in November when it comes to Russell Slade's Cardiff City because on both of the occasions this match has taken place it has signalled significant changes in our season.
To be fair, it may be that last season's miserable game in which we turned a 2-0 interval lead against opponents who had been reduced to ten men for the whole of the second period into a 2-1 win which had us hanging on desperately at the end may have just been a personal Epiphany because it was the night I decided that I wouldn't be renewing my season ticket for 15/16 if we were still playing in red.
However, on balance, I would say that it was a night when attitudes began to change towards our new manager. I had been defending Russell Slade wholeheartedly up until then after a start under him in which we played some decent, if hardly spectacular, football but, despite the result, we were so poor in that game that I don't believe I was the only City fan who started to wonder about the decision the club had made in appointing him
That Reading game was the precursor to what was almost a year's worth of games at home where we gradually improved our results, but the matches, whatever the outcome, tended to be boring with little or no entertainment on offer.
Then, Reading turned up again on November 7 and something, which took me for one completely by surprise, happened – we started scoring goals at a much increased rate and became an interesting side to watch as I started going home from games thinking that, if nothing else, I'd been entertained.
Of course, as we are talking about Russell Slade's Cardiff City here, what you think would be a positive that signified a big stride forward, came with other factors which meant that, overall, we were actually in exactly the same place we were when we started or maybe even a bit further back!
I've produced some fun statistics (a geek like me finds them interesting anyway!) which show what I mean about one step forward and at least one back, but I'll come to them later because, for now, I want to talk about last nights' 1-1 draw with Nottingham Forest as a game rather than where it fits into the pattern of our season post Reading on November 7.
The first thing I'd like to do is address what sort of opposition we were up against last night. After the match there were those on City messageboards who described Forest as the worst team we have faced so far this season. Unusually for him, our manager was critical of our opponents as well as he accused them of "parking the bus" and said they would have needed snorkels if they had dropped any deeper.
Now, I think a few things need to be said here regarding Forest's, entertaining, televised 1-1 draw with Leeds on Sunday. The first is the obvious one that it took place a day later than our game at MK Dons, so Forest were playing for the second time in just over forty eight hours.
This leads me on to a second point. Although Forest kept the same keeper and back four from Sunday, manager Dougie Freedman's concern about having to play twice within such a short space of time was reflected in him completely changing the front six which started the Leeds match – of the half a dozen that featured against Leeds, only David Vaughan was missing from the Forest bench last night, so, at most, only one of them may have been injured.
Obviously, Freedman was indulging in some squad rotation and, although it would be simplistic and wrong to say that the six who came into the side were all second string players, it was still some way short of what most people would recognise as Forest's best side which took the field last night – certainly, I shifted my pre match prediction of a draw to a home win when I heard their line up.
The third point is that, even though they were playing at home on Sunday, Forest looked to play on the counter attack against Leeds, so, if Russell Slade was taken by surprise by Forest putting so many men behind the ball, he shouldn't really have been because, based on Sunday's evidence, they set up exactly as expected.
It would be fair to say that trying to break down a side whose main concern was presenting two banks of four (sometimes the eight outfield players had a reinforcement or two as well) can be difficult, but City found it pretty easy to make significant inroads in the game's opening stages – I suppose some of the reason for this was that the new look Forest side were struggling to get used to each other, but I believe they would have had trouble containing us with the likes of Lansbury, Oliveira, Vaughan etc. in their team at this stage.
Forest's goal came as early as the ninth minute, but, even so, that was still enough time for a few important events to come to light. First, Antony Pilkington was able to make it a hat trick of good headed chances missed in our last three home games, second Craig Noone (recalled to the starting eleven for Sammy Ameobi) established a dominance over visiting left back Michael Mancienne and, thirdly, I was able to sarcastically remark that Kenwyne Jones looked well up for the game – nothing that happened in the fifty five minutes or so that followed before his withdrawal for Ameobi suggested my early deduction was wrong.
When City fell behind, as Forest exploited a misplaced Joe Ralls pass, it was well against the run of play and, to be frank, it was one way traffic towards the visitor's goal for the next twenty minutes or so. With Noone playing as well as I've seen him this season during this spell (I didn't understand why he switched to the other wing given the way he had started on the right mind) and Pilkington also shining, there was a steady supply of crosses into the box from threatening areas.
However, apart from Aron Gunnarsson's rather fortunate equaliser courtesy of a big deflection which left DeVries in the visiting goal helpless, City were, just as on Saturday, unable to take advantage of their pressure. More chances should have resulted from our supremacy, but, as it was, Tony Watt (much less influential and impressive than in his other games for us so far) and Jones joined Pilkington in missing opportunities they should have made more of.
The direction of play remained resolutely towards the Forest goal throughout the first half, but the writing was on the wall in the ten to fifteen minutes leading up to the break because much of the earlier attacking pace and zip was disappearing from City's play.
Still, based on the evidence of the first forty five minutes, there were definite grounds for optimism for the second half, but what followed was a return to the days I had hoped had gone forever as Cardiff toiled at a pedestrian pace to create even half chances. The decline in Noone's level of performance was a barometer of what we were seeing – it was the boring, boring Cardiff of so much of 2015 all over again as they plodded away playing simple sideways and backwards passes seemingly as slowly as they could before one would get misplaced.
Forest had chances to exploit this carelessness, but, largely, seemed happy with the point they had and it was only in the closing stages when they created, and missed, the two or three best chances of the second half that they gave the impression they were chasing a win that I feel they could have snatched had they been a bit more ambitious.
As for City, all they had to offer throughout the second period was a Gunnarsson header which went some way over the bar, another deflected shot which looked like it may be beating DeVries until it flashed narrowly wide and a fine cross from Ameobi in added time that was scrambled clear with difficulty by the visitor's defence – apologies if I've forgotten anything there, but I'm pretty sure I haven't.
Five minutes after the restart, I was being sarcastic again (I often say that the old chestnut about sarcasm being the lowest form of wit is a true one, but it's hard not be at times where your football team is concerned!) as I remarked that Slade had really fired them up at half time hadn't he.
The title I've given this piece poses a question which hints at a reason for our recent second half problems, but I believe that, on balance, there is a more reasonable, and plausible, explanation for them.
To be frank, some City players looked knackered during the second half (in fact, there were one or two who were struggling well before that). I suppose that the holiday programme taking a toll can, possibly, partially explain this, but the truth is that, if we include the game at Birmingham as a holiday fixture, we will end up playing Saturday, Saturday, Tuesday, Saturday over the Christmas/New Year period – isn't that exactly the sort of programme we face in, say, November and February?
Surely, our players cannot be struggling for fitness can they? After all, much of the talk during pre season training and in the weeks after the proper stuff started was about how much fitter the squad was when compared with the previous season – indeed, I can remember Russell Slade saying two or three months ago that, whereas we were ranked twenty fourth out of twenty four when it came to levels of fitness when he took over, we were now the eighth fittest side in the Championship.
Leaving aside a slight doubt I have as to how "fitness" can be measured in the way our manager claims, I should state the obvious here and say that, both in terms of specialist knowledge and experience of having seen the squad train, I'm not in a position to comment about how fit or unfit the squad are at the moment.
However, it seems to me that a team that was deemed "fit" in October might not be in December if the approach to this aspect of the game is relaxed in the intervening period – certainly, those stats I mentioned earlier appear to strongly suggest that something has changed in the way the team are reacting as matches progress.
If we look at home games played before Reading's visit, the breakdown as to when goals were scored and conceded supports the suggestion that City were a relatively fit team.
We scored just one first half goal in these matches, but only one was concerned. After the interval, it was completely different, with us scoring seven and letting in three. To me, those figures suggest that, with more goals scored and conceded in the second half, fitness levels, naturally, start to flag, but the big difference between goals scored and conceded during this period make for a persuasive argument that we were fitter than most of opponents.
Contrast that with the post Reading match stats which, if the conclusion I draw from the earlier games is correct, then the evidence is certainly damning and suggests the complete opposite applies.
Seven first half goals is a huge contrast with what happened before and undoubtedly reflects the more positive attitude of the team. One goal conceded in the opening half is good by any standards, but, we've only scored three times after the break in these matches, while six have been conceded – that has to be very suggestive that we are not lasting the pace as well as our opponents now.
I find the huge contrast between when and how the goals come in our home matches staggering. Away matches are not as revealing, but, if I had to draw a conclusion from them, it would be that, generally, we are not as fit as the teams we  face – before Reading we scored seven times with three in the second half, after Reading we've scored one  first half goal and three second half ones, while two and five have been conceded respectively.
With Ipswich extending the gap between us and sixth to six points after their win at Brighton, there are dangerous signs that this season is beginning to go the same way as the previous one did. There was little faith in our manager and team before our last three matches at a time when we were throwing away two goal leads, but one point from nine since then against teams we have generally dominated tells its own story.
I've spent the first half of the season saying that a couple of good signings can turn us into a Play Off team, but recent events have made me revise that opinion – we probably need double that number in January and I wouldn't be too displeased to see two or three who were involved last night moving on as well.
One last thing about last night, the scorer of Forest's fine goal, Ollie Burke, (who also impressed when he came on against Leeds) is eighteen years old, but that can't be right can it? Aren't the current rules that any teenagers on the books of a Championship club cannot be selected for first team football and must be sent out on one of the five or six loan deals they have to go on before they are deemed ready for senior football at this level at the age of around twenty five? Sorry, I'm indulging in that lowest form of wit again there!
Finally, can I wish all readers of this blog a Happy New Year.   

*photos courtesy of https://www.flickr.com/photos/joncandy/