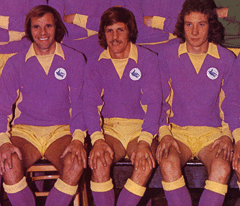 With his contract due to expire in less than two months time, Cardiff City manager Russell Slade's future at the club had become a matter of widespread speculation in recent weeks. Certainly, it is unusual for someone who is wanted by their club to have to wait so long for confirmation that they will staying and so, inevitably, the lack of a new deal, or even news that negotiations were taking place. led to many surmising that Mr Slade was on his way out.
For myself, I tended to think that, with the declared aim coming out of the club at many different levels being a top six finish, the ground had been laid for an official view that Mr Slade had "failed" by coming up short of this target and so he would be leaving shortly after the season ended.
However, Vincent Tan's Cardiff City is hardly your average football club and, no matter how "informed" much of the speculation claimed to be, it was little more than just guesswork. In reality, there was only ever one man who would be making the decision and the only predictable thing about Mr Tan's time in football so far is his unpredictability!
So, all that is being written on the subject of the decision to move Mr Slade "upstairs" to become Head of Football at the club as revealed in this statement on the club's website yesterday afternoon has to be done so against the backdrop of what Vincent Tan has become in terms of his attitude towards "football people" and how he is  perceived by those who make their living from the game.
Just in case you missed it the first time the word "Trusted" appears in the statement, Vincent Tan wastes little time in repeating the message early in his contribution when he says "Crucially, he (Mr Slade) is a man who I have been able to trust.".
The word "crucially" is so significant there I feel. Mr Tan, obviously, feels his trust was betrayed by a previous manager of the club and earlier departures of Gethin Jenkins and Alan Whiteley from Chief Executive type posts at the club is suggestive at least of someone who has struggled to come to terms with working with people experienced in sports management.
Whatever the truth regarding the relationship between Vincent Tan and Malky Mackay and the reasons why it broke down so spectacularly, and damagingly, it has had an impact on the club which cannot be overstated. I believe that the biggest thing Russell Slade had going for him in Vincent Tan's eyes was, to borrow from another strong and overpowering personality, that they could "do business together".
Now, many in Mr Slade's vast army of critics among the fanbase will argue that the reason he was trusted so much by our owner was that he was a yes man who indulged Mr Tan's original and novel thinking on the game and how it should be played. However, for now, that is only more speculation. What would appear to be true is that Russell Slade is a decent man working in a profession where our owner, maybe rightly, believes that there aren't too many such men around.
Therefore, I feel it's reasonable to assume that the decision to relieve Mr Slade of his managerial responsibilities was not taken easily by the club's owner – there's also the fact that, right from day one, Vincent Tan made it clear that, unlike with previous managerial appointments, Slade was his personal choice to consider. In such circumstances, is it too much to assume that the Head of Football post that has been given to Mr Slade is in appreciation of what is regarded as being a good job done under very trying circumstances?
As for what a Head of Football at Cardiff City will do, sources at the club are, apparently, saying that it will not be like a Director of Football post because Mr Slade will not have a seat on the club Board.
Certainly, the wording of the club statement is sufficiently woolly and non committal to allow a feeling that the mechanics are in place to allow Russell Slade to gradually fade from the scene at the club until the news of his final departure, when it breaks, would pass almost unnoticed. However, my feeling is that Vincent Tan will not want that to happen, in the short to medium term at least, and I'd guess that Russell Slade will still have some influence when it comes to things like recruitment and the overall direction of the club.
This leads me on to the new Head Coach role. Those sources at the club I mentioned earlier are saying that we will be looking for someone who is young, dynamic and, perhaps very significantly, willing to accept a stats based approach to the job – if Russell Slade was, maybe, seen as "old school", it is likely that the new man will be one of the new breed of managers in the game.
On the face of it, that would seem to open the way for Craig Bellamy who has been taking his time to acquire as much know how as he can by taking in different approaches in different countries before taking the inevitable plunge into management.
For me, Bellamy would be an ideal fit in so many ways. He has been a supporter of Cardiff City for decades, he knows the club, has given his time freely to help the Club's Academy since retiring from playing two years ago and would certainly fit the young and dynamic requirement – a Bellamy appointment would, no doubt, galvanise the fanbase in a way that Russell Slade never could.
However, it would appear that Bellamy will not be a contender if the local press are to be believed because the club are looking for someone with previous managerial experience. Now, could this proviso, if it does exist, be in place precisely because it rules Bellamy out? Could it be that one or, possibly, both parties, have serious doubts as to whether a relationship between someone as combustible as Bellamy and as "hands on" as Tan would ever work? Could the fact that Bellamy might be seen as too strongly linked to Malky Mackay rule him out?
I'm just indulging myself in a bit of speculation of my own there while recalling that Vincent Tan was, apparently, happy to offer Bellamy a managerial position on a temporary basis after Mackay had left the club. The relationship between the two men may have changed in the intervening period of course, but, on the face of it, that earlier offer hardly suggests that Bellamy is a definite non starter when it comes to the new post.
It should not be forgotten either that when Russell Slade was appointed around eighteen months ago, the club's first instinct had been to go for someone who would appear to have exactly the sort of CV they are now looking for.
The move for Dundee's manager Paul Hartley was over almost as soon as it began. It was unclear at the time whether our interest in the former Bristol City player had ended because his club had denied us permission to speak to him or not, but, subsequently, it emerged that Hartley was never interested in coming to Cardiff.
This story from February of last year sees Hartley talk frankly about his reasons for staying at Dundee and it's hard to avoid the feeling that there may be other potential targets this time around who will be thinking something similar to "There was a lot of stuff going on at Cardiff City that wouldn't have made the job entirely mine, in terms of decision-making, so I just felt it wasn't for me.".
What cannot be denied is that Vincent Tan's profile at Cardiff City is lower now than it was when we were last looking for a new manager, so it could be that the issues Hartley talked about are not as relevant today, but I cannot see that the perception of our owner among many of the football people I mentioned earlier will have changed too much over the past couple of seasons.
Rightly or wrongly, Vincent Tan is still perceived in a certain way by many in football and I think it would be naive to expect that there aren't going to be some who might have been interested in such a post at a different club being put off because it is at Cardiff.
All of this makes me think that we probably shouldn't get too carried away in our speculation as to the sort of Head Coach we are going to have next season because it seems to me that the more high profile the candidate, the less Vincent Tan might feel he can trust them, while, conversely, those with the biggest reputation will probably feel that a job at Cardiff means too much off stage direction for their taste.
I've been wrong so many times on here before, so I'll willingly accept that I could well be miles out here, but my guess is that our new man will be either from within the club, someone from the lower divisions (Neil Ardley? Michael Appleton?) or someone from continental Europe that most will never have heard of.
Anyway, let's finish by talking about the man who has been managing the club since October 2014. I've got an inkling that Russell Slade's stock among Cardiff fans will rise with the passing of the years, because, when all's said and done, the general view from outside this area that he has done a difficult job in very testing circumstances pretty well will have to be acknowledged.
To have to oversee a big reduction in the wage bill while having little to spend (by comparison with his immediate predecessors at Cardiff and many at other clubs in the Championship) and still, slightly, improve his club's position in one of the most competitive and demanding leagues around cannot just be dismissed out of hand like so many of his critics do week after week.
Russell Slade could have been a disastrous appointment given his background of almost completely having worked in the lower divisions without managing a single promotion in more than twenty years, but he wasn't, and he can leave his job feeling that he has proved that he can manage pretty effectively at this level.
There is another side to this though. Sometimes your judgment can be adversely affected by being too close to the action and I daresay that many of those in other parts of the country who will be thinking Russell Slade has been hard done by will be thinking that today.
However, I have to say that if you have been watching Cardiff play regularly since autumn 2014, you have been spending your time looking at something that could be described as "functional" at best. I've said consistently on here that home games over the past six months have been a lot more watchable than they had been, but I also realise that we're talking about a very low base here – last season was among the most deadly dull I've ever watched at Cardiff and the early stages of this campaign weren't much better either.
One of the reasons for me saying that Russell Slade will be better appreciated among Cardiff fans in, say, ten years time than he is now, is that memories of his football philosophy and tactics will have faded by then. Mr Slade is the Cardiff manager who made me realise that I do want to be entertained when I watch my team play – I thought that the result was everything when I was watching City play, but I don't anymore.
In ten years time the fact that we went into a match we had to win last week, with a team set up to "stay in the game" and that we used to take the ball to the corner flags in the closing minutes when we were two goals up will be fading memories. However, I will never completely forget them because they go right to the heart of what Russell Slade's management of the first team was based on – I honestly don't think he fully believed in himself at this level and it showed in the fear based approach of his teams.
My overriding memory of Russell Slade though will be of him being the worst Cardiff City manager I've seen when it came to youth development. He's got today's game with Birmingham to go yet, but, even if he were to fill the team with young players this lunchtime, that wouldn't change my opinion when it comes to this facet of the game.
There's no point me going into more detail here (I've done that more than enough times in the past), but, apart from Joe Ralls, who had played in around fifty Championship matches already and started a League Cup Semi Final nearly three years before Slade arrived, I don't know of one young professional at the club whose career has progressed under him.
Tellingly perhaps, Wales Online were saying the following yesterday;-
"From what we can gather, another MUST from the new manager/head coach is that he is prepared to give youth a chance. That is a big mantra for Tan, who wants to see home-grown Welsh players wearing the blue of Cardiff City. Many fans have complained recently that Slade has not given any local youngsters their opportunity. Indeed, Declan John was bombed out of the team, with Slade preferring Scott Malone. Can anyone really say Malone is a better left-back than John?"
Now, it needs to be said of course, that just picking kids for the sake of it would be as bad, if not worse. than not picking them at all – they have to be good enough to have earned their chance. However, I'll always be of the opinion that there are players at the club (and one or two who have now left) who had done enough to at least be given opportunities to show if they were able to cope at first team level – other managers did this in various Cup matches, Slade never did and he also had two months worth of meaningless games at the end of last season in which he chose not to give a single youngster a debut.
Hopefully what Wales Online said in that paragraph above is true, because, if it is, then the powers that be have realised the potential long term damage Russell Slade's approach was causing – based on the evidence of the last eighteen months, I hope and trust that Mr Slade's brief as Head of Football does not extend to the Academy and youth development.
I'll finish by saying that just because I thought he was a dreadful Cardiff City manager in one particular facet of his job, this shouldn't mean that I allow it to completely cloud my judgement of him. As I mentioned last week, I believe Russell Slade has proved over a period of years that he can be an effective "fire fighter" at a club and I repeat that I feel it will eventually be generally accepted that this is what he did at Cardiff. It appears that the club want more than that now though and I agree with them, while thanking Russell Slade for the work he did in "steadying the ship" at first team level.