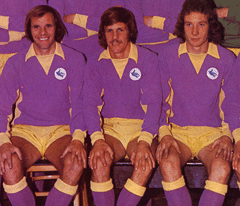 I didn't mention it at the time because I was thinking that by not saying anything I would somehow stop it happening, but as we were hanging on to our single goal lead for that final twenty minutes I had the vision of Billy Davies celebrating late equalisers for his sides at Ninian Park in my mind's eye.
Back in 2005, Chris Sedgwick scored in the last minute to secure a 2-2 draw for Preston and the following year, Giles Barnes' magnificent volley in time added on enabled Derby to somehow escape with the same scoreline after taking a pummelling from a City side that did manage to make it to top spot in November (there is plenty of time left yet for the current side to do that mind).
On both occasions, the sight of Billy Davies celebrating in front of the dug out stuck with me as much as the actual goals themselves and now I'm afraid there is a third goal to add to that collection. The strange thing is though that although on one level Forest thoroughly deserved their equaliser, City had been holding on pretty comfortably until McGugan's goal – yes, they did sit deep and invite pressure, but, for all their possession and territorial advantage, Forest were not creating chances and it needed a large slice of luck in that the ball was in contact with three City players in the five seconds before McGugan's shot for them to claim their point.
The thing is though that there has to more than just luck behind the fact that in three of his last four visits to Cardiff, Billy Davies' teams have been able to claim a point with late, late goals – it probably has something to do with him being, at this level at least, a very good manager.
You don't have to know Davies too well to realise that he will always turn out motivated sides who keep on going right to the end, but, if there is one thing that he is recognised for above all else it the amount of preparatory work he does before matches.
Whenever pundits talk about Davies, they nearly always bring up how his teams are so well prepared for the way the opposition play. We saw that attention to detail last night in little things like sticking  Paul McKenna directly in front of Jay Bothroyd and his marker when David Marshall opted to kick it long with the result that the Forest captain was very often able to win an uncontested header as one of City's main attacking ploys was often cut off at source.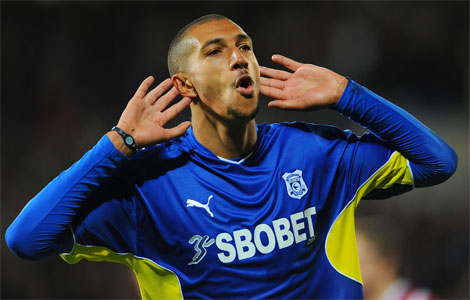 Mention of Paul McKenna takes me on to the subject of the 4-4-2 v 4-5-1 debate because yesterday's match was an interesting example of the advantages and disadvantages of the two systems.  For me, there is a strong argument for saying that McKenna has been the most influential midfield player at this level in the decade that is now coming to an end. I am not saying he is the best midfielder to have played in the Championship in the past ten seasons there, but I would say all of the better ones have spent much of that time playing at a higher level whereas McKenna has been around every year.
McKenna was very influential at Preston in a team which nearly always played 4-4-2, but, by putting him in with four other players with techniques good enough to play at Championship level in a 4-5-1 formation, you are virtually guaranteeing that your side will have a monopoly of possession in a league match played against any opposition playing 4-4-2.
So it was yesterday as Forest were able to weave pretty patterns in the middle of the park which made our efforts to string a sequence of passes together look pretty feeble in comparison, but, for all their possession, Forest were largely unable to create anything tangible from it once City warmed to their task after their all too common slow start had led to the visitors having opportunities to put us a couple of goals down before we started playing.
Once we did start though, there is no doubt that it was City who carried the greater goal threat because, although they weren't getting a half share of possession, their more direct approach ensured that when they did have the ball up the pitch, they always had two there to try and exploit the situation as opposed to Forest's lone striker approach which means that the ball always has to "stick" with their front man to enable midfield runners to join him.
That is one of the advantages of 4-4-2 over 4-5-1 and Dave Jones appears to be of the opinion that it is worth sacrificing possession at times as long as this means that you have greater potency up front when you do get the ball in forward areas. With Burke and Whittingham joining in as well when we are in possession in the final third of the pitch, we are effectively playing 4-2-4 when we attack and our goalscoring record this season is testimony to the effectiveness of the system we use – one of the downsides though is that our whole team has to spend a lot of the match closing players down when we are not in possession and, working on the theory that you expend more energy when you are not in possession than you do when you have the ball, this puts a big strain on the fitness levels of our team.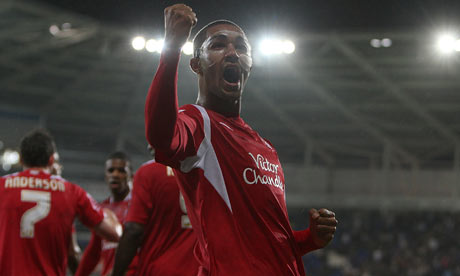 Like many others, I criticise our midfield much of the time for being outplayed by their opposite numbers, but when you realise that they are often up against opponents who have a one man advantage over them, it is no wonder that you often get the impression that Ledley, Rae and co are chasing shadows as the opposition midfield knock it around amongst themselves.
As the current team is definitely in the top three that I have seen play for us since 1963, we've got to have good midfield players and I am sure that if Dave Jones opted for a 4-5-1 formation, we would pop the ball about in the style Forest did last night when we played a side using 4-4-2 – I am pretty certain though that we wouldn't have scored as many goals as we have done if we had been operating with a single front man.
However, as I mentioned earlier, playing the way we do puts a strain on our player's stamina levels and that is one of the main reasons why I felt that, although the sides were evenly matched and a 1-1 scoreline was probably fair, it was Billy Davies who won the battle of the managers yesterday. While Davies changed to 4-4-2 in the dying stages to try and salvage something from the game, Dave Jones seemed happy to keep things as they were in terms of formation and the eleven he had on the pitch. Hindsight is a wonderful thing of course, but, even at the time, that looked a policy which was open to question and seeing that Michael Chopra picked up his booking, which means he now faces a one match suspension, after Forest equalised when he could and perhaps should already have been replaced by Ross McCormack then you have to wonder about Dave Jones' thinking.
In terms of formation, it could have been helpful to switch to 4-5-1, or even 5-4-1, because that would have ensured an extra body back there as Forest pushed forward, but, I wouldn't criticise Dave Jones too much for sticking with 4-4-2 – the problem for me was that, by not utilising his substitutes for players like Chopra, Burke or Whittingham, we  stopped putting pressure on the Forest defenders when they had the ball because we just didn't have the legs to do that any more.
It wasn't just that though. Simply put, it had to be to Forest's benefit in those last few minutes that they had three players on the pitch who must have been fresher than anyone in a blue shirt was – would McGugan have been able to take his chance so well, if firstly, he had been chasing about for ninety odd minutes rather than just a quarter of an hour and secondly, would a fresh substitute have produced the miskick that 33 year old Mark Kennedy did to help McGugan along the way?
It's so easy to blame the manager when things don't quite work out and Dave Jones still has plenty of credit in the bank this season as far as I am concerned, but, I think he could have made it tougher for Forest by using his substitutes. After all, he often talks of the stronger bench we have had in recent weeks so why not make use of it – players such as McCormack and Gyepes proved themselves to be good enough at this level last season for a start. Dave Jones was right – we did sit too deep and maybe he was telling his players that at the time, but the message didn't get through and  I just don't think that it was one of his better days yesterday.
Finally, just a few words about the game itself. I found it a fascinating match between two good and evenly matched sides – the quality on show must have impressed the national television audience who tuned in and, although the eventual outcome was such a disappointment, it did offer further confirmation that there have been very few better times to to have been a Cardiff City fan than the present day in the last fifty years.