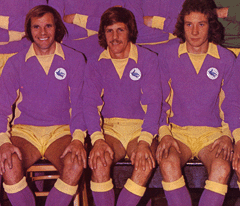 So, a little over a year after starting this blog off, this entry becomes the hundredth time Messrs Woodruff, Reece and Kellock have put in an appearance on here in that bloody awful kit from nearly forty years ago. I only noticed this morning that I was just about to reach my century, so I can't say that I had given any thought beforehand to what this entry should be about, but, given the way the past nine months especially have gone, I would have thought that the odds would have been on it being an analysis of the latest financial crisis to hit the club.
Over the close season I posted weekly updates on here which made for pretty depressing reading as what I had hoped would be reports of squad strengthening instead turned into estimates as to when the reasons for us being under a transfer embargo would be sorted out and whether the planned High Court case for 11 August would go ahead. Things got so bad that on 25 July I wrote;
"This blog will be celebrating it's first birthday within the next week, but, for the first time, contributing to it has become a chore not a pleasure. The unremitting stream of bad news stories that Cardiff City fans have had to endure this summer has to start sapping one's enthusiasm eventually and within the last week or two it's become harder for me to maintain the sort of optimism that fans of every club in the country should be feeling around this time of year."
I am pretty certain that I wasn't alone in feeling so down about the club and the new season which was only a fortnight away. The hangover from defeat at Wembley always meant that it would be a pretty miserable summer for City fans, but the drip, drip of bad news stories on almost a daily basis was doing absolutely nothing to dispel the gloom – so how was it that, around three weeks since I had written of my disenchantment, this 54 year old went down to Cardiff City Stadium almost floating on air yesterday afternoon and in a state of high excitement which reminded me of those days from my youth, which I never thought I would experience again, when watching us play was just about the most important thing in my life?
Well, the lifting of the embargo contributed a little towards the transformation, as did the return of Jason Koumas, the signing of Seyi Olofinjana and a good win at Derby, but, with due respect to the two players named who are good enough to have  a major influence in the team this season, it was the arrival of Craig Bellamy (yes that's Craig Bellamy!) on a season long loan deal from Manchester City that was almost wholly responsible for the change of mood.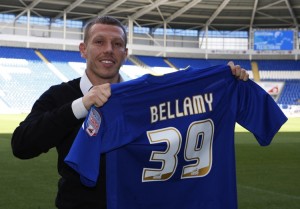 I think it's fair to say that I was a bit more optimistic than many others that there just might be something to the summer long speculation that linked us with Bellamy, but, if I am being honest, I never really expected it to happen. Yes, those comments last week before the Wales v Luxembourg match re emphasised that it wasn't complete pie in the sky, but, come on, players of Bellamy's standard don't drop a division to sign for their home town club having just had what was, arguably, their best season in a long career do they.
I think I have mentioned before on here that sometimes I try to imagine how I would react if another Championship side had done something which City had and when you apply that test to the Bellamy situation, I think I would be absolutely amazed and more than a little jealous if someone of his stature had done something which, in terms of age of player, is akin to Gary Lineker signing for Leicester just after he had won the FA Cup with Spurs back in 1991.
As the doyen of Cardiff City messageboard posters Caliburn never stopped reminding me, I got a little bit excited when we signed Robbie Fowler, but there was always that realisation that he was a player with injury problems who had been in decline for years – Fowler's reputation made him a very, very high profile signing by our standards, but I don't believe there was total surprise from most Cardiff fans when it all turned out like it did. The situation with Craig Bellamy is completely different – yes, he has long spells out with injury during his career and he has a history of knee problems, but seventy two games for club and country in the past two years confirms the feeling that the training regime tailored specifically for him that he has been following lately has worked.
The deal to sign Bellamy is being widely described as the biggest in City's history and I find it hard to argue with that point of view – certainly, I've not seen anything like it in my near half a century of supporting the club. My parents used to tell me about the impact the signing of Trevor Ford in 1953, for what was a huge fee in those of £30,000, had nationally when he arrived from Sunderland and there are definite similarities between the two transfers – Ford was just a few months younger than Bellamy is now when we signed him, he was no stranger to controversy and, by all accounts, was a fine player. However, City were into their second season of a five year spell in the old First Division then and so that makes me think that signing Ford could not be seen as the sort of coup that bringing Bellamy to Cardiff is.
Of course, it was somehow typically Cardiff City that their big day was slightly tarnished by news that Motherwell were demanding payment of the rest of the Paul Quinn transfer fee having taken City to court in Hamilton last Friday on the matter. It had been widely assumed that this debt had been settled and the fact that it hasn't been is a reminder that our financial problems have not gone away. There are plenty of questions raised by this historic transfer, but they are for another time – for now,  welcome to Cardiff City Craig Bellamy and  thank you for making my hundredth entry on here such a pleasure to write.