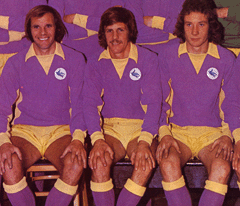 Having gone with a very young team for the 2-1 defeat at Coventry in their first competitive match of the season last week, the opening home game of the campaign last night saw a change of emphasis as more players with first team experience were brought in with Matt Kennedy and Kadeem Harris starting along with Semi Ajayi who was an unused sub in the first team's opening two games.
By contrast, opponents Sheffield Wednesday had a squad without a single name I recognised and one look at their starting eleven confirmed the impression given by the team sheet that it was a very young side indeed – I did overhear some Wednesday fans behind me saying that the centre forward George Hirst was the son of David Hirst. I often moan at how anyone who played as a sub for thirty seconds twenty years tends to be labelled a "club legend" these days, but in David Hirst's case, the term is justified at Hillsborough.
So, on the face of it, this seemed like an ideal opportunity for City to pick up their first points of the season – possibly with a big win. In the end, that's how it turned out with the 3-0 scorleine possibly flattering Wednesday a little, but for the first three quarters of the match, the visitors did a more than adequate job of containing a toothless Cardiff side and it needed the introduction of someone who has been in danger of becoming a forgotten man at the club over the past year or so to turn things around.
Perhaps a few regular members of the team would have known that the Under 21s have had problems scoring goals lately in home games, but I suspect it's only boring stattos like me who are even aware of things like the fact that they had only found the net in one game at Cardiff City Stadium in 2015 before last night. Nevertheless it put me in a frame of mind where I was just not expecting to see a goal from City  - my old failing of reading too much into things surfacing again then and yet, for long stretches of last night's game, City played as if they were all too aware of this fact and, not only that, they were intimidated by it.
Inside the first thirty seconds City moved the ball out to put right back Jazzi Barnum-Bobb in a decent crossing position in pretty impressive style, but nothing came of it and this turned out to be a preview of what was to come over the next sixty five minutes or so. Wednesday had a pretty limited game plan whereby they were content to get eight outfield players (often more than that actually) behind the ball and hope to use their speed on the break to nick a goal (once they broke very dangerously from a City corner with the carelessly struck shot that ended up high among the Canton End seats coming some ten seconds or so after Kennedy had taken his flag kick).
Despite their negativity, Wednesday could claim the only on target effort for most of the first half as an early shot was comfortably dealt with by home keeper Luke O'Reilly. At a conservative estimate, City must have had about 65 per cent of the possession, but they were doing little worth noting with it. The plan seemed to be to get the ball out wide and find space to deliver a cross. With a surfeit of neat, technically good, players in the middle of the park, they were able to do this – the problem was that the final ball nearly always lacked the required quality or imagination.
Rhys Healey looks like he may have grown and filled out a bit in recent months, but even so he was giving an inch or two to the visiting centrebacks and with him often being the only target for crosses from open play, it needed more thought than just knocking over routine high balls in his direction. Wednesday may have been younger than City, but they still generally had a height advantage on their opponents – there was a credible aerial target to aim for when Ajayi came up for free kicks and corners, but if they could deal with him, then Wednesday probably felt there they were safe when defending dead ball situations.
The enormous distance Ajayi was able to get on his defensive headers was one of the few things which took my eye from a City perspective in the first half – there was another quietly assured and impressive showing from young Robbie Patten in the holding midfield role as he carried the form he showed for much of the Academy team's 14/15 campaign on into the higher level and the likes of captain Tommy O'Sullivan and Harris showed what tidy players they can be on occasions, but none of it really suggested much in the way of an end product.
Nevertheless, the closing minutes of the half did offer some hope as a brave block by visiting captain Will DeHaviland diverted a goal bound Harris shot for a corner and the winger wasn't that far away with another effort shortly afterwards, while Kennedy saw an angled effort turned for a corner by McDonagh in the Wednesday goal.
Mention of Kennedy takes me on to the show boating he was coming out with in front of the Grandstand in the opening stages of the second half. Now I'm not averse to City players indulging in such tricks at all, but I'm much more impressed with them when we are goals ahead and the game is won. Fair play to Kennedy, he was playing very well by the end showing  a level of skill and creativity which was worthy of a much higher standard match than this, but if I had been a Wednesday defender watching all of those tricks while it was 0-0, I would have been thinking something like "yeah, very good, but what are you actually doing to hurt us"?
Anyway, I should mention that, although they were probably even less of an attacking threat in the second forty five minutes than they had been in the first, the visitors did come the closest there was to a goal for three quarters of the match when half time substitute Warren Clarke fired narrowly over the bar within seconds of coming on – for the rest of the time it was more backs to the wall defence by Wednesday with increasing hopes that they could keep a clean sheet.
By now, City were at least getting a different sort of cross into the box, but it was typical of the way things were going that, after a fine run, 17 year old left back Rhys Abbruzzese's low cross to around the penalty spot was overrun by about four attackers. However, a miskick by a Wednesday defender presented the ball to O'Sullivan twenty yards out only for his quickly hit shot to be turned around the post by McDonough. Still, City were getting closer and it did offer the hope that they could break the deadlock – it was now that the change which transformed things took place and within ten minutes City were coasting at 3-0.
In January it will be four years since Theo Wharton made his first team debut when he came on as a sub in a 4-2 defeat by West Brom in a Third Round FA Cup tie, but I probably first saw him play about two years before that. It didn't take long for me to be impressed by him and, until last season, it seemed to me that he may well make it into the first team on a pretty regular basis. As the years went by I became convinced that Wharton had virtually all of the attributes a modern central midfield player needs – he had great stamina, was no slouch, had a wiry strength, could tackle well, could pass well and had quick and skillful feet, but last season didn't go well for him as he missed a fair portion of it through injury and, when he did come back late on in the campaign, his game did not have it's usual "snap" to it.
I mentioned the young team the Development team put out last week and it absolutely amazed me that Wharton was, first, on the bench and, second, not used at all – I can only assume that he wasn't fully fit, but then why bother having him in the squad in the first place?
Now, it may well be that Wharton will have to leave Cardiff to play first team football, but, as soon as he replaced Jamie Veale, who certainly didn't look out of place at this level, he played with the sort of dynamism in the middle of the park that many say the first team lacks. With his first touch, he flicked the ball around an opponent and ran thirty yards with the ball only to slightly delay his pass to Healey with the result that the striker wandered offside.
There was a double irony to what Wharton did next. My one consistent criticism of him has been that he doesn't score enough goals and yet, with Wednesday having dealt so well with high balls into the box until then, they left Wharton unmarked as he headed Kennedy's corner in from six yards.
You often hear that it's so much harder physically to play without the ball than it is with it and this seemed particularly relevant to Wednesday after they went a goal behind as a combination of tiredness and, probably disappointment at the realisation that there was, almost certainly, no way back into the game for them left them looking very deflated. The visitors were there for the taking now, but, to be fair to City, they did a very good job of cashing in on their opponents discomfort.
Within six minutes it was 2-0 as Wharton put in a fine tackle to win the ball around the half way line, fed O'Sullivan and burst forward on to the return pass to finish impressively from about fifteen yards. No sooner had Wednesday restarted than they were picking the ball out of their net for a third time – Healey eventually finishing things off this time time after McDonough blocked O'Sullivan's shot.
Healey had made a habit of scoring at least once in a home game at this level in his early years with the club, but he looked a player down on confidence for much of this match, yet, in many ways, his performance matched that of his team as he improved markedly in the last twenty minutes. Healey now began to win a few of those crosses in the air, heading straight at McDonough  when well placed and then glancing a more difficult chance narrowly wide, before he showed that strikers instinct, which I believe comes naturally to him, when quickly turning and firing a twenty yard shot narrowly over to end one of the best moves of the game.
Some of the close passing and control with Kennedy, Wharton and O'Sullivan in particular to the fore in the closing stages was a delight and it was a shame that Russell Slade, who had to leave at half time, saw the pretty turgid opening forty five minutes rather than what followed it. Truth be told, there will be much tougher tests to come over the coming months than this, but, at least, a few of our younger players were able to send out a reminder of their capabilities, with one of them in particular letting everyone know that he was still very much around.