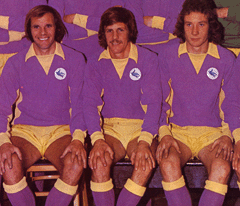 Last season we had this player who scored a few goals and played well for us at times, but, as the campaign wore on he became less and less influential until, like so many others in the side, his impact on those last four matches was minimal. This season what appears to be that same player is still in the side, but he just can't stop scoring – yes, after last night's hat trick, I think it's fair to say that we have Michael Chopra back and he is showing the form that made him a £5 million player in 2007.
Chopra's goals last night ensured City went back to the top of the Championship (okay, tables don't count for much at the moment, but I'll just repeat that for anyone who missed it – that's the top of the Championship!) with a 3-1 win at Plymouth achieved with side that lacked four members of their likely first choice starting eleven, was missing three other injured first team squad members, featured a seventeen year old kid making his first full appearance and had three teenagers without a single starting appearance in the first team on the bench.
Now I know that our squad needs reinforcing and it is true to say that there are harsher tests to come, but, given the number of players we had out, this was a very impressive result which tends to prove that, despite my fears before a ball was kicked, any reaction to what happened at the back end of last season has been a positive one so far.
Just as at Blackpool, we had to dig deep in the second half and I have read that we "rode our luck" at times after the break, but, by the sound of it, Plymouth were the ones doing that in a first period when we could have been ahead by far more than just the single goal and when the opposing manager says "But take nothing away from Cardiff. They are a better team than us and they are further down the road than us.", then you know that any riding of luck on City's part played a pretty minor role in the final outcome.
One thing that was very encouraging for me was to hear of the link up play in the first half especially between Chopra and Jay Bothroyd. It's strange how things can go in football because before the season proper started eleven days ago, we had gone three matches without scoring, but now we have eleven goals from four competitive matches and I believe a lot of this is down to the close passing style that we seem to have adapted this season amongst our more forward thinking players. The Scunthorpe and Dagenham matches were notable for the way opposing defences struggled to cope with this approach and, besides the two already mentioned, players such as McCormack, Whittingham, Ledley and Burke are suited to this sort of game because they are talented enough (as well as being willing to go to ground enough!) to draw fouls from defenders when tackles are slightly mistimed.
Mention of Chris Burke brings me around to someone who I think can be a really big player for us this season. People say that Wayne Routledge would be some sort of missing piece in the jigsaw for us, but it seems to me that we have someone here already who compares pretty favourably to him – Burke may not be as quick as Routledge and probably won't get as many goals as he would, but the way he drove at Plymouth defenders to earn the penalty last night and the way that he used skill to earn the one against Scunthorpe shows that we have a right winger who can be effective using a direct style or one which relies more on ball playing. Like many wide players, Burke can sometimes drift out of matches, but, if we can give him the service, I reckon we will have one of the better wing men in this league on our hands.
Whilst talking of individuals, I must say something about Adam Matthews. I get great enjoyment out of watching a player that I have seen at Academy level and thought "he's got a chance" about break into the first team. In the case of Matthews mind, I can't claim any great talent spotting ability on my part because, for the last season and a half or so, it's been pretty obvious that he has more than a chance – he's, nearly always, been the stand out City player for me in the Academy games I have watched. It's only one game of course and I hope people don't start calling him the new Aaron Ramsey and all that sort of crap, but, potentially, we do have a serious player on our hands and, although I am always reluctant to to say this sort of thing about a kid, I would not be too surprised to see him being considered to be the best attacking full back on our books by the end of this season.
However, despite the contributions last night by the likes of Bothroyd, Burke and Matthews, I just have to finish by talking about Michael Chopra. Early season evidence strongly suggests that the heal injury we kept on hearing about was the cause of his substandard displays in April and May and that doubters like me were wrong to think that it might be down to his off field problems and a changed attitude having got his big money Premiership move.
Chopra admits himself that he is getting the rub of the green in front of goal at the moment, but the thing about him is that he knows that he is definitely good enough at this level to take advantage of that luck and get on a goalscoring roll which can take him well into this season. There are going to be dry spells over the next nine months of course, but, he has done enough already to have opposing teams have to draw up special plans to try and deal with him (would that really have been necessary at end of last season?) which, in turn, should provide a bit more space and time for others around him – the early indications are that, although another striker and central midfielder are a must in my book, we already have players who are good enough to take advantage when that happens.
*Originally published on 19 August 2009.