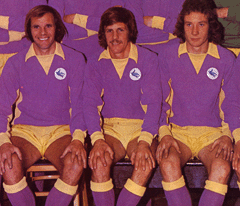 Most players tend to work their way from front to back as they get older – the teenage striker quite often ending up as the thirty something full back but Bobby Woodruff was proving to be an exception to that rule in the 1972/73 season as the thirty two year old who had played nearly all of his football in midfield for Cardiff since signing from Crystal Palace for £25,000 in November 1969 found himself used as a striker alongside new club record signing Andy McCulloch.
Mention the name Bobby Woodruff to most City fans of a certain age now and I daresay the first thing they'd remember would be his long throws (I certainly do) – it was generally regarded at the time that he could propel his throw ins further than any other player in the game (I seem to remember a televised competition which he won in competition with other long throw experts like Ian Hutchinson of Chelsea). However, there was much more to Woofruff's game than that, he was a stylish and skilful central midfield player, he was a very reliable player who rarely missed games through injury and suspension (in fact, I can't remember him ever getting booked) and he possessed a fierce shot from long distance. Besides all of that, Woodruff was also tall enough to make an effective target man type striker and it was in this role that he was being used at that time with McCulloch as Jimmy Scoular tried to recreate something similar to the very successful Toshack/Clark partnership of a couple of years earlier (Brian Clark having been sold to AFC Bournemouth a few weeks earlier).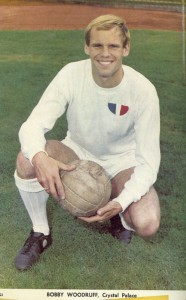 City's dreadful away form (they didn't win a league match on their travels all season) meant that their annual battle against relegation would have to be won almost entirely at Ninian Park and Scoular's remodelled team were making a decent fist of things at home after a poor start which had seen them lose three of their first five games. Four goals apiece for Woodruff and McCulloch in the three home matches they had both played in so far had seen City pick up maximum points as they finally got off the bottom of the table – the new striking partnership's goals having accounted for Preston, Forest and Fulham and with Middlesbrough also having been beaten in the last home game before McCulloch signed, City were on a four game home winning run when they entertained Sheffield Wednesday 0n 9 December 1972.
Unfortunately, a Rothman's Football Yearbook for that season which has fallen apart with several pages now lost means that I cannot give the team that mid table Wednesday took into this game but I can remember that it contained several players who had been pretty big names in their day but were now getting towards the end of their careers. Goalkeeper Peter Grummitt had been a regular in the Nottingham Forest team that had challenged for the league title five years earlier, ex City full back Peter Rodrigues had extensive top flight experience with Leicester City, former England centre half Peter Swan had returned to the game ten years after the betting scandal which had, initially, seen him banned for life, midfielder Tommy Craig had been the most expensive teenager in the game when he had arrived from Aberdeen and winger Willie Henderson had given Rangers great service before arriving at Hillsborough at the start of the campaign.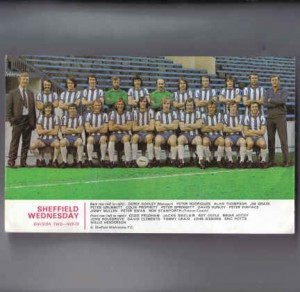 Wednesday had started the season in great style and had topped the table in September, but they were on the slide now to the extent that when the teams met again in April, the game was viewed as a vital one in both sides battle against the drop (Wednesday won 1-0, a result which went a long way towards confirming their Second Division status for 73/74). It may well have been therefore that City's big win that afternoon was entirely down to their superiority over a poorer side, but with the pitch a quagmire because of the driving rain which continued throughout the game, there had to be a suspicion that some of Wednesday's "big names" didn't fancy an afternoon in South Wales in awful conditions in front of a crowd of less than 10,000.
Whatever the reason, City had the game won by the forty five minute mark as a flurry of goals just before the interval gave them a 3-0 advantage to take into the second half. Andy McCulloch had made a fine start to his City career and proved to be a consistent scorer at Ninian Park ending the season with nineteen goals, but he was not amongst the scorers that afternoon as Woodruff shared the goals with a player who did not make a habit of finding the net too often in his time with us.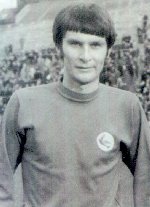 In my top ten defenders piece earlier in the week, I said that I had not considered Leighton Phillips because I thought he was primarily a midfield player with us before going on to play almost exclusively as a centre back for the rest of his career after he signed for Aston Villa in September 1974 – later, I admitted on the messageboard that I might have got this wrong and said that the stylish Phillips would have made the top ten if I had considered him as a centre back. However, Phillips was playing in central midfield that afternoon and this time he offered more than his usual neat passing and good technique as he opened the scoring with a well struck shot from just inside the penalty area and then added another one after Woodruff had got his name on the scoresheet as the visitor's defence disintegrated.
Their job done, City, understandably, were less potent after the break and a more even second half saw Henderson net a consolation goal for the visitors, but, with Woodruff weighing in with his sixth goal in his last three and a half matches at Ninian Park, City maintained their healthy advantage. The 4-1 final scoreline was the same as the one by which we beat Huddersfield towards the end of the season in a match which eventually sealed the Yorkshire sides fate as they accompanied Brighton into the Third Division, but it needed Woodruff's first goal in nearly three months in a game against Sunderland played two days after they had beaten Leeds in the FA Cup Final to finally ensure we scraped clear of the drop.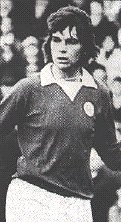 One last thing, the reason Leighton Phillips played in midfield that day was that the Morgan brothers were being used as a short lived centre back pairing at that time – older brother Richie had replaced Don Murray for the previous match and stayed in the team for a month or so, but the younger and lesser known Peter became  a pretty regular first team player that season. Shorter but quicker than his brother, Peter could also play at full back, but, with two newly signed players having a limited impact as Albert Larmour struggled to adapt to League football after signing from Linfield and Dave Powell fought an eventually losing battle against injury, he featured almost exclusively in the middle of the defence and was in the team for the tense final weeks of the campaign. After that though, Peter Morgan didn't play at all in 73/74 and left us in the summer of 1974 to join Hereford before finishing his career at Newport County.
9 December 1972
Cardiff City 4 (Phillips 2, Woodruff 2) Sheffield Wednesday 1 (Henderson)
City; Irwin; Dwyer, R Morgan, P Morgan, Bell; Kellock, Vincent, Phillips, Villars; McCulloch, Woodruff; Sub McInch
Wednesday; Grummitt; Rodrigues, Thompson, Holsgrove,Mullen; Henderson,Craig, Eustace, Clements; Joicey, Sissons (Sunley) – a big thank you to Cardiff City Mad messageboard contributor Binge Thinking who was able to provide the Wednesday team
HT 3-0
Att. 9,890